Obi-Wan Finale - The Loop
Play Sound
Caterpillar D8



Caterpillar D8H

Model history
Model introduced

Unknown

Model discontinued

Unknown

Model status

Unknown

Fuel type
Diesel
Power hp

Unknown

Cooling system
Water
Transmission Details
Transmission type
Unknown
Drive
tracked
Linkage Category
Unknown
Other info
Factories
USA
Glasgow, UK
Plow rating

Unknown

Web site
http://www.caterpillar.com/
The Caterpillar D8 is a large track-type tractor designed and manufactured by Caterpillar in the USA and at Glasgow in the UK.
Though it comes in many configurations it is usually sold as a bulldozer equipped with a detachable large blade and a rear ripper attachment.
History
1935:

Caterpillar RD8

introduced.
1937: The "R" prefix dropped, D8 debuts.
1940s: 2U Series D8 introduced; 132 hp (98 kW) improved to 148hp.
1955: 1H Series D8 ends production; 191 hp (142 kW)

D8E

and

D8D

introduced with new 1,246 cubic inch displacement (CID) D342 diesel engine. D8D had a torque converter and D8E had a direct drive transmission.
1956: D8D replaced by

D8G

; D8E replaced by

D8F

.
1958: 225 hp (168 kW)

D8H

introduced.
1965: Horsepower increased to 270 hp (200 kW)
1974: 300 hp (220 kW) D8K replaced D8H.
1982: 335 hp (250 kW) D8L replaced D8K. The D8L was the first D8 with the

elevated drive

sprocket undercarriage.
1984: D8L SA (special application) for farming applications premiers.
1987:

D8N

at 285 hp (213 kW) which was unveiled at CONEXPO '87 in

Las Vegas, Nevada

. It also had a differential steer transmission which was the first Caterpillar track-type tractor in history to have this type of transmission.
1996: 305 hp (227 kW)

D8R

replaced D8N.
2000:

D8R II

replaced the D8R.
2004: 310 hp (230 kW)

D8T

ACERT replaced D8R Series II.
Blades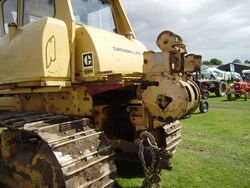 Several types of bulldozer blade can be used on the front of the tractor:
A straight blade ("S-Blade"): A short blade and has no lateral curve, no side wings, and can be used for fine grading
An angle blade: Is held by an U shape frame that has 3 holes on each side, to set the blade to 3 positions: to the right, center, and left.
A universal blade ("U-Blade"): A tall and very curved blade, and has large side wings to carry more material
An "S-U" combination blade: A shorter blade, with less curvature, and smaller side wings
Various other blade types are used including landfill U-Blades, woodchip U-blades, and two-way blades for work inside the holds of ships.
See also
References
External links
Caterpillar D-Series Track-Type Tractors - Official Caterpillar website
This list is under development. Please add any missing model ranges (note:some sections contain place holder entries do not 'clean up', just replace with valid entries)
225
·
235
·
245
·
345
·
350
·
365
·
375ME
·
385ME
·
5080
·
5130
·
5230
·
12
·
14
·
16
·
18
·
24H
·
D350D
·
D740E
(Ejectorbody) 
·
Caterpillar Backhoe Loaders
·
Caterpillar Skid Steers
·
Caterpillar Forklifts
·
Caterpillar Compactors
·
Caterpillar Paving Machinery
·
Caterpillar Attachments
·
Caterpillar Experimental and specials
Holt 120 Long-Track
·
Caterpillar 659 Cross Belt Loader
·
Caterpillar LWS
·
Caterpillar 783 Side-dump
·
Caterpillar 786
(coal hualer)
Caterpillar 988 Track Loader
·
Caterpillar 988 Carry Loader
·
Caterpillar Quad-Trac
·
Caterpillar SxS D9G
·