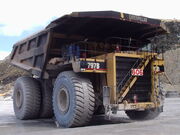 The
Caterpillar 797B
is an ultra class mining
truck
. The 797B is one of the largest mechanical
dump trucks
in the world with the following characteristics
[1]
:
Payload weight: 380 short tons (345 t)
Drive: 3524B Series, 24-cylinder, four-stroke diesel engine
Suspension: independent, self-contained, oil-pneumatic suspension cylinder on each wheel
Height empty: 24 ft 11 in (7.6 m)
Length: 47 ft 5 in (14.5 m)
Body width: 32 ft (9.8 m)
Dumping height: 50 ft 2 in (15.3 m)
Fuel capacity: 1,800 US gallons (6,800 L)
Cost: $4.7 million to 5.6 million U.S. dollars
This truck is so large that it can not be driven on the highway to location, so it must be taken there in pieces and constructed at the job site. A single tire of the Caterpillar 797B, (the Michelin 59/80R63), costs $40,000, and is 13 feet high. The nearest competitor to the Caterpillar 797B is the Liebherr T 282B dump truck which can hold 365 tonnes, though the Liebherr T 282B has more engine power at 3,650 horsepower as compared with 3,550 horsepower for the giant Caterpillar 797B.[2]
See also
Edit
The Cat 797 was first revealed by Paul Harvey on his national news radio show in 1998. When former Caterpillar Chairman Glenn Barton was asked why a hauler like the 797 was developed he answered: Tar Sands. This is in reference to the massive area of Fort McMurray, Alberta where much Canadian oil tar sand mining takes place. Caterpillar has already and is testing an electric drive 797B off-highway hauler. Caterpillar his announced in 2006-07 that they will be soon producing a electric drive system in some of their larger off-highway haulers. The engine in the 797/797B is a 3524B which cost $600,000 and is made at Caterpillar's LEC-Large Engine Center in Lafayette, Indiana. This particular engine is basically a pair of 3512 diesel engine hooked up to form the 24 cylinder 3524B. The 3512 has powered the 150 ton 785,785B and the 785C since its introduction in late 1984. It is 3,158 cubic inches and is a V-12 diesel. The 797/797B today is working in places like Chile, Australia, Canadian Tar Sands and The Powder River Basin area of Montana, Idaho and Wyoming.
References
Edit
External links
Edit
This list is under development. Please add any missing model ranges (note:some sections contain place holder entries do not 'clean up', just replace with valid entries)
Caterpillar Experimental and specials
Community content is available under
CC-BY-SA
unless otherwise noted.