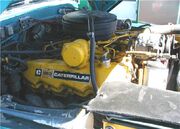 A major division of Caterpillar Inc.'s business is in the manufacturing of diesel and natural gas engines and gas turbines. These are used in the company's own on and offroad vehicles, peak-load power plants and emergency generators. They are also sold to other OEMs for use as the prime movers in locomotives, trucks and ships.
Caterpillar also owns Perkins diesels of the UK, a manufacture of diesel engines since 1932. Caterpillar acquired the Perkins business unit from Massey-Ferguson in 1998.
Caterpillar engines range from the 5.5hp C0.5 to the 6,900hp 3616.
Time Line of Developments
Edit
1920s - Trials of diesel engines begin
1933 - D9900 Diesel engine introduced for the Caterpillar Sixty tractor.
C series introduced in ?
Model Range
Edit
Early Models
Edit
Post War models
Edit
Modern Engines
Edit
The Modern Caterpillar Engine Model range
Model No.
Power hp (kW)
No. of Cylinders
Capacity
Cu. Inch (Litre)
Fuel
Date introduced
Fitted to examples
Notes
Cat 3116
-
6
6.6 L
Diesel
 ?
-
Cat 3204
-
4
 ?
Diesel
 ?
-
Cat 3206
-
6
 ?
Diesel
 ?
-
(may not be a model)
Cat 3208
435 (324) [Marine]
8
636 (10.4)
Diesel
1975
Ford, White, Steiger
Cat 3306
-
6
 ?
Diesel
 ?
-
Cat 3406
550 (410)
6
891 (14.6)
Diesel
 ?
Steiger
Cat 3408
600 (448)
8
1098 (18)
Diesel
 ?
-
Cat 3412
-
12
 ?
Diesel
 ?
-
Cat 3508
-
8
 ?
Diesel
 ?
-
Cat 3512
-
12
 ?
Diesel
 ?
-
Cat 3516
-
16
 ?
Diesel
 ?
-
Cat 3540
-
 ?
 ?
Diesel
 ?
-
Cat 3600 range
-
Various
Range
Diesel
 ?
-
Cat C12
500
6
732 (12)
Diesel
-
-
Cat C15
550 (410)
6
915 (15)
Diesel
-
-
Gas Engines
Edit
The Caterpillar Gas Engine Model range
Model No.
Power hp (kW)
No. of Cylinders
Capacity
Cu. Inch (Litre)
Fuel
Date introduced
Fitted to examples
Notes
Cat G3304
-
4
 ?
Gas
1969
 ?
developed by Holt
Truck Engines
Edit
The ACERT range of modern high performance fuel efficient engines.
Model No.
Power hp (kW)
No. of Cylinders
Capacity
Cu. Inch (Litre)
Fuel
Date introduced
Fitted to examples
Notes
Cat C7 range
-
6
427 (7)
Diesel
 ?
-
Cat C9 range
-
6
549 (9)
Diesel
 ?
-
Cat C13 range
-
6
793 (13)
Diesel
 ?
-
Cat C15 range
625
6
915 (15)
Diesel
 ?
-
Cat C32 range
-
12
1953 (32)
Diesel
 ?
-
Modern Giants
Edit
References
Edit