The examples and perspective in this article may not represent a worldwide view of the subject. Please improve this article and discuss the issue on the

talk page

. (December 2009)
This article needs additional

citations

for

verification

. Please help improve this article by adding citations to

reliable sources

. Unsourced material may be challenged and

removed

. (December 2009)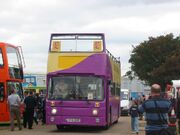 A campaign bus is a bus used as both a vehicle and a center of operations in a political campaign. The modern use of campaign buses is often calculated to bring to mind whistlestop train tour tours that political candidates had historically used to reach large numbers of voters while campaigning by train.
The use of the campaign bus runs at least as early as the 1940s, when The New Republic reported that 1948 presidential contender Thomas E. Dewey was "waylaid... in his campaign bus" by a charmed female admirer who "told him she would vote for him because he was 'so pink and pretty'".[1] Candidates may provide interviews to the press or relax on the campaign bus. Some buses may have names; John McCain traveled aboard a campaign bus named the "Straight Talk Express" during his 2000 presidential campaign.
In Canada party leaders often lease coaches with sides decorated with the party name or their own names. The buses are used to travel between destinations that do not require air travel. Members of the media and other campaign officials may travel along with the party leader for briefings.
The modern campaign bus is fitted with communications equipment, a media centre for press releases, and multiple TV for reviewing the news reports of visits and of their rivals.
References
↑ Herbert David Croly, The New Republic (1948), p.10
| | |
| --- | --- |
| | This bus-related article is a stub. You can help Tractor & Construction Plant Wiki by expanding it. |