Bucket is the general term to describe the attachment on the end of a Digger or excavators arm that scoops up the material or digs it out.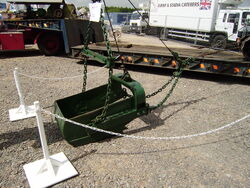 Digger buckets
General purpose for digging an loading

Ejector bucket
Loader (shovel) buckets
GP bucket

Rock Bucket for quarry applications
Bulk handling - for Coal, Grain etc
4in 1 Buckets
special multi purpose bucket
Specialist buckets
Clamshell

Ditching bucket

Ejector bucket

V bucket

/

drainage bucket

Weed cutter bucket - cleaning waterways of weeds rather than digging silt out.
See also
5-tine Grab

Clamshell

Hi-tip bucket
References / source
External links
This article is a stub. You can help Tractor & Construction Plant Wiki by expanding it.