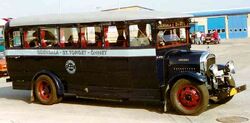 Brockway Motor Company was a builder of custom heavy-duty trucks in Cortland, NY from 1912 to 1977. It was founded as Brockway Carriage Works in 1875 by William Brockway. His son George Brockway later turned the carriageworks into a truck manufacturer in 1909. In 1928, Brockway purchased Indiana Truck Corporation, based in Marion, Indiana. It was later sold to White Motor Company.
The company was purchased by Mack Trucks Inc. in August 1956 and remained a division of Mack until its closing in June 1977.
There is a Brockway Truck show in Cortland, New York each year with a proposal for a museum as well.
The hood ornament used by Brockway was a Husky dog with pulling harness, thus giving Cortland the nickname of "Husky Town USA"
A documentary about the trucks and the Brockway company is available from Wiffle Ball Productions in Cortland, New York.
References / sources
Edit
Based on wikpedia article.
External links
Edit

Community content is available under
CC-BY-SA
unless otherwise noted.