Brinly-Hardy Company


Founded
Simpsonville, Kentucky - 1839
Headquarters

Jeffersonville, Indiana

,

USA

Industry
Lawn Care Equipment
Website
brinly.com
Brinly-Hardy Company is an American corporation located in Jeffersonville, Indiana. Brinly-Hardy designs, manufactures and sells lawn care products including aerators, carts, lawn vac systems, dethatchers, sweepers, broadcast spreaders, sprayers, and rollers; gardening equipment such as plows, disc harrows, and cultivators and landscaping products such as rear blades and box scrapers.[1][2]
History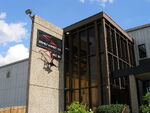 In 1800, John Brinly, a blacksmith in Simpsonville, Kentucky built and sold cast iron plows to Kentucky farmers.[3] In 1837, his son Thomas Brinly, designed and built one of North America's first one-piece steel plows using a large saw blade. The new design largely replaced cast iron plows commonly used by farmers throughout the American South,[4] forcing Brinly to open manufacturing centers in numerous Southern cities.[3]
In 1859, Brinly moved the company headquarters to Louisville, Kentucky. And in 1863, he partnered with James Edward Hardy to create Brinly, Dodge and Hardy.[3] During the American Civil War, federal troops destroyed several of Brinly's manufacturing and retail outlets throughout the South as he was a Confederate sympathizer. Rather than rebuild, the company consolidated in Louisville and grew its product line.[3][4] In 1900, the name Brinly-Hardy Company was adopted.[4] In 1902, Thomas Brinly died and James E. Hardy was named president.
Current Status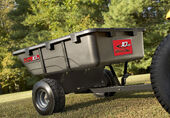 Between 1980 and 1984, Brinly-Hardy shifted its current focus to manufacturing lawn care equipment.[5] In 1996, James E. Hardy's great-great granddaughter,[4] Jane W. Hardy, became CEO of Brinly-Hardy Company.[6] And in 1999, the company moved its facilities across the Ohio River to Jeffersonville, Indiana to make room for Louisville Slugger field.[6] In August 2008, Brinly-Hardy acquired Spyker Spreaders,[7] manufacturers of commercial-grade broadcast spreaders and outdoor power equipment.[8]
Brinly-Hardy products are distributed and sold throughout the United States at local retailers and chain home improvement stores [2] such as Home Depot as well as online retail outlets like Amazon.
References
External links