Obi-Wan Finale - The Loop
Play Sound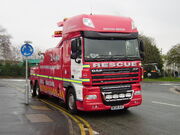 A Breakdown truck or also known as Recovery trucks, Tow trucks, Breakdown cranes and (in the USA) Wreckers. The names tend to get interchanged but are all slightly different vehicles but all used to tow or recover broken down vehicles in some way.
Types
Recovery trucks
Usually refers to the type of vehicle that picks up light vehicles and transports then to a repair garage or Impound yard. For cars and vans usually a truck fitted with a special slide and tilt body that forms its own ramp, and then winches the vehicle on.
Tow trucks
These usually pick the front or rear of the vehicle up. In some cases a solid bar or A frame is used to pull the vehicle to its destination.
Wrecker or recovery crane
These are specialist vehicles used to lift or pull vehicles back onto the road or back up onto the wheels. They are fitted with telescopic boom lifts (a type of crane) and high powered winches.
Alternative methods
Rather than using a crane / winch truck modern recovery operators also use air bages to right vehicles that have over turned, as some modern vehicles are structurally weak for fixing winch cables to and so could damage the vehicle further making removal harder.
Examples
See also
References / sources
External links