A box truck, also known as a cube truck, cube van, bob truck, box van, or straight truck, is a truck with a cuboid-shaped cargo area. A related type of similar body is the Luton body.
Road vehicles
Edit
They usually range in size 4 to 7 m in length, with smaller or larger sizes existing but being rare in North America. They usually have a garage door-like rear door that rolls up. On some box trucks, the cargo area is accessible from the cab through a small door.
Box trucks are usually used by companies that need to haul appliances or furniture. They are also used as moving trucks which can be rented from companies such as U-Haul or Ryder.[1]
In North America, Ford, Dodge and Chevrolet/GMC have historically been the most common manufacturers of conventional cab/chassis to which various producers (called body builders or upfitters) attach the box that holds cargo. Isuzu, Mitsubishi Fuso and UD/Nissan Diesel have been the most common marketers of cabover-type medium duty cab/chassis used as platforms for box trucks. In North America, these trucks can range from Class 3 to Class 7 (12,500 lb. to 33,000 lb. gross vehicle weight rating, or GVWR). As of July 31, 2009, however, GM closed the plant that manufactured its medium duty commercial trucks, and announced it was withdrawing from the medium-duty commercial truck market. The same GM plant also manufactured Isuzu class 6 and class 7 models and Isuzu class 3 gasoline-engine cabover models. Isuzu's plans for acquisition or manufacture of the affected models have not been announced, as of January 2010.[2]
The body on a box truck is sometimes called a cargo van or dry van body, though the term "cargo van" is more often used to designate a regular full size van, such as a Mercedes-Benz Sprinter or a Ford E-Series/Ford Transit, without rear seats and usually without side windows in the cargo area. However, small box trucks often use the cab of full size vans from the big three (i.e. Ford E-series/Econoline, Dodge Ram Van, Chevrolet Express/Chevrolet Van/GMC Vandura/GMC Savana).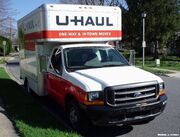 A Variation on the Box body that is common in the UK is the Luton body that is generally on smaller chassis used for transport of bulky goods.
Railway vehicles
Edit
In British and Commonwealth usage, box van is a term for a four wheeled railway truck (freight vehicle) with a fully-enclosed body. In British English the word truck more commonly refers to a railway vehicle, with lorry more commonly employed for road vehicles. The word van is widely used in both contexts.
References / Sources
Edit
External links
Edit
Community content is available under
CC-BY-SA
unless otherwise noted.