Bentley Motors Limited is a British manufacturer of automobiles founded on 18 January 1919 by Walter Owen Bentley known as W.O. Bentley or just "W O". Bentley had been previously known for his range of rotary aero-engines in World War I, the most famous being the Bentley BR1 as used in later versions of the Sopwith Camel. After the war W. O. Bentley designed and made production cars that won the 24 hours of Le Mans in 1924 and following models which repeated those successes each June 1927, 1928, 1929 and 1930.
Purchased by Rolls-Royce in 1931, when production was moved from London to Derby and later to Crewe, the company has been owned by the Volkswagen Group of Germany since 1998. The business is still based in Crewe, Cheshire, England with their Central Production Facilities there.
Cricklewood
Edit
Before World War I, W.O. Bentley had been in partnership with his brother H.M. Bentley selling French DFP cars, but he had always wanted to design and build his own range of cars bearing his name. In August 1919, Bentley Motors Ltd. was registered, and a chassis with dummy engine was exhibited at the London Motor Show in October of that year.[1] An engine was built and running by December, and orders were taken for deliveries starting in June 1920; however, development took longer than estimated, and the first cars were not ready until September 1921.[1] Their durability earned widespread acclaim. Appearances were made in hill climbs and at Brooklands and a single entry in the 1922 Indianapolis 500 mile race driven by W. Douglas Hawkes finished at an average speed in excess of 80 miles an hour.
Outright Wins at Le Mans
Edit
Rolls-Royce stopped the racing programme
It was on a visit to the DFP factory in 1913 that W.O. noticed an aluminium paperweight, and had the inspired idea of using the lightweight metal instead of cast iron to make engine pistons. The first Bentley aluminium pistons went into service in aero engines for the Sopwith Camel during World War I.
The enterprise was always underfunded. Bentley turned for help to his friend—customer, racing driver and son of a millionaire—Woolf Barnato in 1925. As part of a refinancing deal, which resulted in his effectively owning the company, Barnato became chairman.
The Bentley Boys
Edit
A group of wealthy British motorists known as the "Bentley Boys"—Woolf Barnato, Sir Henry "Tim" Birkin, steeplechaser George Duller, aviator Glen Kidston, automotive journalist S.C.H. "Sammy" Davis, and Dr Dudley Benjafield among them—kept the marque's reputation for high performance alive. Thanks to the dedication to serious racing of this group, the company, located at Cricklewood, north London, was noted for its four consecutive victories at the 24 hours of Le Mans from 1927 to 1930. Their greatest competitor at the time, Bugatti—whose lightweight, elegant, but fragile creations contrasted with the Bentley's rugged reliability and durability—referred to them as "the world's fastest lorries". Bugatti sold three of his Royale. Bentley sold one hundred of his 8 litre.
In March 1930, during the Blue Train Races, Woolf Barnato raised the stakes on Rover and its Rover Light Six, having raced and beat Le Train Bleu for the first time, to better that record with his 6½-litre Bentley Speed Six on a bet of £100. He drove against the train from Cannes to Calais, then by ferry to Dover, and finally London, travelling on public highways, and won; the H.J. Mulliner-bodied formal saloon he drove during the race as well as a streamlined fastback "Sportsman Coupé" by Gurney Nutting—he took delivery of on 21 May 1930—became known as the "Blue Train Bentleys"; the latter is regularly mistaken for (or erroneously referred to) as being the car that raced the Blue Train, while in fact Barnato named it in memory of his race.[2][3]
Car models, Cricklewood
Edit
The original model was the 3-litre, but as customers put heavier bodies on the chassis, a larger 4½-litre model followed. Perhaps the most iconic model of the period is the 4½-litre "Blower Bentley," with its distinctive supercharger projecting forward from the bottom of the grille. Uncharacteristically fragile for a Bentley, it was not the racing workhorse the 6½-litre was. It became famous in popular media as the vehicle of James Bond in the original novels, but not in film; John Steed, in the television series The Avengers, drove a Bentley.
The new 8-litre was such a success that when Barnato's money ran out in 1931 and Napier was planning to buy Bentley's business, Rolls-Royce snatched Bentley Motors at the last moment in order to kill its competition for the market of their most expensive model, Phantom II.
By July 1931 Barnato found he could no longer support the company and on the 10th, on the application of the mortgagee, the court appointed a Receiver to Bentley Motors Limited.[4]
"The Silent Sports Car"
Edit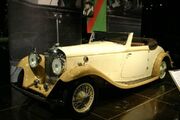 While a great deal of Woolf Barnato's fortune had been devoted to keeping Bentley afloat, the Great Depression reduced demand for the company's expensive products and after being put into receivership in 1931 W O Bentley's business together with three years of Bentley's own design services was secretly bought by Rolls-Royce.
Rolls-Royce acquired Bentley using an entity named the British Central Equitable Trust; not even Bentley himself knew the true identity of the purchaser until the deal was completed.[1] A new company, wholly owned by Rolls-Royce, was formed as Bentley Motors (1931) Ltd. The Cricklewood factory was closed and sold, and production moved to the Rolls-Royce works in Derby. Unhappy with his role at Rolls-Royce, when his contract expired at the end of April 1935 W.O. Bentley left to join Lagonda.
When the new Bentley 3½ litre appeared in 1933, it was a sporting variant of the Rolls-Royce 20/25, which disappointed some traditional customers yet was well-received by many others. Even Bentley himself was reported as saying, "Taking all things into consideration, I would rather own this Bentley than any other car produced under that name".[1]
Car models, Derby
Edit
Until the second World War companies like Bentley and Rolls-Royce did not supply complete cars. They sold a rolling chassis, near-complete from the instrument panel forward. This was delivered to the coachbuilder of the buyer's choice. In general the biggest dealerships had coachbuilders build standard designs for them and held them in stock awaiting potential buyers. Very far from 100% of production received an individual bespoke body.
Post-war standard-steel saloons
Edit
This being so it made sense to meet postwar demand for much more ruggedly constructed cars by the Crewe factory assembling complete vehicles using bought-in pressings. Rolling chassis were still available to coachbuilders.
Badge engineering
Edit
After World War II production of Rolls-Royce and Bentley cars was moved to an ex-wartime engine factory in Crewe, Cheshire and standard-steel Bentleys were slightly lower priced Rolls-Royces without the Rolls' distinctive square-shouldered grille.
Bentley Continental
Edit
The Continental fastback coupé was produced principally for the domestic home market, the majority of cars produced (165, including a prototype) being right-hand drive. The chassis was produced at the Crewe factory and shared many components with the standard R type. Other than the R-Type standard steel saloon, R-Type Continentals were delivered as rolling chassis to the coachbuilder of choice. Coachwork for most of these cars was completed by H. J. Mulliner & Co. who mainly built them in fastback coupe form. Other coachwork came from Park Ward (London) who built six, later including a drophead coupe version. Franay (Paris) built five, Graber (Wichtrach, Switzerland) built three, one of them later altered by Köng (Basle, Switzerland), and Pininfarina made one. James Young (London) built in 1954 a Sports Saloon for the owner of the company, James Barclay.
The early R Type Continental has essentially the same engine as the standard R Type, but with modified carburation, induction and exhaust manifolds along with higher gear ratios.[5] After July 1954 the car was fitted with an engine, having now a larger bore of 94.62 mm (3.7 in) with a total displacement of 4.9 L (4887 cc/298 in³). The compression ratio was raised to 7.25:1.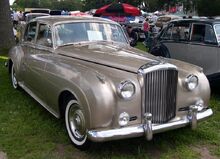 Car models, Crewe
Edit
The problems of Bentley's owner with Rolls-Royce aero engine development, the RB211, brought about the financial collapse of its business in 1970. The Government of the day nationalised it to save the aero-engine business from foreign ownership.
The motorcar division was made a separate business, Rolls-Royce Motors Limited, which remained independent until bought by Vickers plc in August 1980. By the 1970s and early 1980s Bentley sales had fallen badly; at one point less than 5% of combined production carried the Bentley badge.[1] Under Vickers, Bentley set about regaining its high-performance heritage, typified by the 1980 Mulsanne. Bentley's restored sporting image created a renewed interest in the name and sales as a proportion of combined company output began to rise. By 1986 the Bentley:Rolls-Royce ratio had reached 40:60; by 1991 it achieved parity.[1]
Car models, Crewe Vickers
Edit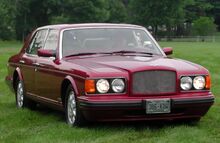 Volkswagen
Edit
In 1998, Vickers decided to sell Rolls-Royce Motors. The leading contender seemed to be BMW, who already supplied engines and other components for Bentley (and Rolls-Royce) cars. Their final offer of £340m was outbid by Volkswagen Group, who offered £430m. Volkswagen Group got the Crewe works and found it held the rights to Rolls-Royce's "Spirit of Ecstasy" mascot and the shape of that radiator grille but no rights to the Rolls-Royce name or logo. In 1998 BMW had recently started supplying components for the new range of Rolls-Royce and Bentley cars, notably V8 engines for the Bentley Arnage, and V12 engines for the Rolls-Royce Silver Seraph. It also emerged that BMW was able to terminate its supply deal with Rolls-Royce with 12 months' notice, which would not be enough time for Volkswagen Group to re-engineer the cars.
BMW paid Vickers £40m to license the Rolls-Royce name and "RR" logo, a deal that many commentators thought was a bargain for possibly the most valuable property in the deal. Volkswagen claimed that it only really wanted Bentley anyway. Bentley was the higher volume brand, with Bentley models out-selling the equivalent Rolls Royce by around two to one.
After negotiations, BMW and Volkswagen Group arrived at a solution. From 1998 to 2002, BMW would continue to supply engines for the cars and would allow Volkswagen temporary use of the Rolls-Royce name and logo. Bentley reintroduced the venerable Rolls-Royce V8 engine into the Arnage, initially as an additional model, and all BMW engine supply ended in 2003 with the end of Silver Seraph production.
From 1 January 2003 Volkswagen Group would build only cars called "Bentley". Rolls-Royce production was relocated to their Goodwood plant at Goodwood, West Sussex, England.
Car models, Crewe VW & BMW
Edit
Modern Bentleys
Edit
After acquiring the Company, Volkswagen spent £500 million to modernise the Crewe factory and increase production capacity.[6] As of early 2010, there are about 3,500 working at Crewe, compared with about 1,500 in 1998 before being taken over by Volkswagen.[7] It was reported that Volkswagen invested a total of nearly US$2 billion in Bentley and its revival.[8]
In 2002, Bentley presented Queen Elizabeth II with an official State Limousine to celebrate the Golden Jubilee. In 2003, Bentley's 2-door convertible, the Bentley Azure, ceased production, and the company introduced a second line, Bentley Continental GT, a large luxury coupé powered by a W12 engine built in Crewe.
Demand had been so great, that the factory at Crewe was unable to meet orders despite an installed capacity of approximately 9500 vehicles per year; there was a waiting list of over a year for new cars to be delivered. Consequently, part of the production of the new Flying Spur, a four-door version of the Continental GT, was assigned to the Transparent Factory (Germany), where the Volkswagen Phaeton luxury car is also assembled. This arrangement ceased at the end of 2006 after around 1000 cars had been produced, with all car production reverting to the Crewe plant.
In April 2005, Bentley confirmed plans to produce a four seat convertible model—the Azure, derived from the Arnage Drophead Coupé prototype—at Crewe beginning in 2006. By the autumn of 2005, the convertible version of the successful Continental GT, the Continental GTC, was also presented. These two models were successfully launched in late 2006.
A limited run of a Zagato modified GT was also announced in March 2008, dubbed "GTZ".
A new Bentley version of the Bentley Continental was introduced at the 2009 Geneva Auto Show: The Continental Supersports. This new Bentley is a supercar combining extreme power with environmentally friendly FlexFuel technology. A muscular two-seater with distinctive exterior and interior styling, the Supersports is unmistakably Bentley in design, craftsmanship and performance. The engine derived from Bentley's current W12 power unit was re-engineered, re-tuned and re-mapped to achieve phenomenal supercar potency. 0–60 mph in 3.7 seconds (0–100 km/h 3.9 seconds). 621 brake horsepower (463 kW/630 PS) 800 newton metres (590 ft·lbf) at 2,000 to 4,500 rpm. The Continental Supersports is the fastest, most powerful production Bentley ever.[9]
Bentley sales continued to increase, and in 2005 8,627 were sold worldwide, 3,654 in the United States. In 2007 the 10,000 cars-per-year threshold was broken for the first time in the company's history with sales of 10,014. For 2007, a record profit of €155 million was also announced.[10] Bentley reported a sale of about 7,600 units in 2008.[11] However, its global sales plunged 50 percent to 4,616 vehicles in 2009 (with the U.S. deliveries dropped 49% to 1,433 vehicles) and it suffered an operating loss of €194 million, compared with a profit of €10 million in 2008.[6][12]
Management
Edit
The current board of management consists of Wolfgang Dürheimer, Chairman and Chief Executive; Dr. Ulrich Eichhorn, Engineering; Alasdair Stewart, Sales & Marketing; Michael Straughn, Manufacturing; Christine A. Gaskell, Personnel; and Jan-Henrik Lafrentz, Finance.[14]
Dirk van Braeckel is current Head of Design.

Recent Bentley racing
Edit
In 2001–03, the Bentley Speed 8 enjoyed a successful racing streak in the Le Mans series.
Product Placement
Edit
Bentleys are known for making appearances in movies. According to MoviePlacement.com, Bentleys have been used by the main characters in films such as "The Thomas Crown Affair", "The Punisher", "Rushmore", "The Longest Yard", "The Hangover", "The Dark Knight", "GI Joe: The Rise of Cobra", "2012", and many others.
Future cars
Edit
Since Bentley's induction into Volkswagen Group, rumours of an SUV-style vehicle have repeatedly surfaced. These have been shot down by Bentley employees on the basis that the idea would not fit into their future plans and product portfolio.[15] Rumours of the SUV and as well as a car based on the Porsche Panamera have surfaced following the appointment of Wolfgang Dürheimer as new Chairman and CEO.[16][17]
At the Beijing Motor Show and Geneva Auto Show in 2012, the concept Bentley Exp 9F SUV was on display.[18]
While diesel variants have been denied;[19] hybrid technology developed by Bentley owners, Volkswagen Group is another focal point as the trend towards hybrid cars is expanding year on year.
Other possible products in the pipeline include replacements for the Brooklands and Azure based on the all new Mulsanne platform[20] and a convertible variant of the Continental Supersports.[21] It has been reported that a second generation series of the Continental platform (GT, GTC and Flying Spur) are scheduled for release starting with the GT in 2010.[22][23]
References
Edit
↑ 1.0 1.1 1.2 1.3 1.4 1.5 Georgano, N. (2000). Beaulieu Encyclopedia of the Automobile. London: HMSO. ISBN 1-57958-293-1.

 

↑ Melissen, Wouter (12 January 2004). "Bentley Speed Six 'Blue Train Special'". UltimateCarPage. Retrieved on 4 November 2008.
↑ Burgess-Wise, David (1 January 2006). "The Slippery Shape of Power". Auto Aficionado. Retrieved on 4 November 2008.
↑ Receiver Appointed Of Bentley Motors Limited Re Bentley Motors Limited; London Life Association Limited v. Bentley Motors Limited, And Woolf Barnato. The Times, Saturday, 11 Jul 1931; pg. 4; Issue 45872
↑ 6.0 6.1 Andreas Cremer (24 June 2010). "Volkswagen Said to Shuffle Porsche, Bentley Managers", BusinessWeek. Retrieved on 25 June 2010.

 

↑ Mark Gillies (10 May 2010). "Going Back in Time at the Bentley Factory". Car and Driver blog. Retrieved on 25 June 2010.
↑ Gail Edmondson (6 December 2004). "VW Steals A Lead In Luxury", BusinessWeek. Retrieved on 25 June 2010.

 

↑ FT_7. "The Extreme Bentley". Retrieved on 11 June 2009.
↑ Garlick. "Bentley reports record profit". Retrieved on 18 March 2008.
↑ Chris Reiter and Mike Ramsey (15 December 2009). "Daimler Maybach Fails to Dent Rolls, Bentley Super-Luxury Lead", Bloomberg.

 

↑ Andreas Cremer (14 January 2010). "Volkswagen's Bentley Targets U.S. Growth With Mulsanne Sedan", BusinessWeek. Retrieved on 25 June 2010.

 

↑ Jonathon Ramsey (2009). "First Bentley Zagato GTZ available at $1.7M". autoblog.com. Retrieved on 2 October 2010.
↑ Alborz Fallah (2006). "Bentley SUV not happening". Retrieved on 2 October 2010.
↑ Korzeniewski, Jeremy (22 August 2008). "No diesels for Bentley – Autoblog". Autoblog.com. Retrieved on 20 July 2010.
↑ Joseph, Noah (24 September 2009). "REPORT: Bentley Mulsanne to spawn coupé and convertible to replace Brooklands and Azure – Autoblog". Autoblog.com. Retrieved on 20 July 2010.
↑ Joseph, Noah (1 October 2009). "Bentley said to be "seriously considering" Continental Supersports convertible – Autoblog". Autoblog.com. Retrieved on 20 July 2010.
↑ Lavrinc, Damon (11 March 2009). "Rumormill: New details on next Bentley Continental emerge – Autoblog". Autoblog.com. Retrieved on 20 July 2010.
↑ Joseph, Noah (20 April 2009). "REPORT: Bentley prepares for market recovery by advancing new Continental debut – Autoblog". Autoblog.com. Retrieved on 20 July 2010.
Further reading
Edit
External links
Edit

Links to related articles
Note:Items that will 'never' have Tractor Wiki articles should be de linked but retained in the list

By Appointment to
HM The Queen

Abels Moving Services 

·

House of Angostura/Angostura Limited 

·

AkzoNobel 

·

Autoglym 

·

Bendicks 

·

Bentley Motors 

·

Bollinger 

·

Britvic 

·

BT Group 

·

Burberry 

·

Cadbury plc 

·

Carphone Warehouse 

·

Carr's 

·

Castrol 

·

Charbonnel et Walker 

·

DHL Express 

·

Dollond & Aitchison 

·

Dunelm Mill/Dorma Leicester 

·

Ede and Ravenscroft 

·

Frank Smythson 

·

Gieves & Hawkes 

·

H. P. Bulmer 

·

J. Barbour & Sons 

·

James Purdey and Sons 

·

Jaguar Cars 

·

John Lewis 

·

John Lewis Reading 

·

John Lobb Bootmaker 

·

Launer London Ltd 

·

Land Rover 

·

Mappin and Webb 

·

Martini & Rossi 

·

Mr Steeds 

·

Nestlé 

·

Roger Pope & Partners 

·

Roberts Radio 

·

Ryvita 

·

Schweppes 

·

Spode 

·

Steinway & Sons 

·

Tanqueray 

·

Twinings 

·

Waitrose 

·

Weetabix Limited 

·

William Drake 

·

Windsorian Coaches 

·

Worcestershire Medal Service 

·

Vauxhall Motors

By Appointment to
HRH The Duke
of Edinburgh

Dollond & Aitchison 

·

Ede and Ravenscroft 

·

Frank Smythson 

·

Gieves & Hawkes 

·

Hatchards 

·

Holland & Holland 

·

James Purdey and Sons 

·

John Lobb Bootmaker 

·

Land Rover 

·

Lyle & Scott 

·

Penhaligon's 

·

Truefitt & Hill

By Appointment to
HRH The
Prince of Wales

Aston Martin 

·

Autoglym 

·

Bentley Motors 

·

Burberry 

·

Crabtree & Evelyn 

·

Ede and Ravenscroft 

·

Frank Smythson 

·

Gieves & Hawkes 

·

Holland & Holland 

·

Jaguar Cars 

·

James Purdey and Sons 

·

John Lobb Bootmaker 

·

Land Rover 

·

Laphroaig 

·

Linn Products 

·

Penhaligon's 

·

Peter Jones 

·

Ritz Hotel 

·

Roberts Radio 

·

Shepherd Neame Brewery 

·

Turnbull & Asser 

·

Twinings 

·

Vauxhall Motors 

·

Waitrose 

·

Weetabix Limited 

·

Winsor & Newton
Community content is available under
CC-BY-SA
unless otherwise noted.