BelAZ is a Belarusian manufacturer of haulage and earthmoving equipment based in Zhodino. Founded in 1948, the factory has been a flagship of Belorussian industry for decades. The company has produced over 120,000 vehicles for service in the Soviet Union and the rest of the world.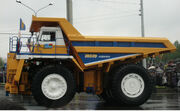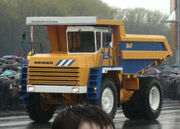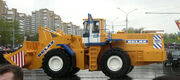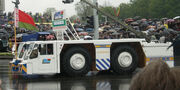 In 1948, a peat extraction machinery plant was constructed by the railroad station Žodzina.
In 1951 the plant was expanded into the plant of road construction and land improvement machinery and renamed into "Dormash" (Дормаш), an abbreviation for "дорожное машиностроение", "road construction machinery building".
In 1958 it was renamed into BelAZ. Initially it produced MAZ trucks.
In 1961 the first 27-tonne BelAZ mine and quarry dump truck was manufactured.
In 1990 a 280-tonne truck was manufactured.
In 2001 the director of BelAZ plant, Pavel Maryev, was awarded the order Hero of Belarus.
In 2005 plans were revealed for production of BELAZ-75600 with 320 tonne (352,600 kg, or 352.6 tons) capacity, ordered by Kuzbass mining.
In fall of 2006 the first delivery of BelAz-75600 [1]
Developments
Edit
Following the collapse of the old Soviet Union, the company had to adapt to a changing economic environment. It broadened its product line and launched new products for road construction and metallurgical production. Its products are based on the company's own research and development.
The BELAZ machines feature improved power-to-weight ratio, smooth ride, comfortable working environment, good controllability and overall reliability. The trucks gained a reputation as efficient haulers for mining, quarrying and construction applications in the Arctic North or Tropical South.
BELAZ is a site for one of the largest Commonwealth of Independent States investment project. The factory finalized two of the three scheduled phases of the technical re-equipment and upgrades. The Quality Management System applied in research and development, fabrication, erection and after-sale service of the equipment complies with international ISO 9000 standards.
Sponsorship in football
Edit
Model range
Edit
Details of model range required
References / sources
Edit
based on wikipedia article.
External links
Edit

Community content is available under
CC-BY-SA
unless otherwise noted.