Beijing Benz - Daimler Chrysler Automotive Co Ltd (
中文:
) is a Chinese car manufacturer.
This joint venture is co-owned by Daimler AG and Beiqi.[1]
It assembles and manufactures the Mercedes-Benz E-Class and C-Class.[2] 2011 will see the GLK-Class crossover added to its model line.[3] Some Mercedes-branded offerings sold in China, the S-Class for example, are imported by Mercedes-Benz (China) Ltd.[4]
Sales in 2010 were expected to reach 50,000 units a small reduction from the 67,000 of the prior year in a highly-competitive marketplace.[5] 2008 production capacity was estimated at 100,000 units/year.[6] Production capacity figures may consider engines and vehicles as discrete.
While Beijing-Benz does not produce all the Mercedes-branded autos sold on the Chinese market, such cars currently enjoy a reputation for high quality and popularity.[7]
History
Having its roots in the oldest of the Chinese auto-making joint ventures with a Western partner, Beijing-Benz was established in 2005 between Beiqi and Daimler AG.[8]
Prior foreign partners
Daimler AG is only the latest in a long line of co-owners.
American Motors
Beijing-Benz has its origins in the Beijing Jeep Corporation (
中文:
), which became China's first Sino-western automotive joint venture when it was established in 1984[9] with American Motors Corporation.[10]
American Motors began negotiations in 1979 to sell its vehicles in China and to gain access to then low-cost Chinese labor.[11] The Chinese wanted access to more-modern automotive technology, and Beijing Jeep suited both needs and produced the American Motors Jeep Cherokee (XJ) in Beijing.[11]
Assembly of the Cherokee continued after Chrysler's buyout of American Motors as did the UAZ-469-based SUVs (BJ212).[11]
Chrysler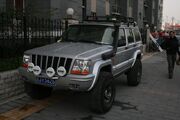 Chrysler's purchase of American Motors and its Jeep brand came with an unexpected boon, Beijing Jeep. A few Chrysler models were subsequently added to its product line including Jeep Grand Cherokee, Mitsubishi Pajero Sport, Mitsubishi Outlander, and other Beijing Jeep-branded but locally-developed vehicles.
Chrysler left the joint venture in early 2009.[12]

Beijing Automobile Works still has Jeep vehicles offered for sale. Production of newer Jeep models in China is planned to resume in 2011 with a joint venture between Guangzhou Automobile Group and Fiat.[13]
Daimler AG
In 2004 Beijing Jeep Co was renamed Beijing-Benz DaimlerChrysler Automotive Co Ltd, as the owner of the Jeep brand name, Chrysler, was in a short-lived partnership with Daimler AG at that time.[9] Then German Chancellor Gerhard Schroeder was a presence at the naming ceremony.[9]
The company started Mercedes-Benz E-Class and C-Class production the next year.[9] 2011 will see the GLK-Class crossover added to its model line.[3]
Prior to 2010 the E-Class may have been assembled from knock-down kits, and the localization rate for production was a scant 30%.[14] The component localization rate will rise to 70% and production capacity will increase to 100,000 units/year,[15] although these figures are suspect. Unit counts may consider engines and automobiles as discrete, too.
In 2009 Chrysler was removed from this joint venture although not from its legal name.[12] Until at least 2008 the company continued to produce Chrysler-branded models in addition to its Mercedes offerings.[6] One of these was the 300C, which it both produced and imported.[16]
Government procurement
As of 2009 Beijing-Benz products, alongside those of several other makes, are purchased for use by Chinese State officials such as ministers and provincial heads.[17] A First Automobile Works Audi is the traditional choice for this purpose.[17]
Production bases
Beijing Benz has a production base at the Beijing Economic & Technological Development Area, 15kM from Daxing Caiyu.[18] Another plant opened in 2010.[3] This opening may have increased potential Beijing Benz production capacity to 300,000 units/year.[6] Such unit counts may consider engines and automobiles as discrete.
In the media
Mann, Jim (1997). Beijing Jeep: A Case Study of Western Business in China. Westview Press. ISBN 9780813333274. 
References
External links
Marques
Subsidiaries
Joint ventures and
shareholdings

Vehicles

1A brand of Borgward Group AG