Jurassic World: Dominion Dominates Fandom Wikis - The Loop
Play Sound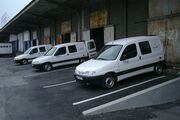 A battery electric vehicle, or BEV, is a type of electric vehicle (EV) that uses chemical energy stored in rechargeable battery packs. BEVs use electric motors and motor controllers instead of, or in addition to, internal combustion engines (ICEs) for propulsion.
A battery-only electric vehicle or all-electric vehicle derives all its power from its battery packs and thus has no internal combustion engine, fuel cell, or fuel tank. Sometimes, all-electric vehicles are referred to as BEVs (although a plug-in hybrid is also a battery electric vehicle).
All-electric and hybrid electric vehicles
Vehicles using both electric motors and internal combustion engines are examples of hybrid electric vehicles, and are not considered pure (or all) EVs because they operate in a charge-sustaining mode.
Regular hybrid electric vehicles cannot be externally charged.
Hybrid vehicles with batteries that can be charged externally to displace some or all of their internal combustion engine power and gasoline fuel are called plug-in hybrid electric vehicles (PHEV), and are BEVs during their

charge-depleting

mode.
All-electric and plug-in hybrids are off-vehicle charge capable. ("OVCC" or pluginable), which means their batteries can be charged from an off-vehicle electric energy source that cannot be connected or coupled to the vehicle while the vehicle is being driven[1] (so, it is autonomous).
Vehicles
The concept of battery electric vehicles is to use charged batteries on board vehicles for propulsion.
       Battery electric cars are becoming more and more attractive with the advancement of new battery technology (Lithium Ion) that have higher power and energy density (i.e. greater possible acceleration and more range with less batteries) and higher oil prices.[2]
BEVs include automobiles, light trucks, and neighborhood electric vehicles.
Electric bus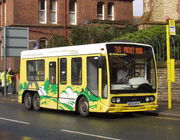 Chattanooga, Tennessee operates nine zero-fare electric buses, which have been in operation since 1992 and have carried 11.3 million passengers and covered a distance of 3,100,000 kilometres (1,900,000 mi), They were made locally by Advanced Vehicle Systems. Two of these buses were used for the 1996 Atlanta Olympics.[3][4]
Wrightbus has a new a hybrid-electric driveline for the StreetCar RTV which has been developed in conjunction with the ISE Corporation of California and incorporates Siemens ELFA traction components and a Cummins ISL engine. The chassis is built to Wright Group specifications by Swiss trolleybus specialists Carosserie Hess and is powered by Valence Technology lithium phosphate batteries .
Beginning in the summer of 2000, Hong Kong Airport began operating a 16-passenger Mitsubishi Rosa electric shuttle bus, and in the fall of 2000, New York City began testing a 66-passenger battery-powered school bus, an all electric version of the Blue Bird TC/2000.[5] A similar bus was operated in Napa Valley, California for 14 months ending in April, 2004.[6]
The 2008 Beijing Olympics used a fleet of 50 electric buses, which have a range of 130 km (81 mi) with the air conditioning on. They use Lithium-ion batteries, and consume about 1 kW·h/mi (0.62 kW·h/km/2.2 MJ/km). The buses were designed by the Beijing Institute of Technology and built by the Jinghua Coach Co. Ltd.[7] The batteries are replaced with fully charged ones at the recharging station to allow 24 hour operation of the buses.[8]
In France, the bus electric phenomenon is in development, but we already can find some of them in operation in numerous cities of France. [9] PVI, a medium company located in the Paris region, is one of the leader of the market with its brand Gepebus (offering Oreos 2X and Oreos 4X).[10]
In the United States, the first battery-electric, fast-charge bus has been in operation in New Covina, California since September 2010 at Foothill Tranist. The Proterra Inc EcoRide BE35 uses lithium-titanate batteries and is able to fast-charge in less than 10 minutes. [11]
Thunder Sky
Thunder Sky (based in Hong Kong) builds lithium-ion batteries used in submarines and has three models of electric buses, the 10/21 passenger EV-6700 with a range of 280 km (170 mi) under 20 mins quick-charge, the EV-2009 city buses, and the 43 passenger EV-2008 highway bus, which has a range of 300 km (190 mi) under quick-charge (20 mins to 80%), and 350 km (220 mi) under full charge (25 mins). The buses will also be built in the United States and Finland.[12]
Valence
Valence Technology has entered into a contract with The Tanfield Group Plc [13] to manufacture and supply Lithium Phosphate energy storage systems to power Tanfield's all-electric commercial delivery vehicles. The Valence battery systems will be installed in vans and trucks produced by Tanfield's UK-based trading division, Smith Electric Vehicles, the world's largest manufacturer of electric vans and trucks.
Free Tindo
Tindo is an all-electric bus from Adelaide, Australia. The Tindo (aboriginal word for sun) is made by Designline International[14] in New Zealand and gets its electricity from a solar PV system on Adelaide's central bus station. Rides are zero-fare as part of Adelaide's public transport system.[15]
First electric commercial bus
Seoul Metropolitan Government runs the world's first commercial all-electric bus service. The bus was developed by Hyundai Heavy Industries and Hankuk Fiber which make body as light as possible from carbon composite material. Provided by Li-on battery and Regenerative Braking Systems, the bus may run to 52 miles in a single 30 minutes charge. The maximum speed is 62 miles/hour.[16]
First Fast-Charge, Battery-Electric Transit Bus
Proterra Inc's EcoRide BE35 transit bus, called the Ecoliner by Foothill Transit in West Covina, California, is the world's first heavy duty, fast charge, battery-electric bus. Proterra's ProDrive drive-system uses a UQM motor and regenerative breaking that captures 90% of the available energy and returns it to the TerraVolt energy storage system, which in turn increases the total distance the bus can drive by 31-35%. It can travel 30-40 miles on a single charge, is up to 600% more fuel-efficient than a typical diesel or CNG bus, and produces 44% less carbon than CNG.[17]
Trucks
Drive Star is a CalCars plan to cut our oil use in half by 2020. U.S. 100 million trucks, vans, and buses now gulp down one third of the oil. About half stay on the road a surprisingly long time: 15 to 35 years. That is long enough for CalCars to merit a makeover. Retrofitting these gas guzzlers will pay off. Mass conversions will cost under $10–$15,000. Retrofitters can partner with energy service companies to finance these costs, backed by federal loan guarantees. Since an electric mile is up to five times cheaper than a petroleum mile, retrofits will cost less to drive right away, benefitting vehicle fleets and individual drivers.[18]
Semi-trailer trucks
The Port of Los Angeles and South Coast Air Quality Management District have demonstrated a short-range heavy-duty all electric truck capable of hauling a fully loaded 40-foot (12 m) cargo container. The current design is capable of pulling a 60,000 lb (27 t) cargo container at speeds up to 40 mph (64 km/h) and has a range of between 30 and 60 miles (48 and 97 km). It uses 2 kilowatt-hours per mile (1.2 kW·h/km/4.5 MJ/km), compared to 5 miles per US gallon (47 L/100 km/6.0 mpg-imp) for the hostler semi tractors it replaces.[19]
Electric tractors
Electric tractors have been built since the 1990s.[20][21][22]
Milk float
A common example of the battery electric trucks is the milk float. Since it makes many stops in delivering milk it is more practical to use an electric vehicle than a combustion truck, which would be idling much of the time; it also reduces noise in residential areas. For most of the 20th century, the majority of the world's battery electric road vehicles were British milk floats.[23]
Garbage truck
With a similar driving pattern of a delivery vehicle like the milk float above, garbage trucks are excellent candidates for electric drive. Most of their time is spent stopping, starting or idling. These activities are where internal combustion engines are their least efficient. In preparation for the 2008 Olympic Games, 3,000 of the internal combustion engine garbage trucks in Beijing were replaced with lithium ion polymer battery pack electric drive trucks.[24] The batteries were procured for about $3,300 each.[25]
Pickup trucks
In early 2009, Phoenix Motorcars will be shipping a test fleet of their all-electric SUT (Sports Utility Truck) to Maui. One of the surviving electric vehicles from the late 1990s is the Chevy S-10 electric pickup truck. Many other vehicles from this era, such as the General Motors EV1 were recalled and destroyed. A newcomer is the Miles Electric Vehicles ZX40ST electric truck now available in the United States. Miles Electric Vehicles is based in Santa Monica, California.[26]
The Big Bike Company Limited, in Gloucestershire, England, is now offering fully electric pick up trucks for sale. Powered by an impressive bank of batteries, these small utility vehicles are able to deliver a payload of approximately 500 kg, and have a range of up to 80 miles. Using a 3 wheel configuration, the rolling and aerodynamic drag is reduced. As a tricycle it can also be driven on a motorcycle licence. They are marketed on the internet, and can be viewed on a temporary web site at www.electrux.net.
Electric cars
Main article: Electric car
An electric car is a plug-in battery powered automobile which is propelled by electric motor(s).
Although electric cars often give good acceleration and have generally acceptable top speed, the lower specific energy of production batteries available in 2010 compared with Carbon-based fuels means that electric cars need batteries that are fairly large fraction of the vehicle mass but still often give relatively low range between charges. Recharging can also take significant lengths of time. For shorter range commuter type journeys, rather than long journeys, electric cars are practical forms of transportation and can be inexpensively recharged overnight. Longer range journey options are currently being pursued by installing battery swapping station infrastructure throughout several pilot cities such as Tokyo.[27]
Electric cars have the potential of significantly reducing city pollution by having zero tail pipe emissions.[28][29][30] Vehicle greenhouse gas savings depend on how the electricity is generated. With the current U.S. energy mix, using an electric car would result in a 30% reduction in carbon dioxide emissions.[31][32][33][34] Given the current energy mixes in other countries, it has been predicted that such emissions would decrease by 40% in the UK,[35] 19% in China,[36] and as little as 1% in Germany.[37][38]
Electric cars are expected to have a major impact in the auto industry[39][40] given advantages in city pollution, less dependence on oil, and expected rise in gasoline prices.[41][42][43] World governments are pledging billions to fund development of electric vehicles and their components. The U.S. has pledged US$2.4 billion in federal grants for electric cars and batteries.[44] China has announced it will provide US$15 billion to initiate an electric car industry.[45] Nissan CEO Carlos Ghosn has predicted that one in 10 cars globally will run on battery power alone by 2020.[46] Additionally a recent report claims that by 2020 electric cars and other "green" cars will take a third of the total of global car sales.[47]
Special purpose vehicles
Special purpose vehicles come in a wide range of types, ranging from relatively common such as Golf carts, things like Electric golf trolleys, Milk floats, All-terrain vehicles, Neighborhood Electric Vehicles, and a wide range of other devices. Certain manufacturers specialize in electric powered "in plant" work machines.
Milk floats are supposedly the reason that electronic control systems for electric vehicles were introduced. The story is that Milk float manufacturer Smith Electric Vehicles founded Smith Electric Vehicle Controls (Sevcon) to commercialize the technology.
Rail
Locomotives
Main article:

Battery-electric locomotive
Electric Rail Trolley
Main article:

Cater MetroTrolley
Electrathon
Main article:

Electrathon
Two wheels
Electric motorcycles and scooters
Main article:

Electric motorcycles and scooters
Electric bicycles
Main article:

Electric bicycles
Technology
Motors
Main article:

Traction motor
Electric cars have traditionally used series wound DC motors, a form of brushed DC electric motor. More recent electric vehicles have made use of a variety of AC motor types, as these are simpler to build and have no brushes that can wear out. These are usually induction motors or brushless AC electric motors which use permanent magnets. There are several variations of the permanent magnet motor which offer simpler drive schemes and/or lower cost including the brushless DC electric motor.
Motor controllers
Main article:

Motor controller
The motor controller regulates the power to the motor, supplying either variable pulse width DC or variable frequency variable amplitude AC, depending on the motor type, DC or AC.
Batteries
Main article:

Electric vehicle battery
See also
Related articles
Automotive battery

Battery balancer

Cater MetroTrolley

Car battery

Dump charging

Electric boat

Electric Drive Transportation Association

(EDTA)

Electric vehicle conversion

Global Electric Motorcars

Government incentives for plug-in electric vehicles

List of production battery electric vehicles

List of electric vehicle battery manufacturers

Miles per gallon gasoline equivalent

RPEV

Road Powered Electric Vehicles

Patent encumbrance of large automotive NiMH batteries

Project Better Place

Plug-in electric vehicle

(PEV)
Plug-in hybrid (PHEV)

Supercapacitor

Short Commute Vehicles

Think Global

Tokyo Electric Power

Wireless charging

Zero-emissions vehicle

Zero emission project
References
External links
| | |
| --- | --- |
| | Wikinews has news related to: |

Patents
U.S. Patent 523,354, Emil E. Keller, Electrically Propelled Perambulator, 1894
U.S. Patent 594,805,

Hiram Percy Maxim

, Motor vehicle, 1897
U.S. Patent 772,571,

Hiram Percy Maxim

et al., Electric motor vehicle, 1904
Organizations
News
Studies