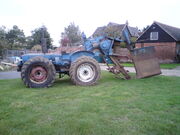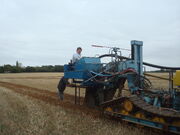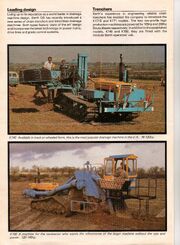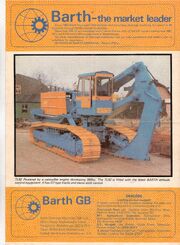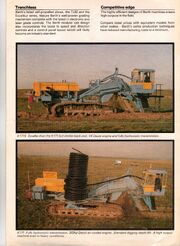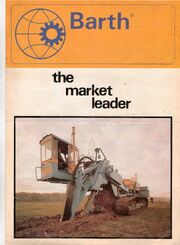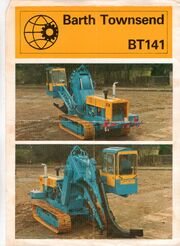 Barth G.B were a manufacturer of the specialist machinery for land drainage, from the 1960's till 1984, based in Mablethorpe, Boston in Lincolnshire England.
Initially based on Fordson Super Majors & Ford 5000 4-cylinder skid units, Barth trenchers started out in  the early 1960's to produce both wheeled & tracked trenching machines for the U.K. land drainage industry, which grew to flourish in the late 1970's & early 1980's allowing Barth G.B. to develop larger 6-cylinder Ford tractor based machines & ultimately the V8 Deutz engined K200.
Barth G.B. ceased trading in 1984 when the U.K. government extinguished the agricultural 50% drainage grant on 31st August of that year.
Pete Townsend setup Barth Townsend UK Ltd the last machines made being the Barth Townsend BT141 Volvo powered models.
Approximately 80 Barth machines continue to operate in the U.K., most in pretty sorry states of repair, as the agricultural land drainage industry has provided meagre earnings for drainage contractors in recent years.
Model range
Edit
Barth K140 4 cylinder Fordson or Ford 75h.p. , wheeled, vertical slide type digging boom
Barth K140 4 cylinder Fordson or Ford 75h.p., tracked, vertical slide type digging boom
Barth K140 6 cylinder 154h.p. Ford TW-20 skid, tracked, vertical slide type digging boom
Barth K141 6 cylinder, dual duplex chain digging boom drive
Barth K150 6 cylinder 186h.p. Ford TW-30 skid, tracked, parallelogram type digging boom
Barth K171 dual duplex chain digging boom drive
Barth K200 V8 Deutz engine
Barth TL82 trenchless 350hp cat engine
Barth Townsend BT141 170 hp Volvo powered trencher
Parts Supply
Edit
Aardvark Equipment Ltd. of High Hall, Belchamp Otten, Sudbury, Suffolk. CO10 7BE Tel.: 01787 279196 continue to operate a parts service to support these remaining machines & also run their own 1982 6-cylinder tracked Barth K140 on a commercial basis - see picture.
Preservation
Edit
Are any more of these machines in preservation ? - the odd example of smaller Howard built trencher machines on Rotapeds 'track system' have appeared at some shows in the last couple of years.
A Barth trencher was part of a special feature at the Newark Tractor & Heritage Show in 2013 along with machines from Bruff, and Howard.
References / sources
Edit
External links
Edit
| | |
| --- | --- |
| | Add any external links that directly relate to this articles subject and have more info or have related images. Other general external links can be added to the web Site Links list. |
Community content is available under
CC-BY-SA
unless otherwise noted.