Barreiros was an important and large Spanish manufacturer of engines, trucks, buses, tractors and cars. The wellknown Barreiros Diesel were a company that were very similar to the other local manufacturer in town called ENASA the maker of Pegaso vehicles based at Barajas also located in Madrid. 
Barreiros Diesel
Edit
The company was founded in 1954 as Barreiros Diesel S.A. by Eduardo Barreiros a mechanical engineer who started his firm under his own surname of Barreiros based at Villaverde an industrial estate part of Madrid, Spain. Established initially as a producer of diesel engines, the company then expanded to make commercial vehicles, reaching licensing agreements with French Berliet (truck cabs), British AEC (buses and coaches), and German Hanomag (agricultural tractors) and Vidal & Sohn Tempo-Werke GmbH (light vans and trucks), all of them powered by Barreiros's own engines. Additionally a pay-in-kind contract with the Polish Star company was active in late fifties, by which engineless Star chassis-cab trucks were exported to Spain, while Barreiros engines were sent to Poland; the whole resulting in Barreiros-engined Star tractors being sold in China (and Polish trucks in Spain).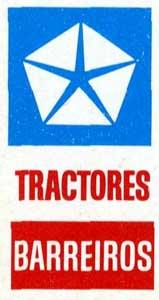 Later on Barreiros branched out into the production of passenger cars by means of cooperation (and capital links) with the giant North American Chrysler Corporation. An agreement was reached with Chrysler in 1963 to build the original Dodge Dart allowing the company to enter the car market. Sold as the Barreiros Dart it had modified front styling, a four speed gearbox and all round disc brakes on all four wheels. During that time, the Spanish automobile market was strongly protected, making entering it effectively only possible by domestic manufacturing. As the 1960s progressed, the range was extended with some smaller models from Chrysler's French subsidiary, Simca. The Barreiros-made Simca 1000 was launched in 1966, and later the Simca 1200 joined the range (in fact the French Simca 1100, but with a bigger standard engine for the Spanish market).
The Spanish Dodge Dart
Edit
From 1965 to 1977 a Spanish version of the Dodge Dart was manufactured in the Barreiros, Villaverde factory in Madrid. A total of 17589 units were manufactured in Spain. The Dart was produced as a SKD due to the protectionist Spanish regulations in force at that time.[1]
The Dart was the biggest national production car available in Spain during all production years. It was an expensive luxury car with extremely poor mileage by Spanish standards.
The Dodge Dart GL was a basic model [2], and the Dodge Dart GT the "sporty" version [3]. A later version was the Dodge 3700GT.[4]Soon Spanish customers could choose up to six different versions of the new Barreiros Dart aka Dodge Dart car models with Barreiros Diesel mechanicals fitted or optional Chrysler petrol engines until the late 1970s when production ended with reasonable sales. 
All gasoline Darts had the biggest engine ever mounted into a mass production car in Spain, the 225 in³ Chrysler Slant 6 engine. The "3700" number is a reference to the 3.7 litres of displacement. No other six cylinder engine car has been mass produced in Spain.
A Diesel Dart (named "Barreiros Diesel") was also produced.[5] These models were very basic and very slow, built in small numbers and used the round taillights from the first generation Simca 1000 .
There was also a Station Wagon version, as well as several variants (diplomatic motorcars, ambulances, hearses and some vans) with lwb chassis of which few of these were produced.
Production of Spanish Darts stopped in 1977. Peugeot bought the Villaverde factory, as Chrysler was divesting its European operations in Spain, France and the United Kingdom.
Darts were used as official cars for Spanish politicians during the 1960s and 1970s. Admiral Luis Carrero Blanco was killed on 20 December 1973 while travelling in his Dodge Dart 3700GT.
A Chrysler subsidiary
Edit
In 1967, Chrysler purchased 77% of Barreiros, and in 1969 Chrysler Europe took complete control of the company. The company was renamed Chrysler Espana S.A. in 1970.[6]
In 1975 Barreiros became for the first time the sole source for a Chrysler Europe model - the production lines of the slow-selling Chrysler 180 series were moved to Madrid from Simca's factory in Poissy[7]. Unlike in most other European countries, the Chrysler 180 became relatively popular in Spain. Barreiros also continued to assemble other Chrysler Europe models for the domestic market, including Simca 1307 (renamed Chrysler 150 in Spain to be more in line with the popular 180) and Simca Horizon.
On the truck and bus side, a full range of light, medium and heavy models was offered, still marketed as Barreiros in Spain and as Dodge or Fargo elsewhere, but eventually the Dodge badge prevailed in all markets. Since the 1960s the firm also supplied new complete mechanicals to other smaller domestic motorvehicle brands like SANTANA and VIASA to name a few were regular customers at the time.
In PSA and Renault hands
Edit
In 1978, Chrysler Europe was sold to PSA, who subsequently renamed all former Chrysler/Simca models to Talbot (so for example the Chrysler 150 became Talbot 150). Barreiros continued to assemble Talbot car models launched under the PSA reign, such as Talbot Solara or Talbot Samba.
The truck and bus division was sold to Renault and for a short time the old ex-Barreiros models were sold and badged as Dodge vehicles but both Barreiros and Dodge brandnames were dropped at around 1981.Original Barreiros lorries and large vehicles were also frequently nicknamed as The Spanish Dodges before Renault Of France arrived.Today the former Barreiros Diesel S.A. old Villaverde motorvehicle factory at Madrid is entirely owned by Regie Renault SA of France where modern original Renault truck models are produced.
Truck models (Barreiros brand)
Edit
(1957-1981)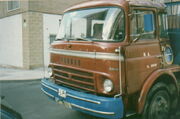 Tractor models (Barreiros brand)
Edit

From 1958 through 1966, there was joint venture between Barreiros (75%) & Hanomag (25%) to produce the Hanomag-Barreiros tractors in Spain.
Car models (Simca brand)
Edit
Simca 1000 automatico
Simca 1000 GT
Simca 1000 Gt Rallye
Simca 1000 Rallye 2
Simca 1000 Rallye Gr2
Simca 1200 LS
Simca 1200 GL
Simca 1200 GL Special
Simca 1200 GLS (90 octanos)
Simca 1200 GL Special
Simca 1200 LX-TI
Simca 1200 Campero
Car models (Dodge brand)
Edit
Bus models
Edit
Add details here - please
Preservation
Edit
Do any of these Spanish built vehicles exist in the UK ?
List examples here please.
References
Edit
J.L. García Ruiz, "Barreiros Diesel y el desarrollo de la automoción en España" (ftp://ftp.funep.es/phe/hdt2003.pdf)
External links
Edit
Early Makes - pre 1940s

1940s to 1980s

Modern post 1980s

Independents
North America

Europe

India & Pakistan

Middle East
(Turkey, Iran,
Iraq, Syria etc...)

Far East
(Australasia, China,
Japan, Korea, Thailand,
Vietnam etc...)

South America
(Argentina, Brazil,
Uruguay etc)

Africa

Asia
(Russia, Tajikstan,
Uzbekistan, Ukraine)

Specialist types of tractor

Notable People - associated with the tractor industry

Inventors
Community content is available under
CC-BY-SA
unless otherwise noted.