For UK crane hire company, see Baldwin Crane Hire.
Baldwin was a brand of Australian super tractor articulated tractors. These include some with over 600 hp, but none were as big as the Big Bud 747 from America.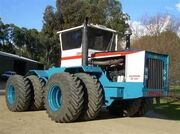 E.M. Baldwin founded his company in 1928 as a general engineering firm. His son Frank led the company into building Baldwin's first tractor in 1979. The company's name was later changed to Baldwin Engineering. It was based in Castle Hill, NSW, Australia, and continued to build 4WD articulated tractors until about 1990. They also produced mining and industrial equipment.[1]
Model range
Edit
References / sources
Edit
↑ Australian Tractors: Indigenous Tractors And Self-propelled Machines in Rural Australia, Graeme R. Quick, Rosenberg Publishing, 2006, pgs.131-132
External links
Edit
Add relevant external links here.
Baldwin tractor range

Models
Early Makes - pre 1940s

1940s to 1980s

Modern post 1980s

Independents
North America

Europe

India & Pakistan

Middle East
(Turkey, Iran,
Iraq, Syria etc...)

Far East
(Australasia, China,
Japan, Korea, Thailand,
Vietnam etc...)

South America
(Argentina, Brazil,
Uruguay etc)

Africa

Asia
(Russia, Tajikstan,
Uzbekistan, Ukraine)

Specialist types of tractor

Notable People - associated with the tractor industry

Inventors