BMW X3
[[File:|frameless|upright=1.25|alt=]]
Manufacturer
BMW
Production
2003–2010
Assembly
6th of October City, Egypt (BAG)[1]


Graz

, Austria (Magna Steyr)


Kaliningrad

, Russia (Avtotor)[2]
Class
Compact crossover SUV
Body style(s)
4-door SUV
Layout

Longitudinally mounted

, front engine, four-wheel drive
Engine(s)
3.0L 260 hp (190 kW) I6
Transmission(s)
6-speed automatic and manual
Wheelbase
2,795 mm (110.0 in)
Length
2004-08: 179.7 in (4,564 mm)
2009-present: 4,570 mm (179.9 in)
Width
1,855 mm (73.0 in)
Height
2006-08: 1,675 mm (65.9 in)
2004-05 & 2009-present: 1,673 mm (65.9 in)
Related

BMW 3-Series
The first generation BMW X3 (internal designation: E83) is a compact crossover SUV of the German automaker BMW. Marketed below the E53 and later E70, the X3 was presented at the International Motor Show 2003 and is since January 2004 on the market.
Engines
All models are equipped with the BMW xDrive All Wheel Drive system, with a default 40:60 torque split between the front and rear axles and has the ability to direct all the torque to either axle.
| Model | Model Year | Engine |
| --- | --- | --- |
| X3 xDrive18d | 2009-Current | N47D20 |
| X3 2.0d/ xDrive20d | 2005-Current | M47TU2D20 |
| X3 2.0i/ xDrive20i | 2004-Current | N46B20 |
| X3 2.5i | 2004–2006 | M54B25 |
| X3 2.5si/ xDrive25i | 2007-Current | N52B25 |
| X3 3.0d/ xDrive30d | 2004-Current | M57TUD30 |
| X3 3.0sd/ xDrive35d | 2007-Current | M57TU2D30 |
| X3 3.0i | 2004–2006 | M54B30 |
| X3 3.0si/ xDrive30i | 2007-Current | N52B30 |
Model
capacity
cylinder
power
Torque
0–100 km/h
Vmax
production period
2.0i/
xDrive20i
1995 cc
4
110 kW (150 PS)
at 6200/min
200 N·m (150 lb·ft) at 3750/min
11,5 s
198 km/h (123 mph)
since 9/2005
2.5i
2494 cc
6
141 kW (192 PS)
bei 6000/min
245 N·m (181 lb·ft) at 3500/min
8,9 [9,8] s
208 [208] km/h
9/2004–8/2006
2.5si/
xDrive25i
2494 cc
6
160 kW (218 PS)
at 6500/min
250 N·m (180 lb·ft) at 2750-4250/min
8,5 [8,9] s
210 [210]/
221 [220]* km/h
since 9/2006
3.0i
2979 cc
6
170 kW (231 PS)
bei 5900/min
300 N·m (220 lb·ft) at 3500/min
7,8 [8,1] s
210 [210]/
224 [210]* km/h
9/2003–8/2006
3.0si/
xDrive30i
2996 cc
6
200 kW (272 PS)
at 6650/min
315 N·m (232 lb·ft) at 2750/min
7,2 [7,5] s
210 [210]/
232 [228]* km/h
since 9/2006
xDrive18d
1995 cc
4
110 kW (143 PS)
at 4000/min
350 N·m (260 lb·ft) at 1750/min
10,3 s
195 km/h (121 mph)
seit 6/2009
2.0d
1995 cc
4
110 kW (150 PS)
at 4000/min
330 N·m (240 lb·ft) at 2000/min
10,2 s
198 km/h (123 mph)
9/2004–8/2007
2.0d/
xDrive20d
1995 cc
4
130 kW (177 PS)
at 4000/min
350 N·m (260 lb·ft) at 1750-3000/min
8,9 [9,2] s
206 [205] km/h
seit 9/2007
3.0d
2993 cc
6
150 kW (204 PS)
at 4000/min
410 N·m (300 lb·ft) at 1500-3250/min
7,9 [8,2] s
210 [210]/
218 [215]* km/h
9/2003–8/2004
3.0d/
xDrive30d
2993 cc
6
160 kW (218 PS)
at 4000/min
500 N·m (370 lb·ft) at 1750-2750/min
7,4 [7,7] s
210 [210]/
220 [220]* km/h
since 9/2004
3.0sd/
xDrive35d [3]
2993 cc
6
210 kW (286 PS)
at 4400/min
580 N·m (430 lb·ft) at 1750-2250/min
6,4 s
240 km/h (149 mph)
since 9/2006
Notes
[] = Values are valid for vehicles with 5-speed automatic (as of 09/2005: 6-speed automatic).
* = In combination with optional Edition Sport, M-Sport package, dynamic packet or certain alloy wheels.
2005 model year changes
Bluetooth

could actually be ordered straight from the factory (part of the Premium Package) and functioned without dealer intervention. (Although the BMW X3 was originally offered and promised with Bluetooth support in 2004, none of the cars that shipped from the factory actually had it installed. Few were able to get it to work with servicing from their dealer.)
The interior was upgraded with more consistent plastic panels. Also instead of having grey carpeting which was present on all 2004 X3s, the 2005 X3 came with carpeting that matched the leather ordered (with the exception of the Terracotta interior with black carpeting).
Slightly softer suspension.
Front fenders are one piece, as opposed to the two piece found on 2004 models.
A 2.0d engine became available in some markets - joining the 2.5i and 3.0i engines (found stateside) as well as the 3.0d engine sold elsewhere in the world.
An 'Open-Door' indicator was added on the 2004 models.
Revised BMW X3 (2006-2010)
For 2007, the X3 is powered by the N52 inline 6 cylinder engine that debuted on the 2006 E90 3 Series. In 2007 a face lift was given to the X3, including an X-drive update, suspension adjustments, an engine upgrade, and aesthetics inside and out.
As well in 2007 the BMW X3 range extended with smaller engines including the 4-cylinder petrol and diesel option. These options now becoming available to countries across Europe, America, Asia and Australia.
The new

BMW R6

engines available across the rest of the BMW line-up were, as with the 2006 X5 and 2006 Z4, curiously absent from the 2006 X3. It is rumored that the X3 will not get the R6 until the all-new BMW X5 is released in 2007 which will include the R6 engine amongst other newer engines. The X3 will receive, however, redesigned monochromatic front and rear fascias to replace the flat black bumpers.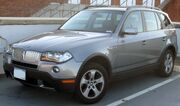 U.S. bound 2006 X3's were all equipped with a special version of the 'M' technik body kit as standard. The difference being in that the U.S. cars had unpainted door sills and wheel arches. U.S. spec Sport Package 2006 X3's got the full 'M' body kit (with painted front, side and rear plastic) available in the rest of the world as a BMW accessory.
2.5i was removed for sale from the U.S. market as this market tended to go more for the 3.0i model.
The new changes to the 2007 BMW X3 are now listed on the BMWUSA [2] home page. The 3.0si engine produces 260 hp (193.9 kW/263.6 PS) and 225 lb·ft (305 N·m) torque, at a lower engine speed (2500 rpm). The front and rear fascia are changed, more closely resembling the X5 SUV. New LED lights and interior upgrades have also been introduced. The Cold Weather package includes heated seats in the front and the rear.

Adaptive headlamps

and a panoramic sunroof are available, as well as upgraded dashboard components and leather seating.
The 2007 X3 with the automatic transmission has received owner complaints for poor shifting and lack of throttle response. Search the web for X3 and transmission to find complaints posted on several websites and also check the concerns filed with the

NHTSA

. It should be worth noting however that many BMW forums have attributed the X3's poor shifting and lack of throttle response to faulty transmission software programming. The problem should go away by having the dealer reprogram the EGS with Progman V27.02.00 or higher.
Outside the North American markets, diesel sales dominate the X3 model mix. In Europe, the range starts with a 2.0 litre 4 cylinder petrol, a 4cyl. turbo diesel (the most successful derivative) and continues with 6 cylinder turbo & bi-turbo diesels. The range topper is the sport diesel with 286 bhp (213 kW/290 PS). The X3 was in 2006 and 7 the best-selling AWD vehicle in the German market, an example of the reduced significance of off road capability in the segment. In the European markets, 'all-weather' capability has assumed far more significance than traditional wilderness hero Jeep/Land-Rover sense of SUV in the expansion of the X3 and its rival's sales.
Facelift
Since 23 September 2006 the E83 has a facelift. It was last little details on the headlights, the double kidney grill, front bumper, tail lights, the rear bumper, and especially the controversial interior. With the exception of the four-cylinder gasoline engine and the engine range has been revised, most recently in the autumn of 2007, the 2.0 diesel engine. Another engine that 3.0sd with twin turbochargers has been introduced.
Editions
Since September 2008, the Edition Exclusive and Edition lifestyle are available. The M-Sport Package is being replaced in March 2009 by the Sport Limited Edition.
Design
The X3 is only slightly smaller than its big brother, the X5 (E53) and features (measured up to the window edge), even greater, at 20 liters of luggage compartment (480 liters). Due to its compact dimensions, it looks sportier and less brawny than its bigger brother, X5.
Safety
Euro NCAP

scores

| | |
| --- | --- |
| Adult Occupant: | |
| Child Occupant: | |
| Pedestrian: | |
Awards
References
External links

« previous — BMW road car timeline, 1980s–present
Type
Series
1980s
1990s
2000s
2010s
0
1
2
3
4
5
6
7
8
9
0
1
2
3
4
5
6
7
8
9
0
1
2
3
4
5
6
7
8
9
0
1
Small family

3 Compact

E36/5

E46/5

1 Series

E81 / E82 / E87 / E88

Compact exec

3 Series

E21

E30

E36

E46

E90 / E91 / E92 / E93

Executive

5 Series

E12

E28

E34

E39

E60 / E61

F10 / F11

Luxury Coupé

6 Series

E24

E63 / E64

F12 / F13

Luxury

7 Series

E23

E32

E38

E65 / E66 / E67 / E68

F01 / F02 / F03 / F04

Roadster
Z Series
E30 (Z1)

E36/7 & E36/8 (Z3)

E85 / E86 (Z4)

E89 (Z4)

M

1 Series M Coupe

E82 M

M3

E30 M3

E36 M3

E46 M3

E90/92/93 M3

M5

E28 M5

E34 M5

E39 M5

E60/61 M5

M6

E24 M635CSi/"M6"

E63/64 M6

M Roadster

E36/7 (Z3) M

E85 (Z4) M

M Coupé

E36/8 M Coupé

E86 M Coupé

Supercar/GT

E26 (M1)

E31 (8 series)

E52 (Z8)

Sports Activity
X1
E84
X3
E83
F25
X5
E53
E70
X6
E71 / E72

Progressive Activity

5 GT

F07