Coordinates: 34°53′35″N 82°10′44″W / 34.89306°N 82.17889°W / 34.89306; -82.17889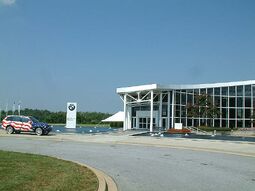 The BMW US Manufacturing Company in Greer, South Carolina is BMW's only US production facility. It was built to serve the demand of BMW automobiles directly in the US. Due to the structure of BMW's production plan, however, the Spartanburg plant does not actually assemble all BMW vehicles sold in the US market; instead, the plant serves as the only X5 and X6 production site in the world. Hence, all models of these vehicles exported worldwide originate from BMW Spartanburg.
History
When BMW announced in 1992 that it would build a manufacturing facility in the United States to strengthen its international production system, a new era began. The location: a 1,150-acre (4.7 km²
) site in Spartanburg County, South Carolina, a state with little-known expertise for automotive production. Among South Carolina's assets: a qualified workforce and additional training through its Technical Education System; easily accessible transportation facilities, including a deep-water port, major airport, modern rail and road systems; and strategic location within easy distribution range of a majority of BMW's primary United States markets.
The now $2.2 billion investment solidly positions BMW Manufacturing as an integral part in the company's five-plant production network. Unlike many other automobile factories, all of the manufacturing processes in the South Carolina facility are under one roof, creating an open communications environment that enhances the focus on quality.
BMW Manufacturing Co. is a BMW Group company. In addition to the South Carolina manufacturing facility, BMW's North American companies include sale, marketing, design and financial services operations in the United States, Mexico and Canada, as well as throughout Latin America.[1]
Products
X3 Sports Activity Vehicle (SAV) (2nd generation coming soon - production to be transferred from Austria)
X5 Sports Activity Vehicle (SAV) (1st & 2nd generations)

xDrive30i
xDrive48i
xDrive50i
xDrive35d (diesel)
Motorsport
X6 Sports Activity Coupe (SAC) (1st generation)

xDrive35i
xDrive50i
Motorsport
Active Hybrid
Z4

(1st generation 2003-2008, 2nd generation production was transferred to Regensburg, Germany in 2008)

Roadster
M Roadster
Coupe
M Coupe
Z3

(1995–2002)

Roadster
M Roadster
Coupe
M Coupe
318i/318is

(1994–1996, BMW Plant Spartanburg was not the sole producer of this model)
References
External links