The BMB tractor was manufactured by the Brockhouse Company of Southport , England. the initials BMB stood for British Motor Boats, who designed the tractor. BMB also built a range of small engines. The tractors were available as a small garden tractor or two Iron horse type walk behind units for pulling market gardener's cultivation equipment. Built as a affordable machine using post war surplus production capacity, to help with the cultivation of small areas during postwar rationing.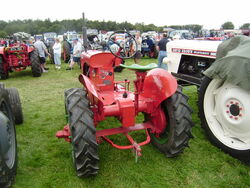 The President model were built from 1947 to 1956 when falling sales led to the cessation of product. The Stock of spares being transfered to H.J. Stockton & Co. Ltd, who redesigned the machines to take either a Ruston & Hornsby or Petter engine. These were sold as "Stokold tractors" from 1956 to 1960.
Model Range
Edit
BMB President
Edit
Main article: BMB President
The BMB president used a 4 cylinder 918cc morris industrial engine. There were three versions of this tractor one being the standard.
Orchard and Vineyard versions
There was also orchard and a vineyard models and the difference being that the air filter was removed and the exhaust was under the front grill on the vineyard and orchard model. The orchard was the same as the vineyard but it was 13ins lower so it could pass under trees. The next photo is of the vineyard version of the BMB president.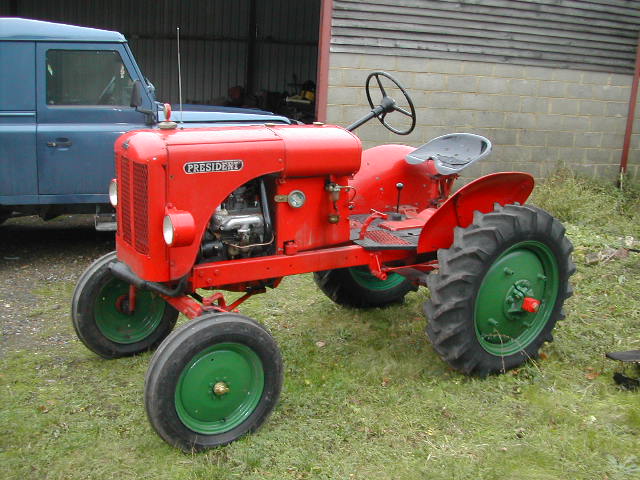 BMB Plowmate
Edit
The BMB plowmate was the largest of 3 different size pedestrian tractors built by British Motor Boats who started importing American built machines during the 1930,s. The plowmate has a 2 foward and reverse gearbox and is powered by a JAP model 5 engine or a Briggs&Stratton ZZ engine both of around 6hp.
BMB Hoemate
Edit
Smallest of the BMB walk behind tractors, the Hoemate has a 2 stroke engine made by Brockhouse of around 1.5hp, it has a single foward speed and ratchet hubs to aid cornering. a flat belt when tensioned provides the drive from the engine to the wheels. like the other BMB tractors it could be fitted with many implements.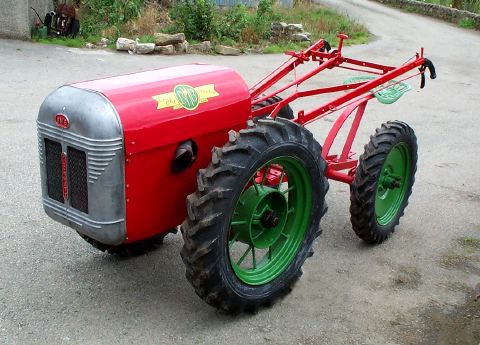 BMB Cultmate
Edit
The BMB Cultmate was the mid-range garden tractor produced by British Motor Boats, who were importing American Simplicity garden tractors before the war. Due to short supply of parts during the war years, they started making their own machines. The Cultmate has a BSA 3½ single-cylinder engine, a flat belt drive, with lever-operated tensioner acting as a clutch to the single-speed gearbox. Ratchet hubs made turning easier. As with many of these small horticultural tractors, many different implements were made.
Preservation
Edit
A number of examples survive & are often seen in the Horticultural sections at working events, as well as in the tractor line up at shows. Only a few examples have registration plates as most worked in small market gardens and did not travel on the road. A number of examples are missing the serial number plate which is (was) brass & mounted on the bulked between driver and the engine on the tractors.
Serial numbers appear to be in several series;
STV 1206 - Built by Brockhouse Engineering (Southport) ltd. at Southport
 ??? 176406 - Built by British Motorboats Ltd at ?
Known examples include;
Reference
Edit
Tractors & Machinery Magazine V9/3
"The BMB President" by Bill Mills and Joe Paget
External links
Edit
| | |
| --- | --- |
| | Add any external links that directly relate to this articles subject and have more info or have related images. Other general external links can be added to the web Site Links list. |
Early Makes - pre 1940s

1940s to 1980s

Modern post 1980s

Independents
North America

Europe

India & Pakistan

Middle East
(Turkey, Iran,
Iraq, Syria etc...)

Far East
(Australasia, China,
Japan, Korea, Thailand,
Vietnam etc...)

South America
(Argentina, Brazil,
Uruguay etc)

Africa

Asia
(Russia, Tajikstan,
Uzbekistan, Ukraine)

Specialist types of tractor

Notable People - associated with the tractor industry

Inventors
Community content is available under
CC-BY-SA
unless otherwise noted.