We're Getting Mutants in the MCU - The Loop
Play Sound
BCI (trading as Bus & Coach International Pty Ltd) is an Australian owned and operated bus and coach company. The company was established by Australian entrepreneur and bus industry stalwart Ron J. Nazzari in 1991 and started as a small family-run operation.
The BCI brand has a long history in the Australian bus market, and today the company is one of the largest bus and coach companies in Australia, while still maintaining a family focused approach to business.
The manufacturing of the BCI vehicles takes place in a production facility in Nanchang, Jiangxi Province, China. BCI buses have been supplied to the Australian, New Zealand, American, Canadian and Asian markets.
Hybrid Electric Vehicles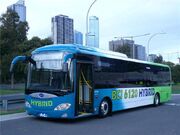 In response global warming, BCI has been at the forefront of the public transport industry in Australia. BCI created innovative diesel and electric hybrid vehicles, to work towards reducing carbon emissions. A BCI 6120 hybrid was the first commercially sold hybrid vehicle in Australia[1].
In reference to the company's environmentally-friendly diesel and electric buses, Allen Matzel of ABC Magazine explains that the BCI Hybrid System produces less carbon dioxide, less nitrous oxides and less particulates. He states "BCI Australia has invested with Eaton Corporation, USA, to offer a superior hybrid system"[2].
The BCI Hybrid technology is inexpensive compared to other manufacturers and does not require large capital expenditure to maintain and service. The combination of cost-effectiveness and environmental-friendliness is reflective of the BCI slogan 'Building a World of Difference'.
The BCI PROMA electric was the winner of the B.A.A.V Best New Energy Bus at the 2009 AsiaWorld Bus Expo[3].
Design
BCI has also focussed on the development of improved bus and coach transport designs tailored for passengers with disabilities. These vehicles have been employed by State governments in Australia[4] and offer improved wheelchair accessibility[5].
BCI cooperates with a wide range of internationally recognised and high quality parts suppliers, including Eaton, Caterpillar Inc. and Cummins.
References
External links

Automotive industry in Australia

Economy of Australia

Transport in Australia

Australian vehicle
manufacturers

Alpha Sports

BCI Bus

Bolwell

Borland Racing Developments

Bush Ranger

Coach Concepts

Coach Design

Denning Manufacturing

Devaux Cars

DRB Sports Cars

Elfin Sports Cars

Express Coach Builders

GDLS-Australia

Holden (

Holden Special Vehicles

)

Jacer

Minetti Sports Cars

Nota

P&D Coachworks

PRB

RFW

Thales Australia

Defunct vehicle
manufacturers

Birrana

Bowin Cars

Brabham

Buckle Motors

Cheetah Racing Cars

Ford Performance Vehicles

Giocattolo Motori

Goggomobil

Hartnett

Kaditcha

Mills-Tui

Parramatta-Ryde Bus Service

Purvis Cars

Ralt

Rennmax

Zeta

Components

Autobarn

Autopro

Beaurepaires

Bob Jane T-Marts

Kinetic Suspension Technology

Pedders

Rare Spares

Repco

Supercheap Auto

Subsidiaries of foreign companies

Tesla Australia

Volkswagen Group Australia

Related topics

ANCAP

Adelaide ToyoShow

Australian International Motor Show

Highways

Brisbane International Motor Show

Melbourne International Motor Show

Motorclassica

Perth Auto Expo