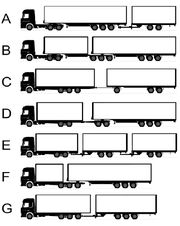 In the simplest terms a B-Train (as related to the road transport or trucking industry) consists of two trailers linked together by a fifth wheel, and are up to 26 m (85 ft) long. The fifth wheel coupling is located at the rear of the lead, or first trailer and is mounted on a "tail" section commonly located immediately above the lead trailer axles. In North America this area of the lead trailer is often referred to as the "bridge". The twin trailer assembly is hooked up to a tractor unit via the tractor unit's fifth wheel in the customary manner.
The main advantage of the B-Train configuration is its inherent stability when compared to most other twin trailer combinations and it is this feature above all else that has ensured its continued development and global acceptance.
Although known as a B-Train in many countries, this particular twin trailer combination is also known by the term Interlink in Southern Africa and as a B-Double in Australia.
B-Train trailers are used to transport many types of load and examples include tanks for liquid and dry-bulk, flat-beds and curtain-siders for deck-loads, bulkers for aggregates and wood residuals, refrigerated trailers for chilled and frozen goods, vans for dry goods, logging trailers for forestry work and cattle liners for livestock.
The B-Train principle has been exploited to its full potential in Australia where new configurations such as B-Triples, Double-B-Doubles and 2AB Quads are now commonplace.
B-Doubles are known to operate in the following countries or regions. Australia, Brazil, Canada, Finland, France, The Netherlands, Indonesia, Mexico, New Zealand, South Africa, Sweden, USA, Zimbabwe. In the United Kingdom, Denby Tranpsort is attempting to overturn a ban on most Longer Heavier Vehicles with their Eco-Link actively steered B-Double.
Community content is available under
CC-BY-SA
unless otherwise noted.