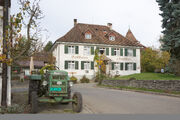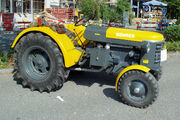 Bührer Traktorenfabrik AG, (Bührer Tractor Factory), was a Swiss tractor manufacturer based in Hinwil, Zurich. Buhrer started building tractors in the 1930s having started building self-propelled mowers in 1929. and by 1940 was an early user of diesel engines in tractors. The company was innovative as they introduced cabs from 1938 and offered 3-range gearboxes from 1954.
The company built tractors up till 1978 with total production being about 22,600.[1]
Company history
Buhrer was a Swiss tractor manufacturer based in Hinwil, Switzerland building a variant of Massey Ferguson models. In 1927 Fritz Bührer took over a Ford dealership in Frauenfeld, Switzerland, and in 1929 he assembled his first tractor based on parts from wrecked Ford automobiles. The tractors continued to grow and evolve, and in 1939, the former Maschinenfabrik AG Hinwil factory in Hinwil was purchased. In 1964, the company became a public limited company, and part of the company was sold to Rapid Group in 1973. Fritz died in 1974. The remainder of the company was purchased by Rapid in 1979 from the Bührer family.
During World War II Bührer built tractor with wooden carburetor engines, such as other manufacturers also. After the war began in the heyday of the company. Most successful model was the general-purpose tractor with a volume of approx. 7000.
in 1954, Bührer introduced a new series of tractors with the Bührer triplex transmission. Ten years later, in 1964, Bührer Tractospeed transmission for the tractors was introduced. The same year transformed the company into a joint stock company. The company shared the fate of other companies run by technology pioneers. Bührer was overwhelmed by the commercial tasks in the company and missed the necessary structural adjustments. in 1973, Fritz Bührer was forced to sell his company to the Rapid group in Dietikon, Switzerland. He died on 14 September 1974.
In 1978 the tractor production was discontinued after a total number of 22.624. On 1 January 1979, the factory was taken over by the family Maegerle. Today, Bührer tractor factory AG is a workshop for service, repairs, alterations and revision of all tractors and agricultural machinery. Also, they have a large stock of spare parts for Bührer-tractors, and ZF and Schindler-axles.
It has been estimated that there are still are approx. 10'000 Bührer tractors around the world (in use ?). Together with about 2'000 Bührer tractor driven only for exhibitions.
Model range
Bührer Tractor Models
Model
Year(s) Produced
Horsepower
Engine Type
Misc Notes
Photo

Bührer A

25 hp (19 kW)
Ford

Bührer B

25 hp (19 kW)
Ford

Bührer BB6

45 hp (34 kW)
Buick

Bührer BB8

60 hp (45 kW)
Buick

Bührer BC6

50 hp (37 kW)
Chevrolet

Bührer BD2

25 hp (19 kW)
Bührer

Bührer BD3

40 hp (30 kW)
Bührer

Bührer BD4

55 hp (41 kW)
Bührer

Bührer BDJ4

Bührer BF4

50 hp (37 kW)
Ford

Bührer BF4 E

50 hp (37 kW)
Ford

Bührer BFD 4

45 hp (34 kW)
Ford

Bührer BG

Bührer BG 2ZG7

36 hp (27 kW)
Bührer

Bührer BG4

50 hp (37 kW)
Ford

Bührer BG4 E

50 hp (37 kW)
Ford

Bührer BG6

50 hp (37 kW)
Chevrolet

Bührer BG CLM

Peugeot

Bührer BJ4

50 hp (37 kW)
Ford

Bührer BR4

50 hp (37 kW)
Chevrolet

Bührer BSJ

Saurer

Bührer BV6

Bührer BV8

Bührer BVD6

60 hp (45 kW)

Bührer BZ

25 hp (19 kW)
Ford

Bührer C

40 hp (30 kW)
Ford

Bührer CI

Bührer CR

50 hp (37 kW)
Ford

Bührer C4

50 hp (37 kW)
Ford

Bührer D

Bührer D3

25 hp (19 kW)
Ford

Bührer D4

25 hp (19 kW)
Ford

Bührer DC6

50 hp (37 kW)
Chevrolet

Bührer DD3

40 hp (30 kW)
Bührer
Bührer DD4
55 hp (41 kW)
Bührer

Bührer DDI4

60 hp (45 kW)
ih

Bührer DF4

50 hp (37 kW)
Ford

Bührer DFD4

54 hp (40 kW)
Ford

Bührer DFD6

85 hp (63 kW)
Ford

Bührer DO6

40 hp (30 kW)
Opel

Bührer EC6

50 hp (37 kW)
Bührer

Bührer ED4

55 hp (41 kW)
Bührer

Bührer EF4

50 hp (37 kW)
Ford

Bührer EFD 4

54 hp (40 kW)
Ford

Bührer EFD 6

75 hp (56 kW)
Ford

Bührer EMA1

Bührer EO6

40 hp (30 kW)
Opel

Bührer FC6

55 hp (41 kW)
Chevrolet

Bührer FD4

65 hp (48 kW)
Bührer

Bührer FFB

54 hp (40 kW)
Ford

Bührer FFD6

86 hp (64 kW)
Ford

Bührer FMD6

90 hp (67 kW)
Mercedes

Bührer GM29

100 hp (75 kW)
Mercedes

Bührer GM29A

100 hp (75 kW)
Mercedes

Bührer GP21

75 hp (56 kW)
Perkins

Bührer GP21A

75 hp (56 kW)
Perkins

Bührer HI

50 hp (37 kW)
Ford

Bührer I4

50 hp (37 kW)
Ford

Bührer IS8

50 hp (37 kW)
Ford

Bührer KC4

30 hp (22 kW)
Continental

Bührer KD2

25 hp (19 kW)
Bührer

Bührer KF4

50 hp (37 kW)
Ford

Bührer KJ4

30 hp (22 kW)
Willys

Bührer KP4E

50 hp (37 kW)
Ford

Bührer LD2

25 hp (19 kW)
Bührer

Bührer LF 4

50 hp (37 kW)
Ford

Bührer LFD4

45 hp (34 kW)
Ford

Bührer LO6

40 hp (30 kW)
Opel

Bührer LP3

32 hp (24 kW)
Perkins

Bührer MEF 18

54 hp (40 kW)
Ford

Bührer MF4

50 hp (37 kW)
Ford

Bührer MFD 4/10

54 hp (40 kW)
Ford

Bührer MO6

40 hp (30 kW)
Opel

Bührer MS 12

38 hp (28 kW)
Leyland

Bührer MS 13

44 hp (33 kW)
Leyland

Bührer NS12

38 hp (28 kW)
Leyland

Bührer NS13

44 hp (33 kW)
Leyland

Bührer OF14

44 hp (33 kW)
Ford

Bührer OF14A

44 hp (33 kW)
Ford

Bührer OF14E

44 hp (33 kW)
Ford

Bührer OF16A

49 hp (37 kW)
Ford

Bührer OF17

55 hp (41 kW)
Perkins

Bührer OF17A

55 hp (41 kW)
Perkins

Bührer OF17E

52 hp (39 kW)
Ford

Bührer OF17F

52 hp (39 kW)
Ford

Bührer OF17V

52 hp (39 kW)
Ford

Bührer OF-18

54 hp (40 kW)
Ford

Bührer OF18A

54 hp (40 kW)
Ford

Bührer OP-17

Bührer OP-17A

Bührer OP-17E

55 hp (41 kW)
Perkins

Bührer OS12

38 hp (28 kW)
Leyland

Bührer OS12E

38 hp (28 kW)
Leyland

Bührer OS13

44 hp (33 kW)
Leyland

Bührer OS13A

44 hp (33 kW)
Leyland

Bührer OS13E

44 hp (33 kW)
Leyland

Bührer PD22

65 hp (48 kW)
Bührer

Bührer PF18

54 hp (40 kW)
Ford

Bührer PF18A

54 hp (40 kW)
Ford

Bührer PF19

63 hp (47 kW)
Ford

Bührer PF19A

63 hp (47 kW)
Ford

Bührer PF21

67 hp (50 kW)
Ford

Bührer PF21A

67 hp (50 kW)
Ford

Bührer PM19

65 hp (48 kW)
Mercedes

Bührer PM19A

65 hp (48 kW)
Mercedes

Bührer PO13

40 hp (30 kW)
Opel

Bührer PP17

55 hp (41 kW)
Perkins

Bührer PP17A

55 hp (41 kW)
Perkins

Bührer PP20

65 hp (48 kW)
Perkins

Bührer PP20A

65 hp (48 kW)
Perkins

Bührer PP21

72 hp (54 kW)
Perkins

Bührer PP21A

72 hp (54 kW)
Perkins

Bührer RD22

65 hp (48 kW)
Bührer

Bührer RD22A

65 hp (48 kW)
Bührer

Bührer RF19

63 hp (47 kW)
Ford

Bührer RF19A

63 hp (47 kW)
Ford

Bührer RF21

67 hp (50 kW)
Ford

Bührer RF22

Bührer RM19

65 hp (48 kW)
Mercedes

Bührer RM19H

65 hp (48 kW)
Mercedes

Bührer RP20

65 hp (48 kW)
Perkins

Bührer RP21

75 hp (56 kW)
Perkins

Bührer RP21

75 hp (56 kW)
Perkins

Bührer SO

Bührer Spezial SP4

Bührer Spezial T O4

Bührer Super Six

Mercedes

Bührer SV4

Bührer TD2

Bührer TG2

Bührer TM4

25 hp (19 kW)
Mercedes

Bührer TO4

25 hp (19 kW)
Opel

Bührer UF

Bührer UM4

30 hp (22 kW)
Mercedes

Bührer UN 4/10

Bührer UNM

Bührer UNM4

30 hp (22 kW)
Mercedes

Bührer UNO4

28 hp (21 kW)
Opel/

Rekord

Bührer UO4

25 hp (19 kW)
Opel/

Rekord

Bührer UPM4

30 hp (22 kW)
Mercedes

Bührer UPO4

28 hp (21 kW)
Opel/

Rekord

Bührer VF 14

44 hp (33 kW)
Ford

Bührer VS13

44 hp (33 kW)
Leyland

Bührer WF14A

Bührer WSK

Bührer ZS12

38 hp (28 kW)
Leyland

Bührer ZS13

44 hp (33 kW)
Leyland

Bührer 0513

1953-
Opel

Bührer 40 PS

Bührer 345

45 hp (34 kW)
Perkins

Bührer 445M

45 hp (34 kW)
Mercedes

Bührer 445P

55 hp (41 kW)
Perkins

Bührer 685

85 hp (63 kW)
Mercedes

Bührer 6105

105 hp (78 kW)
Mercedes

Bührer Komfort 445 Spezial

45 hp (34 kW)
Mercedes

Bührer Komfort 455

55 hp (41 kW)
Perkins

Bührer Komfort 465

65 hp (48 kW)
Perkins

Bührer Komfort 465F

65 hp (48 kW)
Perkins

Bührer Komfort 465L

65 hp (48 kW)
Mercedes

Bührer Komfort 465V

65 hp (48 kW)
Perkins

Bührer Komfort 475

75 hp (56 kW)
Perkins

Bührer Komfort 685

85 hp (63 kW)
Mercedes

Bührer Komfort 6105

105 hp (78 kW)
Mercedes

Bührer Komfort 6105 K

115 hp (86 kW)
MWM

Bührer 6110

110 hp (82 kW)

Bührer 6115

115 hp (86 kW)
MWM

Bührer Komfort 6135

135 hp (101 kW)
Mercedes
References
External Links

Early Makes - pre 1940s

1940s to 1980s

Modern post 1980s

Independents
North America

Europe

India & Pakistan

Middle East
(Turkey, Iran,
Iraq, Syria etc...)

Far East
(Australasia, China,
Japan, Korea, Thailand,
Vietnam etc...)

South America
(Argentina, Brazil,
Uruguay etc)

Africa

Asia
(Russia, Tajikstan,
Uzbekistan, Ukraine)

Specialist types of tractor

Notable People - associated with the tractor industry

Inventors