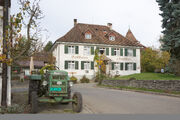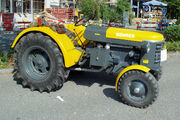 Bührer Traktorenfabrik AG, (Bührer Tractor Factory), was a Swiss tractor manufacturer based in Hinwil, Zurich. Buhrer started building tractors in the 1930s having started building self-propelled mowers in 1929. and by 1940 was an early user of diesel engines in tractors. The company was innovative as they introduced cabs from 1938 and offered 3-range gearboxes from 1954.
The company built tractors up till 1978 with total production being about 22,600.[1]
Buhrer was a Swiss tractor manufacturer based in Hinwil, Switzerland building a variant of Massey Ferguson models. In 1927 Fritz Bührer took over a Ford dealership in Frauenfeld, Switzerland, and in 1929 he assembled his first tractor based on parts from wrecked Ford automobiles. The tractors continued to grow and evolve, and in 1939, the former Maschinenfabrik AG Hinwil factory in Hinwil was purchased. In 1964, the company became a public limited company, and part of the company was sold to Rapid Group in 1973. Fritz died in 1974. The remainder of the company was purchased by Rapid in 1979 from the Bührer family.
During World War II Bührer built tractor with wooden carburetor engines, such as other manufacturers also. After the war began in the heyday of the company. Most successful model was the general-purpose tractor with a volume of approx. 7000.
in 1954, Bührer introduced a new series of tractors with the Bührer triplex transmission. Ten years later, in 1964, Bührer Tractospeed transmission for the tractors was introduced. The same year transformed the company into a joint stock company. The company shared the fate of other companies run by technology pioneers. Bührer was overwhelmed by the commercial tasks in the company and missed the necessary structural adjustments. in 1973, Fritz Bührer was forced to sell his company to the Rapid group in Dietikon, Switzerland. He died on 14 September 1974.
In 1978 the tractor production was discontinued after a total number of 22.624. On 1 January 1979, the factory was taken over by the family Maegerle. Today, Bührer tractor factory AG is a workshop for service, repairs, alterations and revision of all tractors and agricultural machinery. Also, they have a large stock of spare parts for Bührer-tractors, and ZF and Schindler-axles.
It has been estimated that there are still are approx. 10'000 Bührer tractors around the world (in use ?). Together with about 2'000 Bührer tractor driven only for exhibitions.

Early Makes - pre 1940s

1940s to 1980s

Modern post 1980s

Independents
North America

Europe

India & Pakistan

Middle East
(Turkey, Iran,
Iraq, Syria etc...)

Far East
(Australasia, China,
Japan, Korea, Thailand,
Vietnam etc...)

South America
(Argentina, Brazil,
Uruguay etc)

Africa

Asia
(Russia, Tajikstan,
Uzbekistan, Ukraine)

Specialist types of tractor

Notable People - associated with the tractor industry

Inventors
Community content is available under
CC-BY-SA
unless otherwise noted.