We're Getting Mutants in the MCU - The Loop
Play Sound
The automotive industry in New Zealand no longer has a vehicle assembly industry for passenger cars. Changes to protection of the local industry eventually led to the closure of the assembly plants since they could not compete with foreign counterparts. Annual output of automotive industry achieved more than 100 thousands in 1980s and then dramatically decreased due to Asian market import. Currently, there are a number of small domestic companies producing original kit and replica cars using local-made car bodies and imported componentry for both the local and international markets. Several of these, while small in size, are noted internationally for the quality of their workmanship. Most domestic vehicles are imported, with Toyota, Ford, and General Motors Holden division dominating the market.
The automotive industry started with the importation in 1898 of two Benz cars from Paris by William McLean (politician).[1] Apart from a few attempts to create locally made cars in the 1900s (decade) most were imported. New Zealand Government legislation and import duties in the early 1920s created conditions which meant that major international companies such as Ford and General Motors started assembling cars locally.
These major companies and the legislation in turn worked against the formation of any significant indigenous automobile companies. Only small boutique kit and replica car firms were able to survive. In the 1980s, the removal of import duty and restrictive legislation caused an influx of secondhand Japanese cars and unrestricted access for new imported vehicles. In turn, this caused the closure of all the large local assembly plants by the late 1990s because it was cheaper to build mass-produced vehicles overseas.
First automobiles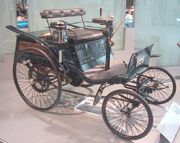 McLean's motor cars were landed at Wellington from the SS Rotomahana on 19 February 1898. They were named a Benz Petrolette and the other a Benz Lightning.[2] After McLean's Benz cars were imported it was almost two years before the next four-wheel car was imported. At least three three-wheelers were imported in 1899: Mr Acton Adams of Christchurch's De Dion, Arthur Maychurch's Star Motor Company Stuart, and Mr Maunsell's of Masterton.[3][4] All three arrived in September 1899, with Acton Adams vehicle being involved in New Zealand's first motor vehicle accident two months later.[5]
The three motor-tricycles were followed in 1900 by a Darracq and a Locomobile steam car along with a Pope-Toledo, Eagle, Argyll, Oldsmobile, and Daimler. In 1903, 153 cars and motorbikes were imported.[6] By the 1920s imports had increased to over 20,000 per annum.[7] Cars in 1903 cost more than twice the average annual income meaning the market was limited to the wealthy.[8] Petrol was not readily available and in some instances owners had to order it from Sydney, Australia.
Early indigenous cars
If steam-powered vehicles are counted, the first vehicles were believed to be a steam buggy constructed by a Mr Empson of Christchurch in 1870 and a steam buggy imported from Edinburgh by John Lillie Gillies of Dunedin, also in 1870.[9] The first traction engine, an 8 hp Reading Iron Works Limited traction engine, had only been imported three years earlier.[10] Gillies steam buggy was more probably a Thomson Road Steamer and not a steam buggy.[11] Gillies sold the Thomson to the Canterbury Provincial Government in 1871 for ₤1,200.[12] These were followed by Professor Robert Julian Scott's 1881 steam buggy.[13]
There is debate about who made the first petrol driven vehicle. Timaru engineer Cecil Wood made a petrol engine in 1897, but later made an unsubstantiated claim to have created and driven a three-wheel vehicle in 1896 followed by a four-wheel vehicle in 1898.[14] His first independently confirmed vehicles date from 1901.
On 3 May 1898 a Nelson, New Zealand newspaper reported that a Mr Sewell of the Upper Buller had constructed a motor car and was to drive it to Wakefield that week.[15] A letter to the Evening Post's editor later that year stated that there were two engineering firms in Wellington constructing motor car engines.[16] Whether Wood, Sewell, or the engineering firms made a roadworthy vehicle at this time is not known as there were no further articles about them.
The first New Zealand designed and constructed automobile known to have run was made by Frederick Dennison. It was a motor tricycle reported in the local newspaper on 8 May 1900.[17] The article stated that Dennison intended to convert the tricycle to a four-wheel motor-car. He did so and drove it from Christchurch to Oamaru in July 1900.[18] It was the only one made and was destroyed by fire on its return journey. A replica of this car was completed and driven in June 2000 in celebration of its first journey.[19]
This was followed by several models constructed by Wood between 1901 and 1903, Alexander Walker Reid of Stratford's steam cars from 1903 to 1906, Gary Methven of Dunedin's petrol driven car, Pat and Thomas Lindsay of Timaru's steam cars in 1903, and Topliss Brothers of Christchurch's car in 1904.[20] A Blenheim engineer, John Birch, constructed the Marlborough in 1912 and several cars named Carlton's between 1922 and 1928 at Gisborne. One of these is still in existence with the Gisborne vintage car club.
Impact of legislation
Government legislation has always had a major impact on the New Zealand industry. The first automobile legislation was the McLean Motor Car Act 1898.[21] It legalised the operation of motor vehicles, providing they were lit after dark, and did not go faster than 20 kilometres (12 miles) per hour. The Motor Cars Regulation Act 1902 followed.
A tariff (import tax) applied to cars and car parts brought into New Zealand, although with McLean's cars there was some initial confusion as to what rate might apply. In 1906 local coachmakers sought an increase in the tariff to 50% for completely built up vehicles.[22] In 1907 a 20% tariff (import tax) was charged on cars that arrived in New Zealand already assembled, to protect local coachbuilders and car assemblers. There were also preferential duties on cars imported from countries outside the British Empire. During the First World War the tariff was reduced to 10%. Until the establishment of the car assembly industry in 1924 most cars were imported assembled.
During the 1920s the most common vehicles were Canadian or American. To change this the Government first introduced preferential duties (British 5% for unassembled and 15% for assembled and all others 50% for unassembled and 60% for assembled) and then, in 1938, import licensing under the Import Control Regulations 1938 which also favoured British cars. These soon became more numerous. This remained the case up to the late 1960s with British cars still numbering more than half of all new cars. Australian brands accounted for another third. The Government intervention was designed to protect the New Zealand car assembly and related industries and to reduce the effect of vehicle purchases on the country's balance of payments overseas. One of the outcomes of import licensing was to make relatively new second hand vehicles more expensive than new ones.
New Zealand's car assembly industry grew largely as a result of protectionism. By the 1980s the Government realised that it was cheaper and more efficient for cars to be assembled in the country where they were made. Australian cars were already duty-free under the Closer Economic Relations agreement.
As tariffs on imported cars were phased out a flood of second-hand Japanese imports in the 1990s led to the demise of local assembly. Imports has risen from less than 3,000 in 1985 to 85,000 in 1990. By 2004 over 150,000 vehicles were imported. Second-hand Japanese cars made up the majority of these cars. The last tariffs were removed in 1998.
Assembly plants
New Zealand's car assembly industry has its roots in pre-car trades. In the early 20th century, coachbuilders and wheelwrights quickly moved into building bodies for imported motor vehicle chassis. From the 1920s to early 1970s, Anglo-American makes dominated the local assembly industry. In the 1960s, Japanese makes began to be assembled, and by the end of the 1990s, they were among the dominant makes.
Ford Motor Company
Rouse and Hurrell of Wellington took up a Ford Motor Company agency in 1908. In 1911, the company became the Colonial Motor Company. Its first specialised car assembly plant was constructed in 1922 at 98 Courtney Place, Wellington – a steel box of nine floors, based on the Ford assembly works in Ontario, Canada. The building stood over 30 metres high and was Wellington's tallest building at the time. The top two floors were used for administration. Assembly of cars from imported packs of parts started on level 7, and finished vehicles were driven out the ground floor. The company built smaller assembly plants in Parnell, Auckland, and in Timaru. In 1936 Ford took over assembly and distribution of its own vehicles, building a new factory in Lower Hutt.
New Zealand Motor Corporation
Morris cars were assembled by Dominion Motors, founded in 1912 by Charles Norwood. It built a factory in Auckland in 1935. Austin agent George H. Scott became the official Austin factory representative in 1919. He formed the Austin Distributor Federation (ADF) which assembled Austins. The New Zealand Motor Corporation, formed in 1970, was a merger of ADF and Dominion Motors, and built Jaguars, Triumphs, Rover and Land Rover products at its plant in Nelson, a former tobacco facility.
General Motors
In 1926, General Motors opened a plant in Petone, in the Hutt Valley. At first, it produced American Chevrolet, Pontiac and Buick cars, adding the Oldsmobile in 1928. Its first British Vauxhalls were built in 1931, along with Bedford trucks.[23]
Australian Holdens were first introduced as assembled cars in 1954, but the first Holden from General Motors' Petone plant, an FE Series, emerged in 1957. A large new plant at Trentham in the Hutt Valley was opened in 1967, where General Motors built such vehicles as the Australian Holden HQ series, Commodore, and UK Vauxhall Viva. By the early 1970s, more than 80% of New Zealand's new cars were supplied by General Motors, Ford, Todd Motors and New Zealand Motor Corporation.[24] By 1988 the General Motors plant at Trentham had been reduced to a truck assembly operation, later to close altogether.[25]
Campbell Motor Industries
Campbell Motor Industries (CMI) assembled a variety of cars in their Thames factory. Originally an importer (Campbell's Wholesale Ltd.), their plant was finished in 1964.[26] Cars from competing manufacturers were often assembled by Campbell's, such as Renault and Peugeot, Nissan and Toyota. New Zealand's first Toyota Corollas were assembled by CMI from 1968.[27] The Hino Contessa was also built by them, as was the Isuzu Bellett[28] and a number of American Motors vehicles such as the Rambler Classic, Rebel, Matador, and Jeep. Although the Rambler brand was officially dropped by AMC from 1968, the marque was continued in New Zealand, Australia and other export markets of AMC during the 1970s. Campbell Motors also assembled RHD Chevrolet Impalas until 1969, with bodies imported from Canada. CMI became part of Toyota New Zealand in 1975 which brought an end to production of AMC vehicles.
Todd Motors
Todd Motors developed out of an Otago-based Ford agency, and in 1935 built a car plant in Petone. It assembled Australian and American Chrysler vehicles (such as the Australian Valiant and Charger), De Soto and Dodge, and, by arrangement with the Rootes group, Hillman (including the popular Minx), Humber and Sunbeam models (see the Rootes Arrow). Todd Motors assembled the Hillman Avenger From 1971 to 1974 using CKD parts from the United Kingdom.[29] Over the years, Todd Park also built, on the same assembly line, the Hillman Hunter and Chrysler Alpine; Mitsubishi Mirage, Sigma, and Lancer. In 1986, Todd sold the plant to Mitsubishi.[30]
Motor Holdings
Motor Holdings developed from the New Zealand franchise of Jowett Motors. The New Zealand franchise imported and assembled Bradford trucks in Auckland. Following Jowett's demise in the UK in 1954, the New Zealand company gained the Volkswagen franchise and changed its name to VW Motors and by 1958 had built a new assembly plant at Fort Richard Rd in Otahuhu. By 1964 the parent company of Motor Holdings was formed, which controlled 15 smaller companies, including VW Motors and the new assembly company of Motor Industries International Ltd. During the 1960s and 1970s Motor Holdings assembled many different makes in addition to Volkswagen including Studebaker, Nash, Hudson, Peugeot 404, Datsun, Simca, Skoda, the Fiat Bambina, and the New Zealand-made Trekka. The company became European Motor Distributors (EMD) in 1978.[31]
Japanese Cars
The first Japanese cars constructed in New Zealand were Nissans, then known as Datsun. Datsun Bluebird P312s were built in Mount Wellington from March 1963. Until it built its own permanent plant in Wiri, south Auckland, in the late 1970s, Nissans were assembled all over New Zealand - by NZ Motor Bodies in Mt Wellington (early Bluebirds) Campbell Industries in Thames (1200 and 1600, 120Y, 180B), Motor Holdings in Waitara (1200 wagon, 120Y wagon), Todd Motors, Porirua (180B) a Nissan-owned 'temporary' plant in Mt Roskill, Auckland (1200, 120Y) and commercial vehicle plants in Glen Innes and Mangere.
Other Japanese manufacturers followed Nissan with Toyota Coronas (and later Crowns) being assembled by Steel Brothers Limited in Christchurch and Campbell's in Thames building the Corolla from the late 1960s.[32] Steel Brothers Limited also assembled Lotus Sevens under licence. Campbell Industries Limited also assembled Hino Contessas, the Isuzu Bellett, and Toyota Corollas after their takeover of Hino.[28]
New Zealand Motor Corporation first built Hondas in Petone in from 1976, adding Mt Wellington, Auckland, later and eventually consolidating at the former Jaguar/Triumph/Rover/Land Rover plant in Nelson. Todd Motors replaced its Petone plant in 1975 with a large new facility in Porirua to produce Mitsubishi, Chrysler and Talbot vehicles plus some Datsuns.
Mazda B-Series pickup trucks were first built by Steelbros (later Toyota) in 1969 and the first cars in 1972 were made by Motor Holdings in Otahuhu and, later Mount Wellington (taking over the Motor Bodies plant). Later Mazda assembly was shared with Ford in a joint assembly plant called Vehicle Assemblers NZ (VANZ), originally Ford's new Wiri plant opened in 1973.
Other makes
Prior to Campbell Motors in 1964, earlier Renaults like the Dauphine and R8 were assembled by Todd Motors under contract while the first NZ-built Peugeots were assembled at Motor Holdings in Otahuhu.
Studebakers were first built along with Nash and Hudson at the original Standard plant in Christchurch prior to being made at Motor Holdings.
Ladas were introduced in the late 1980s and early 1990s as part of an import deal between Fontera's predecessor, the New Zealand Dairy Board and the Soviet Union but were never locally assembled.
In 2014 prominent Auckland businessman Toa Greening proposed constructing Tango T600 electric microcars under licence as a means to reducing traffic congestion, particularly in Auckland, New Zealand's largest city.[33]
Demise of the assembly plants
With the reduction and removal of tariffs through the 1980s and 1990s plus the importation of second hand Japanese cars, the major assembly plants began to close. General Motors closed its Petone plant in 1984 and its Trentham plant in 1990. Todd Motors' Porirua plant was sold to Mitsubishi in 1987, closing eleven years later in 1998.
Ford and Mazda stopped assembling cars in Auckland in 1997; Toyota, Nissan, and Honda in 1998.
Second Hand Imports and Left Hand Drive vehicles
In the early 1990s, import regulations were relaxed and an influx of Japanese second hand vehicles occurred. These had a two-fold effect. Second hand car prices collapsed and the New Zealand public were faced with a huge range of Japan-only, low mileage motor vehicles, many of which were unheard of in neighbouring Australia, where otherwise car trends were similar. The relaxation of regulations also led to many imported American and European cars, trucks and SUVs. Despite being a right hand drive country many left hand drive cars, mostly from the United States or Canada, could be seen on New Zealand roads until 2001 when the New Zealand government introduced new regulations requiring owners of LHD cars to have to have a special permit. Prior to this a permit was not required to own and use a left hand drive vehicle. Accordingly, subsequently imported LHD vehicles were required to be converted to right hand drive with some exceptions. The two main exceptions are: Category A. LHD vehicles under 20 years of age that have been recognised as special interest vehicles by the NZ Transport Agency and have been issued with a Category A left-hand drive vehicle permit, and Category B. Light vehicles that were manufactured 20 years or more before the vehicle was certified in New Zealand.[34]
Local manufacturers
From Trekka to date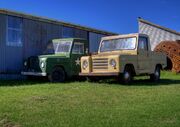 Legislation had created a virtual closed shop to local manufacturers with the large assembly plants of General Motors, Ford, Todd Motors and Dominion Motors making it virtually impossible for indigenous start up companies to compete. The most successful was Trekka from 1966 to 1973, but others like Anziel and Hamilton Walker's Rotarymotive never got started.
In 1974 two young Whataroa brothers, Kevin and Rodney Giles, formed the Duzgo Manufacturing Company to make a small two wheel drive light utility vehicle for use primarily on farms. Their creation, called the Duzgo was made using assorted Austin and Morris parts, a single-cylinder Kohler 12 hp engine and a double gearbox giving 12 forward and three reverse gears. Later models used a Robin 14-16 hp twin opposed engine. It was light and ran on knobbly motorcycle tyres which gave it excellent traction in muddy farm conditions. In all 10 were made by 1979 before the New Zealand Customs Service determined that they were a vehicle manufacturing business and therefore needed to pay 30% sales tax on each vehicle. This effectively ended their business. In 2004 a Duzgo featured in the BBC series Billy Connolly's World Tour of New Zealand.[35][36] There is a Duzgo (possibly number 1) in the Coaltown Museum, Queen Street, Westport and several still remain in use.[37]
With the removal of all tariffs in 1998, new car companies need to be able to compete directly against overseas competition. The most recent New Zealand companys to try have been aimed niche markets. The first was Hulme in 2006, which is aiming to create a model for the supercar market. Its website stated that the first production model was expected to be completed in 2012.[38] It was followed in 2013 by Martin Foster's Zetini Haast Barchetta, another sports car.[39] In 2014 it was priced at $NZ215,590 plus GST with a six-month lead time for delivery.[40] Whether either of these company's has sold any cars, as at May 2015, is unknown.
Alternative fuel vehicle development
There have been at least two attempts to develop electric vehicles, one by the University of Waikato called the UltraCommuter in 2008 and the other in 1995 by Heron called the PC80 and made for the electricity supply company, Powerco. Neither were put into production. The Engineering School of Waikato University is continuing work on electric and solar powered vehicles with a Suzuki Carry being converted to electricity in 2014. The van was to be driven to Christchurch to take part in New Zealand's first electric motorsport event, Evolocity on 30 November 2014.[41]
Auckland University has been working on inductive power transfer technology for a number of years. This provides a means of recharging electric vehicles without the need for them to be directly coupled to a power supply.
Kit cars and replicas
New Zealand had a long history of small garages and vehicle enthusiasts modifying and creating sports and sports racing cars. The Everson brothers, who were noted for making New Zealand first indigenous twin engined mono-plane, between 1935 to 1937 created a small two-seater rear engined car called the Everson Cherub. Three different one-off models were made by the brothers. Ernest's son Cliff built a variety of Everson models from the 1960s to the 1980s. The most successful was his eight Cherub's that were similar in design to the Mini Moke.
In the early 1950s, with the advent of fibreglass bodied cars, a new opportunity arose for local companies associated with car enthusiasts to create car bodies. Among these early manufacturers was Weltex Plastics Limited of Christchurch, which imported a Microplas Mistral sports car mould and began making bodies and chassis in 1956. They were followed in 1958 by Frank Cantwell's Puma and Bruce Goldwater's Cougar.[42] Also in New Zealand during this period, Ferris de Joux was constructing a variety of sports racers. De Joux is noted in particular for his Mini GT from the 1960s.
Ross Baker's Heron Cars started in 1962 making racing cars and eventually began producing kit cars in 1980. Bill Ashton, formerly of Microplas and Weltex, joined with Ted George in the 1960s and made the Tiki. Three were known to have been made. Graham McRae with Steve Bond of Gemini Plastics imported a replica Le Mans McLaren M6B styled GT mould in 1968, The cars were made and sold by Dave Harrod and Steve Bond of Fibreglass Developments Ltd, Bunnythorpe as the Maram. McRae went on to make a very good Porsche Spyder replica in the 1990s.
A number of new companies entered the market in the 1980s - Almac 1985, Alternative Cars (1984), Cheetah (1986), Chevron (1984), Countess Mouldings (1988), Fraser (1988), Leitch (1986), and Saker (1989). Some recent ones are Beattie (automobile) (1997), which became Redline in 2001, and McGregor (2001).
Two companies which specialise in making replicas of various models to order are Classic Car Developments (1992) and Tempero. Both of these companies were noted for the quality of their workmanship. Commencing in 2002, Coventry Classics Limited from Gore specialised in making replica Jaguar C-Types.[43]
Racing cars
As with kit cars, there have been numerous one-off racing cars made in New Zealand. Companies which have manufactured a number of cars, other than the kit sports cars, are Auto Research, which made Formula Vs and Formula Fords in the 1970s and one Formula Junior; and Sabre Motorsport which currently makes Formula Firsts. Another notable racing car manufacturer was George Begg, who made a series of successful Tasman Cup cars in the early to mid-1970s.
Historical production by year
Year
Data
0
10
20
30
40
50
60
70
80
90
100
110
120
ths
1939
17,646
 
1948
10,408
 
1950
9,731
 
1951
13,444
 
1952
15,715
 
1953
15,480
 
1954
20,676
 
1955
26,895
 
1956
32,315
 
1957
32,117
 
1958
29,058
 
1959
26,307
 
1960
32,409
 
1961
29,988
 
1962
32,708
 
1963
36,357
 
1964
61,680
 
1965
56,775
 
1966
58,740
 
1967
50,366
 
1968
39,272
 
1969
50,024
 
1970
55,178
 
1971
56,556
 
1972
59,590
 
1973
69,549
 
1974
76,524
 
1975
70,111
 
1976
58,148
 
1978
63,000
 
1979
84,000
 
1980
90,000
 
1981
115,000
 
1982
123,000
 
1983
91,000
 
1984
89,772
 
1985
80,290
 
1986
64,965
 
1987
73,000
 
1988
63,000
 
See also
Driving licence in New Zealand

Licence plate lookup systems of New Zealand

Ministry of Transport (New Zealand)

New Zealand Road Code

NZ Transport Agency

Transport in New Zealand

Vehicle registration plates of New Zealand

VTNZ
References
↑ "Motor-Cars in Wellington" (17 March 1898), p. 5. Retrieved on

9 February 2012

.

 

↑

New Zealand in Review: an illustrated digest of interesting information, historical, geographical and otherwise, relating to New Zealand, James Berry, page 59

↑

Editorial, Mataura Ensign, Issue 635, 14 September 1899, Page 2

↑

Local and General, Star, Issue 6596, 21 September 1899, Page 3

↑

Accidents and fatalities, Star, Issue 6650, 23 November 1899, Page 3

↑

New Zealand Official Year Book 1904, page 175

↑

Motor vehicle imports, Evening Post, Volume CXI, Issue 79, 3 April 1926, Page 19

↑ 100 years of motoring in New Zealand, John McCrystal, Hodder Moa Beckett Publishers Limited, 2003, ISBN 1-86958-897-5
↑

The New Zealand Motor and Cycle Journal, 25 April 1912, page 73

↑

Latest Telegrams, Timaru Herald, Volume VI, Issue 196, 17 April 1867, Page 2

↑

Editorial, Otago Daily Times, Issue 2743, 21 November 1870, Page 2

↑

Thomson Road Steamer, Press, Volume XVIII, Issue 2444, 28 February 1871, Page 3

↑ Wings over Waiotahi, Radcliffe, Avon Press, 1997, page 55-57, ISBN 0-473-05000-5
↑

Untitled, Colonist, Nelson, New Zealand, Volume XLI, Issue 9161, 3 May 1898, Page 2

↑

The Motor Car Question, Evening Post, Volume LVI, Issue 14, 16 July 1898, Page 2

↑

Local and general, Star , Issue 6789, 8 May 1900, Page 3

↑

First New Zealand Built Motor Car, Otago Witness, Issue 2417, 12 July 1900, Page 48

↑ Rona Adshead and Rex Murry, Replicar, Square One Press, Dunedin, 2002, ISBN 0-908562-53-5
↑ The Veteran Years of Motoring in New Zealand, Pam MacLean and Brian Joyce, AH & AW Reed, 1971, ISBN 0-589-00691-6
↑

Local and general, Evening Post, Volume LV, Issue 121, 24 May 1898, Page 4

↑

Tariff Revision, Evening Post, Volume LXXI, Issue 81, 5 April 1906, Page 5

↑ http://www.toyota-global.com/company/history_of_toyota/75years/data/automotive_business/sales/activity/oceania/index.html
↑ 28.0 28.1 "1967 Hino Contessa 1300 – Rear Guard Assault". NZ Classic Car. Parkside Media (

2007-10-11

). Retrieved on

2012-05-27

.
↑ Steelbro innovations keep it in front of competition, The Press, Christchurch, 14 September 2007, Fairfax Media
↑ http://www.nzta.govt.nz/resources/factsheets/12/importing-a-left-hand-drive-vehicle.html#requirements
↑ Why the Duzgo went, 4WD news, 8 Sept 2010
↑

Duzgo 1974 to 1980, Patrick Halow, Constructors Car Club magazine, Volume 25 Issue 2, March 2012, pages 24-27

↑ Hulme Supercars finalises the Hulme F1, Press release 1 October 2011
↑ http://www.stuff.co.nz/motoring/customs-classics/8618824/Hand-built-NZ-sports-car-close-to-reality
↑ Zetini Haast - Production specifications, Press Release, 1 July 2014
↑ Historic Racing Cars of New Zealand, Graham Vercoe, Reed Books, Auckland 1991, ISBN 0-7900-0189-6
↑ Southland made Jaguars headed to England,

The Southland Times

, 13 February 2015
↑ Yearbooks of the Great Soviet Encyclopedia, 3rd edition

Russian

:

{{{1}}}

↑

New Zealand Official Year Book 1950 and 1989, Statistics New Zealand, New Zealand Government Printer, Wellington 1984 to 1986 statistics
By country

Americas
Asia

Bangladesh

China (

Manufacturers

)
Japan (

Manufacturers

)

Europe
Oceania

New Zealand

Data

List of automobile sales by model

List of bestselling automobiles

List of countries by vehicles per capita

History

Automotive industry crisis of 2008–2010

History of the internal combustion engine

History of the motorcycle

Timeline of motor vehicle brands

Manufacturers
Organisations

Association for Standardisation of Automation and Measuring Systems

European Automobile Manufacturers Association

Organisation Internationale des Constructeurs d'Automobiles

Other

Auto and motor shows

Automotive engineering

Automotive standards
Transport in New Zealand

Economy of New Zealand

New Zealander vehicle
manufacturers

Almac

Alternative Cars

Britten

Chevron Engineering

Fraser Clubman

Hulme

Leitch Motorsport and Restoration

Saker Cars

Defunct New Zealander vehicle
manufacturers
Subsidiaries of Foreign Companies

Ford New Zealand

Honda New Zealand

Nissan New Zealand

Toyota New Zealand

Other

CRC Speedshow

New Zealand Automobile Association

New Zealand state highway network

NZ Transport Agency