Ashok Leyland
Type
Public
Founded
1948
Headquarters
Chennai, India
Key people
R. Seshasayee, R. J. Shahaney, S. P. Hinduja, D. G. Hinduja, Vinod Dasari
Industry
automotive
Products
Automobiles
Engines
Revenue (turnover)
US$ 2.1 billion (2007-08)
Employees
11,500
Parent
Hinduja Group
Subsidiaries
Ennore foundries Limited
Automotive Coaches and Components Limited
Gulf-Ashley Motors Limited
Ashley Holdings Limited
Ashley Investments Limited
Ashley Design and Engineering Services (ADES)
Avia Ashok Leyland
Ashok Leyland Project Services Limited
Lanka Ashok Leyland[1]
Lanka Ashok Leyland Services[1]
Ashok Leyland (National Stock Exchange of India: ASHOKLEY, Bombay Stock Exchange: 500477) is a commercial vehicle manufacturing company based in Chennai, India. It is the second largest commercial vehicle company in India in the medium and heavy commercial vehicle (M&HCV) segment with a market share of 28% (2007–08). With passenger transportation options ranging from 18 seaters to 52 seaters, Ashok Leyland is a market leader in the bus segment. Eight out of ten metro state transport buses in India are from Ashok Leyland. The company claims to carry over 60 million passengers a day, more people than the entire Indian rail network. In the trucks segment Ashok Leyland primarily concentrates on the 16 ton to 25 ton range of trucks. However AL has presence in all truck ranges from 7.5 tons to 49 tons and of late, it has been trying to improve its presence in the Light Commercial Vehicle (LCV) segment (<7.5 tons) through a joint venture with Nissan Motors of Japan.
The company was established in 1948 as Ashok Motors, with an aim to assemble Austin cars. Manufacturing of commercial vehicles was started in 1955 with equity contribution from the British company, Leyland Motors. Today the Company is the flagship of the Hinduja Group, a British-based and Indian originated transnational conglomerate.
Early products included the Leyland Comet bus chassis, which sold in large numbers to many operators, including Hyderabad Road Transport, Ahmedabad Municipality, Travancore State Transport, Bombay State Transport and Delhi Road Transport Authority. By 1963 the Comet was operated by every State Transport undertaking in India, and over 8,000 were in service. The Comet was soon joined in production by a version of the Leyland Tiger.
In 1968 production of the Leyland Titan ceased in Britain, but was restarted by Ashok Leyland in India. The Titan PD3 chassis was modified, and a five speed heavy duty constant-mesh gearbox utilized, together with the Ashok Leyland version of the O.680 engine. The Ashok Leyland Titan was very successful, and continued in production for many years.
Over the years, Ashok Leyland vehicles have built a reputation for reliability and ruggedness. This was mainly due to the product design legacy carried over from British Leyland.
In the populous Indian metros, four out of the five State Transport Undertaking (STU) buses come from Ashok Leyland. Some of them like the double-decker and vestibule buses are unique models from Ashok Leyland, tailor-made for high-density routes.
In 1987, the overseas holding by Land Rover Leyland International Holdings Limited (LRLIH) was taken over by a joint venture between the Hinduja Group, the Non-Resident Indian transnational group and IVECO Fiat SpA, part of the Fiat Group and Europe's leading truck manufacturer. This resulted in Ashok Leyland launching the "Cargo" range of trucks. These vehicles used Iveco engines and for the first time AL vehicles had factory-fitted cabs. The Cargo trucks are no longer in production and the use of Iveco engine was discontinued, but the Cargo cab continues to be used on the eComet range of trucks.
Ashok Leyland also had a collaboration with Hino Motors of Japan from whom the technology for the H-series engines was bought. Many indigenous versions of H-series engine was developed with 4 and 6 cylinder and also conforming to BS2 and BS3 emission norms in India. These engines proved to be extremely popular with the customers primarily for their excellent fuel efficiency. Most current models of Ashok Leyland come with H-series engines.
In the journey towards global standards of quality, Ashok Leyland reached a major milestone in 1993 when it became the first in India's automobile history to win the ISO 9002 certification. The more comprehensive ISO 9001 certification came in 1994, QS 9000 in 1998 and ISO 14001 certification for all vehicle manufacturing units in 2002. In 2006, Ashok Leyland became the first automobile company in India to receive the TS16949 Corporate Certification.
Current Status
Edit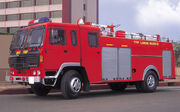 Ashok Leyland is a technology leader in the commercial vehicles sector of India. Its annual turnover exceeded USD 2 billion in 2007-08. Selling close to around 83,000 medium and heavy vehicles in 2007-08, Ashok Leyland is India's largest exporter of medium and heavy duty trucks out of India. It is also one of the largest Private Sector Employers in India - with about 12,000 employees working in 6 factories and offices spread over the length and breadth of India.
The company has increased its rated capacity to 84,000 vehicles per annum. Also further investment plans including putting up two new plants - one in Uttarakhand in North India and one in middle-east Asia are fast afoot. After expansion, the company shall attempt to dominate the medium- and heavy-duty commercial vehicles market in India. It has already a sizable presence in African Countries like Nigeria, Ghana, Egypt and South Africa. The company was involved in exporting vehicles to the Sudan against UK government export restrictions to the region.
Additionally, Ashok Leyland is looking to expand its production operations overseas to make it a more global company. To assist in this goal, the company is looking to acquire small- to medium-sized commercial vehicles manufacturers in China and other developing countries which have an established product line. Also as part of this global strategy, the company acquired Czech Republic-based Avia's truck business. The newly acquired company has been named Avia Ashok Leyland Motors s.r.o. This gives Ashok Leyland a foothold in the highly competitive European truck market. Ashok Leyland is also putting up a manufacturing plant in Ras al Khaimah in UAE as part of its strategy to expand its business in Middle-East Asia.
The Hinduja Group also bought out IVECO's indirect stake in Ashok Leyland for an undisclosed amount in 2007. Thus Ashok Leyland became a fully owned Hinduja Group Company.
Ashok Leyland and John Deere announced plans for a joint venture, Ashok Leyland John Deere Construction Equipment Private Ltd., to start up in 2010 for the manufacture of backhoe loaders and wheel loaders.[2][3]
Nissan Ashok Leyland
Edit
The company has recently announced a joint venture with Japanese auto giant Nissan (Renault Nissan Group) which will share a common manufacturing facility in Chennai, India. The shareholding structures of the three joint ventures are as under:
Ashok Leyland Nissan Vehicles Pvt. Ltd., the vehicle manufacturing company will be owned 51% by Ashok Leyland and 49% by Nissan
Nissan Ashok Leyland Powertrain Pvt. Ltd., the powertrain manufacturing company will be owned 51% by Nissan and 49% by Ashok Leyland
Nissan Ashok Leyland Technologies Pvt. Ltd., the technology development company will be owned 50:50 by the two partners.
The ventures manufacture light trucks under both the Nissan and Ashok Leyland brands. One of the first models is the Ashok Leyland Dost.
Nissan Ashok Leyland Models
Edit
Ashok Leyland announced iBUS in the beginning of 2008, as part of the future for the country's increasingly traffic-clogged major cities. Launched as a concept during the Auto Expo 2008 in India, a vehicle for a first production run of pilot models should be ready by the end of this year. The start of full production is scheduled for 2009. The bus will probably be equipped with an engine from the new Neptune family, which Ashok Leyland also introduced at this exhibition, which are ready for the BS4/Euro 4 emission regulations and can be upgraded to Euro 5.[4]
Ashok Leyland, announced sale of vehicles on the new U-Truck platform from November,2010 with the rolling out of the first set of 10 models of tippers and tractor trailers in the 16 – 49-tonne segment.Further, another 15 models are set to enter the market in the next 12 months.
Ashok Leyland Defence Systems
Edit
Ashok Leyland Defence Systems (ALDS) is a newly floated company by the Hinduja Group. Ashok Leyland, the flagship company of Hinduja group, holds 26 percent in the newly-formed Ashok Leyland Defence Systems (ALDS). The newly floated company has a mandate to design and develop defence logistics and tactical vehicles, defence communication and other systems.[5] Ashok Leyland is the largest supplier of logistics vehicles to the Indian Army. It has supplied over 60,000 of its Stallion vehicles which form the Army's logistics backbone.[6]
Main article: Optare
In 2010, Ashok Leyland of India purchased a 26% share of UK bus builder Optare. They upped the investment to 75% of Optare in Dec. 2011.[7]
Facilities
Edit
The company has six manufacturing locations in India:

Ennore, Chennai
Hosur, Tamilnadu (Hosur - 1, Hosur - 2, CPPS)
Alwar, Rajasthan
Bhandara, Maharastra
Ashok Leyland has a product development facility at Vellivoyalchavadi in the outskirts of Chennai.
The company has an Engine Research and Development facility in Hosur.
The company is setting up a new Plant in the North Indian state of Uttarakhand at Pant Nagar at an investment outlay of Rs. 1200 crores. This plant is expected to go on stream in the year 2008. The Plant will have a capacity to produce around 40,000 commercial vehicles and is expected to cater mainly to the North Indian market taking advantage of the excise duty and other tax concessions.
The company has signed an agreement with Ras Al Khaimah Investment Authority (RAKIA) in UAE for setting up a new manufacturing base in the Middle East.
The company also announced that it may set up a manufacturing base in South Africa.
Leadership
Edit
Ashok Leyland is currently headed by Mr R. Seshasayee who is the Managing Director since 1998. Under his leadership, the company has expanded from a purely India-centric company to a company with global focus. Mr. Seshasayee was also the President of CII (Confederation of Indian Industry), the apex body representing Indian Industry for the year 2006-2007.
The following are the other functional heads at Ashok Leyland
Mr. Vinod Dasari - Whole Time Director.
Mr. K. Sridharan - Chief Financial Officer.
Mr. N. Mohanakrishnan - Executive Director - Internal Audit
Mr. Rajive Saharia - Executive Director - Marketing
Mr. Shekar Arora - Executive Director - Human Resources
Mr. B. M. Udayashankar - Executive Director - Manufacturing
Mr. Anup Bhat - Executive Director - Strategic Sourcing
Mr. Rajindar Malhan - Executive Director - International Operations
Mr. R.R.G.Menon - Executive Director - Product Development
Mr. A. K. Jain - Executive Director - Project Planning
Dr. Aravind S. Bharadwaj - Executive Director - Advanced Engineering
Achievements
Edit
Eight out of ten metro state transport buses in India are from Ashok Leyland. At60 million passengers a day, Ashok Leyland buses carry more people than the entire Indian rail network.
Ashok Leyland has a near 98.5% market share in the Marine Diesel Engines Markets in India.
In 2002, all the vehicle-manufacturing units of Ashok Leyland were ISO 14001 certified with Environmental Management System.
In the 2006-07 financial year, the company sold a record 83,101 vehicles which is an all time high for Ashok Leyland.
It is one of the leading suppliers of defense vehicles in the world and also the leading supplier of logistics vehicles to the Indian Army.
Model range
Edit
Bus and Coaches
Edit
12 M
222 CNG
Airport Tarmac Coach
Cheetah BS-I
Cheetah BS-II
Double Decker
Lynx
Luxura
i-Bus
Olympian
Panther
Stag CNG
Stag Mini
Vestibule
Viking BS-I - city bus
Viking BS-II - city bus
Viking BS-III - city bus
Commercial vehicles
Edit
1613 H
2214
2516 H (6X2)
4018 Tractor
4921
Artik 30.14 Tractor
Bison Haulage
Bison Tipper
Comet CO 1611
Comet Gold 1613
Comet Tipper(4X2)
Ecomet 111i
Ecomet 912
Taurus 2516 - 6 X 2
Taurus 2516 - 6 X 4 Tipper
Taurus 2516 - 6X4
Tusker Gold 2214 (6X2)
Tusker Super 1616
Tusker Super 2214 - 6 X 2
Tusker Turbo Tractor 3516
PTOs & Driveline PTOs for All Ashok Leyland Commercial Vehicles are available with Attral Drivelines in India.
Other products
Edit
See also
Edit
References
Edit
Wikipedia for base article
↑ 1.0 1.1 "Lanka Ashok Leyland". Ashok Leyland. Retrieved on 2008-09-28. "Established in 1982, this is a joint venture between Ashok Leyland and the Government of Sri Lanka. Equity holding of Ashok Leyland Ltd. in the joint venture is 28%."

External links
Edit
Indian Vehicle Manufacturers

Indian-foreign
joint venture vehicle
manufacturers

Components
Subsidiaries of
foreign companies

Design studios
Other

Category
Community content is available under
CC-BY-SA
unless otherwise noted.