Articulated tractors are high horse-powered four-wheel drive (4WD) agricultural tractors that articulate (bend) in the middle. The tractors feature four tires, or sets of tires, of equal size that give the tractor lots of traction. These tractors are often used for tillage and pulling large grain carts.
Dual tractors
Dual tractors, or tandem tractors, are a type of articulated tractor. A number of farmers, and later, manufacturers, built articulated tractors that used 2 medium-sized tractors bolted together with a pivot and removed the front axles to create an articulated machine with 4-wd and twice the power of the original tractor that it was based on. The most notable make in the UK were Doe with their Doe Triple D model based on Fordson E1A Major tractors.
Other tractors have been built as one off or to order by engineering firms in Britain, the USA and Australia, including, but not limited to: John Deere, Massey Ferguson, Ford, Ferguson and Chamberlain, amonst others.
Manufacturers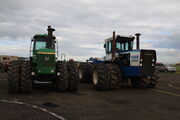 For manufacturers of articulated tractors and related tractor models:
see also: Category:Articulated tractors
A number of farmers also built one-off's from standard parts or out of existing machines.
See also