An articulated bus (either a motor bus or trolleybus or vestibule bus), is a bus which is articulated, essentially meaning it can bend in the middle. It is usually a single-deck design, and comprises two rigid sections linked by a pivoting joint. This arrangement allows a longer legal overall length than rigid-bodied single-decker buses, and hence a higher passenger capacity, while still allowing the bus to manoeuvre adequately on the roads of its service route.
Around the English-speaking world, articulated buses have acquired several different synonyms that allude to their articulated design, such as bendy buses, tandem buses, stretch buses, banana buses, slinky buses, caterpillar buses or accordion buses . Due to their high passenger capacity, articulated buses are often used as part of bus rapid transit schemes, and can include mechanical guidance.
Used almost exclusively on public transport bus services, articulated buses are approximately 18 metres (60 ft) in length; standard rigid-construction buses are usually 11 to 14 metres (36 to 46 ft). The common arrangement of an articulated bus is to have a forward vehicle with two axles towing a rear trailer section with a single axle, although the driving axle can be mounted on either the front or the rear vehicle. Some articulated bus models have a steering arrangement on the rearmost axle which turns slightly in opposition to the front steering axle, allowing the vehicle to negotiate turns in a crab-like fashion, similar to hook-and-ladder fire trucks operating in city environments.[1] A less common variant of the articulated bus is the bi-articulated bus, where the vehicle has two trailer sections rather than one. Their capacity is around 200 persons, and their length about 25 metres (82 ft).
Early examples of the articulated bus appeared in Europe in the 1920s. In Budapest, Hungary the first prototype of this bus was in service in 1960 and could carry 200 passengers. It had been manufactured without the use of blueprints. Later Ikarus's blueprints were drawn up on the basis of this existing prototype. There is an ongoing exhibition in Budapest at the Museum of Transportation in 2010 with the title "The articulated bus is 50 years old".
In the mid-1960s, AC Transit in California pioneered the (American) use of a modern articulated bus, operating the experimental General Motors bus "XMC 77" on one of its transbay lines. Articulated buses have also been used in Australia and Europe (Austria (Gräf & Stift)[1], Italy, Germany (Gaubschat, Emmelmann, Göppel, Duewag, Vetter), Hungary (Ikarus), Poland (Jelcz AP02)) The first modern bendy buses in the UK were built by Leyland-DAB and used in the city of Sheffield, United Kingdom in the 1980s, but were withdrawn from service because they proved expensive to maintain.
Advantages and disadvantages
Edit
This section may contain original research. Please improve it by verifying the claims made and adding references. Statements consisting of original research are allowed on Tractor Wiki, but the validity of entries on this page are being challenged !! More details of any issues with this article may be available on the talk page.
Note:- wikipedia does not allow OR so this template may be present in articles copied from wikipedia and should be removed if nolonger required following review of the content. (December 2009)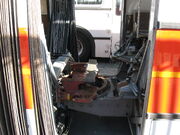 The main benefits of an articulated bus over the double-decker bus are rapid simultaneous boarding and disembarkation through more and larger doors, much larger passenger capacity (120+ versus 80−90), increased stability arising from a lower centre of gravity, often a smaller turning radius, higher maximum service speed, and improved accessibility for people with disabilities and the elderly.
One disadvantage that is sometimes experienced with some articulated models is the insufficiency of the effective motive power available to them. It is common for articulated buses to use the same engine type as non-articulated buses (for example, the Hungarian Ikarus 260 solo and IK 280 bendy share a common 10,350 cubic centimetres (631.6 cu in), 192 brake horsepower (143 kW/195 PS) inline six diesel engine). The extra weight of the bendy bus gives rise to a slower speed and acceleration. When used in cities built on numerous inclines (e.g. Vancouver, B.C. or San Francisco, California), the vehicle is prone to overheating. This may lead to stalling, or in the worst situations to a full-fledged fire if the bus is powered by a diesel engine. During late 2003 and early 2004, a series of onboard fires on newly delivered Mercedes-Benz Citaros led to Londoners humorously nicknaming the vehicles chariots of fire. Mercedes-Benz quickly addressed the problem, although the vehicles were out of service for a period.[2] However, no overheating or fire-related incidents have ever been recorded in Vancouver's articulated electric trolley buses from a similar cause. Vancouver's articulated trolley buses were specifically chosen for the higher torque output of their electric motors, which typically outperform diesel-based low-floor buses.
In some circumstances of urban operation (such as in areas with high pedestrian volumes, narrow streets and tight turns), articulated buses may also be involved in significantly more accidents than conventional buses. Estimates for London's articulated buses put their involvement in accidents involving pedestrians at over five times the rate of all other buses, and over twice as high for accidents involving cyclists. In a period when articulated buses made up approximately 5% of the London bus fleet, they were involved in 20% of all bus-related deaths, statistics which eventually led to their replacement.[3] However, these safety statistics may be partly skewed due to the buses having been used on the busiest routes in the most crowded areas of the city, so making them look worse than the buses they were being compared with.[4]
Articulated buses have been used in most European countries for many years. Until 1980, they were illegal on the UK's roads. A 1979 experiment by South Yorkshire Passenger Transport Executive with buses manufactured by MAN and Leyland-DAB led to a change in the law, but the experiment was abandoned in 1981 because double-decker buses were generally considered less expensive both to purchase and to operate. The cost and weight of the strengthened deck framing and staircase of a double-decker was lower than the cost and weight of the additional axle(s) and coupling mechanism of an articulated bus. Modern technology has reduced the weight disadvantage, and the benefits of a continuous low floor allowing easier access plus additional entrance doors for smoother loading have led to reconsiderations of the use of articulated buses.[5]
Articulated buses became popular in mainland Europe due to their increased capacity compared with regular buses. In many cities, lower railway bridge clearances have precluded the use of double-deck vehicles, which have never achieved great popularity there. Overhead wires for trams, trolleybuses etc. are not really relevant issues, as the minimum normal clearance above road level is standard across the EU and is well in excess of the height of a double-deck vehicle. (Otherwise many goods vehicles would encounter severe problems in the course of normal operation.)
In London, articulated buses and their double-decker counterparts have replaced AEC Routemasters on most routes. Elsewhere in the UK, they are generally operated on particular routes in order to increase passenger numbers, rather than across entire networks. Boris Johnson, the current Mayor of London, has promised to rid the city of the controversial buses, and all articulated buses on route 38 have already been decommissioned. He aims to replace all remaining buses within 12 years with a new generation of open-platform Future Routemaster.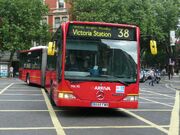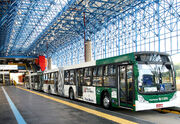 In Israel, the use of articulated buses - commonly called long buses - is widespread, particularly in Gush Dan and Jerusalem, the two great urban centers of the country. The long buses are considered reliable and useful, and have been in service in Israel since the mid-1970s. During the Israeli-Palestinian conflict, such buses were often targeted by Palestinian terrorists and suicide bombers during rush hours, since a crowded long bus can contain more than 100 passengers. Due to the al-Aqsa Intifada wave of mass bombings, security measures were enforced and today many long buses in Israel are accompanied by a security guard.
An articulated bus is a long vehicle and usually requires a specially trained driver, as maneuvering (particularly reversing) can be difficult. Articulated electric trolleybuses can be difficult to control, with their motors producing momentary peak power in excess of 600 kilowatts (816 PS/805 hp). The trailer section of a "puller" bus can be subject to unusual centripetal forces, which many people can find uncomfortable, although this is not an issue with "pushers". Nonetheless, the articulated bus is highly successful in Budapest, Hungary, where the BKV city transit company has been operating more than 1000 of them every day since the early 1970s. The Hungarian company Volán also runs hundreds of articulated buses on intercity lines.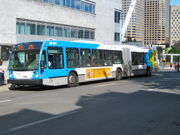 Articulated buses are commonplace in such US urban centers as Baltimore, Boston, Minneapolis-St.Paul, Chicago, Denver, Houston, Columbus, San Diego, Los Angeles, New York City, Pittsburgh, Orange County, California, Philadelphia, Phoenix, the Quad Cities, San Francisco, Seattle, and Washington, DC. In |Eugene, Lane Transit District uses articulated buses on some high-traffic routes, as well as on their Emerald Express (EmX) Bus Rapid Transit Service.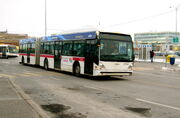 .]]
In Canada, they are used in Calgary, Edmonton, Halifax, Hamilton, London, Longueuil, Mississauga, Montreal, Ottawa, Quebec City, Saskatoon, York Region and Vancouver.
In Asia, many major Chinese cities had fleets of articulated buses prior to the late 1990s. Many of these fleets have since been replaced by single-section units except in a few cities, namely Beijing, Shanghai, and Hangzhou. In South America, they are used in São Paulo, Curitiba, Santiago and Bogotá.
In Adelaide, Australia, articulated buses are used on the O-Bahn guided busway, reaching speeds of 100 km/h. The first articulated buses to use it were the Mercedes-Benz O305G buses; however, three MAN SG280H buses are also equipped for O-Bahn use. In recent years, it has proven problematic to find suitable low-floor articulated buses to replace the 1984-manufactured Mercedes buses, because the design of the O-Bahn track unfortunately precludes the use of most modern articulated buses.
In Singapore, articulated buses were first introduced in 1996 by Trans-Island Bus Services (now SMRT Buses) with the Mercedes-Benz O405G buses (bodied in Hispano Habit and Volgren CR221L). They were given the moniker "bendy buses", a name which is still in use today. In April of that year, SBS Transit introduced a demonstrator Volvo B10MA bus (registration SBS998Y) fitted with a three-door version of the Duple Metsec bodywork similar to that of Volvo's B10M buses. With a length of 19 metres (62 ft), this bus earned the title of "Asia's Longest Bus". In 1997, SBS Transit purchased another bendy bus, the Mercedes-Benz O405GN (registration SBS999U), again as a demonstrator. This bus had Volgren CR221L bodywork. In March 2006, SBS Transit sold all its bendy buses to New Zealand after encountering drivability issues with the Volvo B10MA bus and air-conditioning problems with the Mercedes-Benz bus, and also deciding that double-decker buses could carry more passengers while taking up less road space, as opposed to SMRT's stance that "articulated buses offer greater accessibility and efficiency".[6]
Types of buses
Edit
Articulated buses can be of "pusher" or "puller" configuration.[1] In pusher buses, only the rear C-axle is powered by a rear-mounted internal combustion engine, and the longitudinal stability of the vehicle is maintained by active hydraulics mounted under the turntable. This modern system makes it possible to build buses without steps and having low floors along their entire length, which simplifies access for passengers with limited mobility.
In puller articulated buses, the engine is mounted under the floor between the front and middle A- and B-axles, and only the B-axle is powered. Some consider this an outdated design, as it prohibits floor levels lower than approximately 750 millimetres (30 in), and can produce passenger discomfort due to high noise and vibration levels. On the other hand, the puller bus is cheaper to manufacture, and can be used in very narrow or severely potholed streets. This type of bus also performs better in snowy or icy conditions, as the thrust from the driving wheels does not cause the vehicle to jacknife. Also, the unpowered C-axle is much simpler and carries no engine weight, facilitating the installation of counter-steering mechanisms to further decrease the turning radius.
Modern low-floor pusher articulated buses also tend to suffer from suspension problems because their wheels lack the ampleness of travel that would enable them to absorb surface unevennesses. This also leads to passenger discomfort and relatively rapid disintegration of the vehicle's superstructure.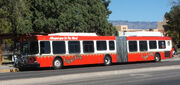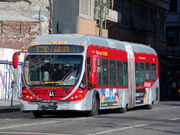 Although the majority of bendy buses utilise diesel engines for their motive power, a number of operators (primarily outside of North America and by LACMTA) are adopting compressed natural gas (CNG) power in order to reduce pollution. Many other transit authorities in the United States and Canada are adopting articulated buses that are diesel-electric hybrids, such as the New Flyer DE60LF.
A typical puller model is the Hungarian-made Ikarus 280, the articulated version of the Ikarus 260, of which more than 200,000 buses were manufactured between 1973 and 2000, mostly for Soviet bloc customers. Well-known makers of pusher-type articulated buses include Mercedes-Benz, New Flyer Industries and Scania. In the past, Volvo and MAN AG Buses produced puller bendies, but both manufacturers have since abandoned these designs for more modern pusher designs. The Renault PR 180 and PR 180.2 (articulated versions of the PR 100 and PR 100.2) were a special variation of the pusher design in which both the B-axle and C-axle were driven, with a driveshaft passing through the turntable between the two driving axles. Very few companies specialise in manufacturing the articulated section for the buses. One that does is ATG Autotechnik GmbH in Siek near Hamburg.
Bi-articulated buses
Edit
Main article: Bi-articulated bus
Since the late 1980s, the concept of the articulated bus has been extended further with the addition of a second trailer section that extends the bus almost to tram length and capacity, to create a bi-articulated bus. The Chinese manufacturer Zhejiang Youngman (Jinhua Neoplan) has developed the 25 metres (82 ft) JNP6280G bi-articulated bus, deemed the "world's largest", which will be used in Beijing. Bi-articulated buses are still rare, having been trialled and rejected in some places. Because of their length they have a role on very high-capacity routes, or as a component of a bus rapid transit scheme.
Double-decker articulated buses
Edit
A few attempts have been made to design a double-decker articulated bus. NEOPLAN Bus GmbH built a handful of Neoplan Jumbocruisers between 1975 and 1992. In these models, only the upper deck allows movement between the two sections, so each section has its own doors and set of stairs.
Driver licensing
Edit
In the European Union a DE (bus and trailer) license is required to drive an articulated bus.
References
Edit
External links
Edit

Community content is available under
CC-BY-SA
unless otherwise noted.