The Ariens Company
Predecessor
Brillion Iron Works
Founded
1933
Founder(s)
Henry Ariens
Headquarters

Brillion, Wisconsin

, USA
Key people
Leon Ariens, Francis Ariens, Michael Ariens, Steve Ariens
Products
lawn equipment
Divisions
Gravely Tractor, Countax, Westwood, Great Dane, Parker, Stens, bynorm
Website
http://www.ariens.com/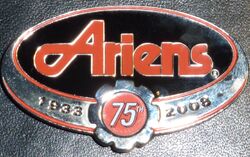 Ariens Company is a Brillion, Wisconsin, USA-based equipment company which has a long history manufacturing snow blowers and lawn tractors for commercial and high-end consumer markets.[1] Ariens touts itself as being the "mower of the White House lawn," "official snow blower of Lambeau Field," and the "King of Snow".
Ariens Company has added various products throughout the years. One of the most enduring and successful products has been the Ariens Sno-Thro.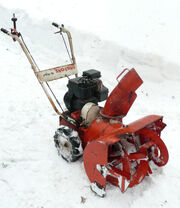 Ariens Company entered the snow thrower market at the urging of an Ariens distributor in the Northeast who wanted a two-stage snow thrower for home snow removal. Product design began on December 15, 1959 and by March 1960, a prototype was complete. Test models were demonstrated to distributors throughout the Snow Belt with widespread approval. It was July 1960 when the company started production and 1,865 units were produced in the introductory season.
Older Ariens units used a very heavy gauge steel blower and rake (auger) design, and many of their older units remain in service after more than 30 years.
By the late 1970s, Ariens produced more than 100,000 Sno-Thro machines each season. In November 2005, the company produced its milestone 2 millionth Sno-Thro® machine.
In 1974, Ariens entered the lawn & garden tractor market when they purchased the L&G business from Sperry-New Holland, which at that time produced L&G equipment and hay equipment. The equipment was then renamed Ariens. Ariens lawn tractors are generally characterized by independent left and right wheel drives, making steering a simple issue of traction and providing far smaller turning radii than most of its competition.
In 1982, Ariens purchased the Gravely Co., which had been a division of Studebaker for several years. Gravely also produced lawn & garden equipment, and it's brand and dealers have been retained as a separate division, although some of the products are the same.
Another acquisition happened in 1990 when Ariens purchased the Stens Corporation of Jasper, Indiana. Stens manufactures replacement parts for various outdoor power equipment.[2]
Ariens released an electric lawn mower in April 2009 through its dealer network and at Home Depot.[1] The mower runs for 75 minutes on a single charge.[1] Also, in 2009, Ariens signed a sourcing agreement with Husqvarna (Poulan) for some lawn tractor models.
Additional acquisitions took place from 2006 through 2010 when Ariens purchased Locke Turf Company, National Mower, Kee Mower and Parker. In 2007, Ariens acquired the assets Auburn Consolidated, Inc. (ACI) of Auburn, Nebraska, manufacturers of EverRide and Great Dane branded commercial mowers. These were consolidated into Gravely. In 2010 Ariens acquired UK-based Countax Ltd. a lawn tractor manufacturer based in Oxfordshire, United Kingdom. Another acquisition included Norwegian-based Søvde, a power equipment distributor.[3]
References
Edit
External links
Edit
Early Makes - pre 1940s

1940s to 1980s

Modern post 1980s

Independents
North America

Europe

India & Pakistan

Middle East
(Turkey, Iran,
Iraq, Syria etc...)

Far East
(Australasia, China,
Japan, Korea, Thailand,
Vietnam etc...)

South America
(Argentina, Brazil,
Uruguay etc)

Africa

Asia
(Russia, Tajikstan,
Uzbekistan, Ukraine)

Specialist types of tractor

Notable People - associated with the tractor industry

Inventors
Community content is available under
CC-BY-SA
unless otherwise noted.