Arctic Cat (NASDAQ: ACAT) is a North American manufacturer of snowmobiles and all-terrain vehicles. The company was formed in 1960 and is based in Thief River Falls, MN.[2] Many of Arctic Cat's vehicles are still used today and can be adapted to perform almost any job an outdoors-man might need.[3] Arctic Cat vehicles can handle tasks anywhere from trips up rugged terrain to plowing the garden in the backyard. The company now manufactures all-terrain vehicles, snowmobiles, and side-by-sides, but have also produced watercraft in the past.
Arctic Cat was formed by snowmobile pioneer Edgar Hetteen in 1960[4] following his departure from Polaris Industries, his previous self-started business. Like Polaris, Arctic Cat grew to become a major manufacturer of snowmobiles, watercraft, and all-terrain vehicles (ATV's).[5] The company's first name was Polar Manufacturing but was soon changed to Arctic Enterprises.[6] The company made their first snowmobile in 1960 and started to grow from there. Various boat manufacturers, including Silver Line, Lund and Spirit Marine, were purchased to attempt to expand the company even more but the company faced a decline in snow-fall and sales that resulted in the company going bankrupt in 1982. Although Arctic Enterprises was now at an all time low, it was only two years before a new company Arctco was created to continue the production of Arctic Cat snowmobiles.[7] The company was successful in keeping the Arctic Cat alive and in 1996 the company changed its name to Arctic Cat, the name used today. The company still makes snowmobiles to this day but has expanded their market to all-terrain vehicles and side-by-sides.
Vehicles Today
Edit
Snowmobiles
Edit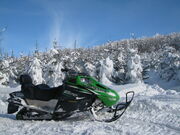 Arctic Cat is today known for their series of ZR snowmobile models which utilized two stroke motors in the early to late 1990s. Most ZR's,ZRT's and ZL's were replaced in 2003 by the Firecat series, derived from their 2002 championship sled. This "Skinny Mini" prototype sled had features different from other sleds at that time, by utilizing parts that provided more than one role and a track that had less width then other sleds, reducing rotating mass. These sleds featured a laydown type engine, which was centered low in the sled to centralize mass. Other sleds of this time include the Arctic Cat Firecat F7, a 700cc two stroke with 140 horsepower. Big changes were made to the lineup for the 2007 model year as a new chassis was introduced which was called a twin-spar chassis replacing all previous models while adding a new 4 stroke engine, the Z1 Jaguar, which featured an
1100cc
4-stroke
parallel twin. In 2009 the Z1 was turbocharged to produce 177 horsepower (132 kW), which is 6 horsepower (4.5 kW) more than any other production snowmobile.
[8]
The Crossfire and M-series remain on the same M-series chassis which is a spinoff from the original Firecat Chassis.
All-terrain Vehicles
Edit
Although Arctic Cat did not start with the production of all-terrain vehicles originally, they now produce many different models. These models range from youth models to competition models, with other models being sport, recreation, 2-Up Trail, and utility models.[9] Most models come with both 2-wheel drive and 4-wheel drive, ride in suspensions, and electronic power steering capabilities.[10][11] When it comes to the power of the ATV, your choices come in a H2 V-twin engine or an H1 engine both of which have a hemispherical combustion chamber that allows for a cleaner and more complete combustion[12], a Duramatic automatic transmission, and hydraulic disc brakes.[13] These ATV's are also strong, having a 1050 pound towing capacity.[14]
Side-by-sides
Edit
Side-by-sides are similar to ATV's as they have the capability to do many different tasks. The only differences are that the riders sit side-by-side, hence the name, and that this vehicle is more of a small truck (with the exception of the high performance model which has a smaller truck bed). The side-by-sides come in 3 different categories: High performance, Recreation, and Utility. The High performance model bares a resemblance to a dune buggy and is versatile over different terrains. The Recreation models are used for everyday driving and other tasks. The utility model is built for work as it has a 1000 pound rear rack capacity that can be upgraded to 1500 pounds.[15]
References
Edit
External links
Edit

Community content is available under
CC-BY-SA
unless otherwise noted.