Allis-Chalmers 7000
Model history
Model introduced
1975
Model discontinued
1978
Model status
Discontinued
Preceded by
200
Superseded by
7010
Engine Specification
Engine make
Allis-Chalmers
Engine model
649T/2900
Power hp
106
Power kW
79
Displacement cu in /(litre)
301 CID
No. of Cylinders
6
Cooling system
Water
Naturally aspirated, Turbo or Supercharged
Turbocharged
Transmission Details
Transmission type
4 speed main/3 speed range box
Clutch
Dry type/1978 model wet clutch
Gearbox make
Allis-Chalmers
Drive
2WD
General Data
Linkage Category
Catagory 2
Other info
Factories
USA
Plow rating

Unknown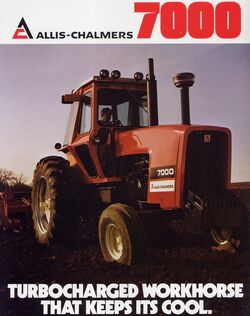 The Allis-Chalmers 7000 tractor was built in the USA by Allis-Chalmers from 1975 through 1979. It features a 106 hp (79 kW) Allis-Chalmers engine.
For brand history, see Allis-Chalmers.
Early Makes - pre 1940s

1940s to 1980s

Modern post 1980s

Independents
North America

Europe

India & Pakistan

Middle East
(Turkey, Iran,
Iraq, Syria etc...)

Far East
(Australasia, China,
Japan, Korea, Thailand,
Vietnam etc...)

South America
(Argentina, Brazil,
Uruguay etc)

Africa

Asia
(Russia, Tajikstan,
Uzbekistan, Ukraine)

Specialist types of tractor

Notable People - associated with the tractor industry

Inventors
Community content is available under
CC-BY-SA
unless otherwise noted.