'Alfa Romeo Automobiles S.p.A. is an Italian automaker founded on June 24, 1910 in Milan.[2] Alfa Romeo has been a part of the Fiat Group since 1986,[3] and since February 2007 a part of Fiat Group Automobiles S.p.A. The company was owned by Italian state holding company stituto per la Ricostruzione Industriale between the end of 1932 to 1986. The company was originally known as A.L.F.A., which is an acronym for Anonima Lombarda Fabbrica Automobili
Trucks, light commercial vehicles
Although Alfa Romeo is best known as automobile manufacturer it has produced also commercial vehicles, railway locomotives,[4] tractors, buses, trams, compressors, generators,cookers, marine and aircraft engines.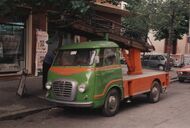 In 1930 Alfa Romeo presented a light truck in addition to heavy LCVs based to Büssing constructions.[5] In the Second World War Alfa Romeo also built trucks for the Italian army ("35 tons anywhere") and later also for the German Wehrmacht. After the war, commercial motor vehicle production was resumed. In co-operation with FIAT and Saviem starting from the 60s different light truck models were developed. The production of heavy LCVs was terminated in 1967. In Brazil the heavy trucks were built still few years by Alfa Romeo subsidiary Fábrica Nacional de Motores under the name FNM. Last Alfa Romeo vans were Alfa Romeo AR6 and AR8, which were rebadged versions of Iveco Daily and Fiat Ducato. The company also produced trolleybuses for many systems in Italy, Latin America,[6] Sweden,[7] Greece,[8] Germany, Turkey and South Africa. Later, Alfa Romeo concentrated only on passenger car manufacturing.
LCVs
Romeo (1954-1958)
Romeo 2 (until 1966)
Romeo 3 (1966)
A11/F11
A12/F12 (until 1983)
AR8 (based on first generation Iveco Daily)
AR6 (based on first generation Fiat Ducato)
Trucks=
Alfa Romeo 430 (1942-1950)[9]
Alfa Romeo 500
Alfa Romeo 800 (1940-1943)[9]
Alfa Romeo 900
Alfa Romeo 950
Alfa Romeo Mille (Alfa Romeo 1000)
Alfa Romeo A19n (Saviem license)
Buses
Alfa Romeo 140 A.
Alfa Romeo 900 A.
Alfa Romeo 950.
Alfa Romeo Mille (Alfa Romeo 1000).
Trolleybuses
Alfa Romeo 110AF (1938)
Alfa Romeo 140AF (1949)
Alfa Romeo 900
Alfa Romeo Mille (Alfa Romeo 1000)
References
External Links
Cite error: <ref> tags exist, but no <references/> tag was found
Community content is available under
CC-BY-SA
unless otherwise noted.