Alexander PS type

A Mercedes-Benz O405 built under the PS-type operated by Singapore Bus Service (now SBS Transit). These have all been deregistered.

---


The interior of a PS-bodied Volvo B10M.

---

Manufacturer
Walter Alexander
Operator(s)
Stagecoach Group, Singapore Bus Service, FirstGroup and others
Specifications
Floor type
Step entrance
Doors
1 or 2 door
Chassis
Volvo B10M, Mercedes-Benz O405, Dennis Lance
Transmission
ZF or Voith
Options
Various customer options
The Alexander PS is a type of bus body built by Walter Alexander Coachbuilders, and was produced between the late 1980s and 1990s on Dennis Lance, Mercedes-Benz O405, Scania and Volvo B10M chassis. They normally seat around 49 passengers.
This style was originally built for Singapore Bus Services, but Stagecoach Group is also a big user of the type, many examples having been purchased for use in the UK. Many FirstGroup examples have been scrapped, but buses previously with Stagecoach have fared better, with many going on to lead second lives with local independent bus companies around Great Britain. The body was also sold in Hong Kong, for Kowloon Motor Bus and Stagecoach Hong Kong.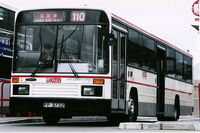 Community content is available under
CC-BY-SA
unless otherwise noted.