Advanced Bus Industries
Predecessor

Mauck Special Vehicles

Headquarters

Worthington, Ohio

, USA
Products
buses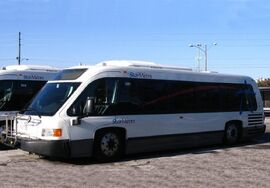 Advanced Bus Industries L.L.C. (ABI) is a bus manufacturer located in Worthington, Ohio, USA.
History
ABI was originally Mauck Special Vehicles (MSV), a manufacturer of futuristic bus-type vehicles. The MSVs were outfitted with leather interiors, televisions, VCRs, Global Positioning Systems, etc. In June 1998, a group of transit industry executives purchased the company. The new owners expanded the product line offering a newly designed 30-foot model to appeal to the mass transit industry. The name of the company changed to Advanced Bus Industries, L.L.C.
Models
Construction
ABI buses are lightweight heavy-duty, low-floor transit coaches that incorporate the latest technologies in fiberglass body panels, 100% 304 stainless steel frames, four-wheel disc brakes and fully independent air suspension. The TSV-30 was designed using the TSV-25 as a model. The design of a low floor system makes entering and exiting the bus easier for all passengers, including the physically challenged. Also, the independent air-ride suspension enhances the vehicle's handling characteristics and offers a smoother ride.
In 2001 the Central Ohio Transit Authority (COTA) purchased 38 ABIs for use on their fixed route service. The unique design won great appeal from riders and drivers alike, however the buses were plagued by a number of problems due to their inability to handle the heavy duty urban transit environment. The front windows had to be replaced constantly as they were prone to shatter from the road vibrations experienced while driving throughout the city. In addition the doors of these vehicles opened and closed very slowly which prolonged boarding and leaving times. By 2005/06 COTA subsequently sold off all of their ABIs to various shuttle service, universities, and bus companies throughout the country.
Engines are Cummins coupled with Allison transmissions. Testing of the first unit exceeded 500,000 miles and 12 years of service life.
Competitors
See also
List of Bus Manufacturers
References / Sources
External links