Abati S.A. produces tractors in Argentina under the Abati Titanium brand. The company also uses the name Zanello Argentina, to help relate it to the former Zanello S.A. tractors. It is based in Buenos Aires, Argentina, and manufactures tractors in the city of Pergamino, in the north of Buenos Aires.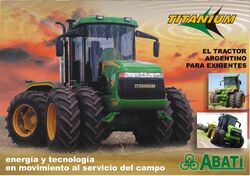 Abati began as a farm implement manufacturer in 1987, making planters, wagons and sprayers using the Titanium brand name.[1] Articulated tractor production was announced in 2003, with Ariel Zanello as a partner in the venture.[2] Ariel had formerly been with Zanello, and creates a link to the historic company, and makes Abati one of several companies touting links to Zanello. (The others being Trac-Za, Pauny and the new Zanello (ZG Trac).
The tractors are available mainly in South American countries, including Brazil.
References
Edit
External Links
Edit
Abati tractor range

Models
Early Makes - pre 1940s

1940s to 1980s

Modern post 1980s

Independents
North America

Europe

India & Pakistan

Middle East
(Turkey, Iran,
Iraq, Syria etc...)

Far East
(Australasia, China,
Japan, Korea, Thailand,
Vietnam etc...)

South America
(Argentina, Brazil,
Uruguay etc)

Africa

Asia
(Russia, Tajikstan,
Uzbekistan, Ukraine)

Specialist types of tractor

Notable People - associated with the tractor industry

Inventors