AM General

Type
Private LLC
Founded
1971
Founder(s)
American Motors Corporation
Headquarters
South Bend, Indiana,[1] United States, USA
Key people
James A. Armour, Chairman and CEO,
Paul J. Kern, President and COO
Industry
vehicles, automotive, military
Products
HMMWV/Hummer H2, M35 and 5-ton trucks
Parent
MacAndrews & Forbes Holdings
The Renco Group, Inc.
Subsidiaries
General Engine Products
General Transmission Products
Website
amgeneral.com
AM General is an American heavy vehicle manufacturer based in South Bend, Indiana, USA. It is best known for the civilian Hummer and the military HMMWV, that is assembled in Mishawaka, Indiana.[1] For a relatively brief period, 1974–1979, the company also manufactured transit buses, making more than 5,400.[2]
Corporate history
Edit
AM General traces its roots to the Standard Wheel Company of Terre Haute, Indiana, which expanded in 1903 to include the Overland Automotive Division.[3] In 1908, John North Willys purchased the Overland company, then based in Indianapolis, Indiana, and renamed it Willys-Overland Motors, Inc. In the 1940s, Willys-Overland developed a vehicle to U.S. Army's requirements and later mass produced "America's first four-wheel drive one-fourth-ton tactical utility truck" - the Jeep of World War II fame.[3] In 1953, Kaiser Motors purchased Willys-Overland, and changed the name to Willys Motor Company. In 1963 the company's name changed again to Kaiser-Jeep Corporation. In 1964, Kaiser-Jeep purchased the Studebaker facilities in South Bend, Indiana, and formed the Defense and Government Products Division in 1967, which after American Motors purchased Kaiser-Jeep became what is now AM General.[3]
AM General's roots (and its location in South Bend) also lie with the "General Products Division" of Studebaker, which, along with its substantial defense contracts, was acquired by Kaiser Industries in early 1964 after Studebaker closed its U.S. auto manufacturing operations. At the time, Kaiser had been awarded a US$87 million Army truck contract, and under government pressure agreed to perform the work at the South Bend plant it had recently acquired from Studebaker. Subsequently, American Motors Corporation (AMC) purchased the Jeep Corporation from Kaiser in 1970 when Kaiser itself decided to leave the auto business.[4] In 1971, AMC made the General Products Division of Jeep (producing military trucks, as well as contract and non-commercial vehicles) a wholly owned subsidiary and renamed it AM General Corporation.[5]
AM General produced buses, large trucks, and Jeeps for industrial, military, and government use. In the late 1970s, it developed the High Mobility Multipurpose Wheeled Vehicle (HMMWV, nicknamed "Humvee") for military use as a heavy-duty replacement for the jeep. The vehicle later became available in a civilian version sold under the Hummer brand name. Another familiar product from the AM General line was the Jeep DJ-5 series—a purpose built "Delivery Jeep" 2-wheel drive (RWD) version of the Jeep CJ-5—used in huge numbers as a right-hand drive mail delivery vehicle by the United States Postal Service. Production of buses lasted only from 1974 until 1979.[2]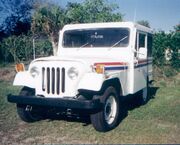 American Motors ended its history as an independent automaker in 1982 when controlling interest in the company was purchased by France's Renault.[6] U.S. government regulations at that time forbade ownership of defense contractors by foreign governments, and Renault was partially owned by the French government.[7] Therefore, in 1983, AM General was sold by AMC to the LTV Corporation and it became a wholly owned subsidiary of the LTV Aerospace and Defense Company.
Renco Group bought the company in 1992.
AM General, which remains an independent company and government and military contractor, sold the rights to the Hummer brand to General Motors in 1999. It continued production of the original civilian Hummer (dubbed by GM as the H1) until 2006 when it ceased production.[8]
AM General built a separate factory to build a new Hummer H2, designed by and marketed by General Motors. The vehicle went on the market in 2002. AM General does not build the Hummer H3 and is not a part of General Motors.
GM was sued early in 2003 by DaimlerChrysler, owners of the Jeep brand, for the Hummer's seven slot grille which resembled the design DaimlerChrysler argued consumers associated with Jeep vehicles.[9] The lawsuit was dismissed due to the past corporate history involving AMC and Jeep.
Production of the Hummer H1 was discontinued in June 2006.
On August 20, 2004, it was announced that Ronald Perelman's MacAndrews & Forbes Holdings company would form a joint venture with AM General's current owner, Renco Group, to give Perelman 70% ownership of AM General. The deal reportedly cost close to US$1 billion[10]
In 2008, AM General and the Vehicle Production Group, of Troy, Michigan, announced that contracts had been signed for AM General to begin producing purpose-built taxi-cabs, beginning in 2009.[11] Actual production is now expected in 2010.
In May 2010, Azure Dynamics Corp. announced it had chosen AM General to assemble its electric drivetrain into Ford Transit Connect vehicles for the North American market.[12] This product is being produced at AM General's facility in Livonia, Michigan.
AM General manufactured buses for city transit use from 1974 until 1979, producing a total of 5,431 buses (including 219 electric trolley buses).[2] This originated with a 1971 agreement with Flyer Industries, of Winnipeg, Canada, under which AM General would build and market buses to Flyer's designs in the United States. However, before starting production, AMG redesigned the front end of Flyer's then-current model, and thus the resulting product was not simply a Flyer design built under license but rather a jointly designed vehicle. Flyer adopted the design changes for its own production (for its models D800 and E800).[2] Buses were built in lengths of either 35 feet (10.7 m) or 40 ft (12.2 m), and widths of 96 inches (2,400 mm) or 102 in (2,600 mm). The model numbers were simple, an example being model "10240", which indicated a 102″-wide, 40′-long bus. Suffixes "A" or "B" were used for later models, to indicate certain options. In total, 3,571 40-foot diesel buses and 1,641 35-foot diesel buses were produced.[2]
Articulated buses
Edit
In 1977–1979, AM General also worked under a partnership with MAN of Germany to build articulated buses for US transit systems. MAN fabricated the bodyshells in Germany and shipped them to the US, where AM General completed the buses and was the primary contractor with the buyers.[13] Two different lengths were offered, 55 feet (16.8 m) and 60 feet (18.3 m); 93 buses were built to the shorter length, and all others were 60 feet long. By October 1978,[13] the company had decided to discontinue its bus production, and the last MAN articulated bus completed by AM General was finished in March 1979.[2] The total number built was just under 400 (392[13] or 399[2]), the largest group by far being 150 for Seattle's Metro Transit.[2] (MAN subsequently set up its own factory for US production of its articulated buses, in the small town of Cleveland, North Carolina.)[2]
Trolleybuses
Edit
Production of complete diesel buses (and of any two-axle diesel buses) had ended in 1978, and aside from the fitting-out of the last articulated MAN shells, the only production in 1979 was that of two batches of trolleybuses (and the only such vehicles ever built by the company),[14] all being 40-foot (12 m) vehicles, model 10240T: 110 for SEPTA, in Philadelphia, and 109 for Metro Transit in Seattle. One of the latter has been preserved (following its retirement in 2003) by King County Metro (see fleet section).
Development and production of the HMMWV
Edit
In 1979, AM General began preliminary design work on the M998 Series High Mobility Multi-Purpose Wheeled Vehicle (HMMWV, pronounced Humvee); a 1.25-ton truck intended to replace the M151 MUTT and other light tactical vehicles. The U.S. Army awarded AM General a prototype contract in 1981 and the development and operational testing was conducted over a five-month period in 1982. In March 1983, AM General won an initial $1.2 billion contract to produce 55,000 Humvees to be delivered in five basic models and 15 different configurations over a five-year period.
In 1983, the LTV Corporation bought AM General from American Motors Corporation and established it as a wholly owned subsidiary of the LTV Aerospace and Defense Company.
In 1984, the AM General headquarters moved from the American Motors AMTEK Building in Southfield, Michigan, to Livonia, Michigan, and two years later to South Bend, Indiana, where the primary manufacturing operations were located.
Production began at the Mishawaka, Indiana, assembly plant in the fall of 1984 and the first deliveries were made in early 1985. The total production by mid-1991 was more than 72,000 vehicles including international sales.
In 1992, LTV sold AM General to The Renco Group, Inc., who in 2002 converted it to a limited liability company.
By March 1995 about 100,000 HMMWVs had been built. Since 1991, an additional 20,000 HMMWVs were ordered by governments.
Late in 2000, AM General was awarded another production contract for 2,962 trucks in the M998A2 series. The contract contained six single-year options running to fiscal year 2007. This contract was extended. To date, nearly 250,000 units have been produced.
Humvees feature full-time four-wheel drive, independent suspension, steep approach and departure angles, 60 percent gradeability and 16  inches of ground clearance. Humvees are currently in use by the U.S. Army, Marine Corps, Air Force and Navy at locations throughout the United States and by more than 50 friendly foreign nations. Current production models include the M1151, M1152, M1165 and M1167.
Other military vehicles
Edit
Prior to the development of newer vehicles, such as the HMMWV, AM General also acquired contracts from the Department of Defense to build medium and heavy trucks for the armed forces. These included the M35 series of trucks and heavier 5-ton series of trucks.
See article: Humvee manufacturing in China
At least two Chinese automotive companies are known to produce HMMWV copies/clones
References
Edit
↑ 1.0 1.1 "AM General Corporate Directory". Retrieved on 5 September 2010.
↑ 2.0 2.1 2.2 2.3 2.4 2.5 2.6 2.7 2.8 Stauss, Ed (1988). The Bus World Encyclopedia of Buses. Stauss Publications, 20–22. ISBN 978-0-9619830-0-0.

 

↑ 3.0 3.1 3.2 "Company History". AM General. Retrieved on 21 September 2010.
↑ Statham, Steve (2002). Jeep Color History. MotorBooks International, 97–100. ISBN 978-0-7603-0636-9. Retrieved on 21 September 2010.

 

↑ Hyde, Charles K. (2009). Storied Independent Automakers: Nash, Hudson, and American Motors. Wayne State University Press, 194. ISBN 978-0-8143-3446-1.

 

↑ Foster, Patrick (2002), "Biography: Roy Chapin, Jr.", Automobile Quarterly 42(3): 109.

 

↑ Olsen, Barney Olsen, Joseph Cabadas, Byron (2002). The American Auto Factory. MotorBooks International, 127. ISBN 978-0-7603-1059-5. Retrieved on 21 September 2010.

 

↑ "GM: End of Production Line for Hummer H1", Fox News (May 12, 2006).

 

↑ "DaimlerChrysler Files Suit to Block Copycat Jeep Grille". autointell.com (21 February 2001). Retrieved on 5 September 2010.
↑ Sorkin, Andrew Ross (10 August 2004). "Perelman Seeks Controlling Stake in Maker of Hummer". Retrieved on 5 September 2010.

 

↑ 13.0 13.1 13.2 "AM General Corporation" (history of). Motor Coach Age, February 1985, pp. 3–18. ISSN 0739-117X.
↑ Murray, Alan (2000). World Trolleybus Encyclopaedia. Trolleybooks. ISBN 978-0-904235-18-0.

 
External links
Edit

AM General

Subsidiaries
Products
Related
Community content is available under
CC-BY-SA
unless otherwise noted.