AJS was the name used for cars and motorcycles made by the Wolverhampton, England, company A. J. Stevens & Co. Ltd, from 1909 to 1931, by then holding 117 motorcycle world records, and after the firm was sold to Willys Overland Crossley the name continued to be used by Matchless, Associated Motorcycles and Norton-Villiers on four-stroke motorcycles till 1969, and since the names resale in 1974, on light weight, two stroke scramblers and today on small capacity roadsters and cruisers.
Motorcycles
Edit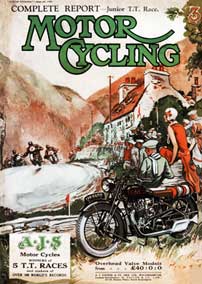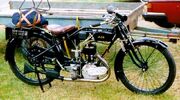 Joe Stevens, father of Harry, George, Jack, and Joe Stevens, first built an internal combustion engine in 1897, although his engines did not enter production until after 1900. His first engines, of 125 cc, were sold as proprietary engines to other manufacturers. In 1905 the Stevens built a JAP V-twin engined motorcycle, with leading-link front forks and a swinging fork at the rear. This was done at the father's "Stevens Screw Company" premises, where the family were all employed.[1]
A new company, A J Stevens & Co (AJS), was founded in 1909 to manufacture motorcycles and the first model appeared in 1911, a two-speed 292 cc side-valve. One was entered by AJS in the 1911 Isle of Man TT races and A J Stevens came 15th in the Junior TT.
Albert John Stevens had his name on the company, but it was really a family company, with, in 1926 for example, Harry Stevens as Engineer, George Stevens as Chief Salesman, Joe Stevens junior as Production Engineer and Albert John ("Jack") Stevens in charge of the design office.[2]
By 1914, the AJS motorcycle had grown to 350 cc, with a four-speed gearbox and chain final drive. AJS won first, second, third, fourth and sixth place in the Junior 1914 Isle of Man TT race that year. Internal expanding brakes and chain primary drive were introduced in 1920. AJS went on to win the Junior again in 1920, 1921 and 1922, and won the 1921 500 cc Senior TT on 350 cc OHV machines. An 800 cc V-twin was also produced.
On 3 November 1916, the Ministry of Munitions prohibited the production of non-military motorcycles, but in early 1917 the Ministry received an order from Russia for military vehicles, and AJS was given a contract to produce part of the order with its AJS Model D machine. This kept AJS busy until Ministry of Munitions restrictions were lifted in January 1919.[2]
In 1920, Cyril Williams won the first post war Isle of Man Junior TT on an AJS. AJS took the first four places in the 1921 Isle of Man TT, and Howard R Davies won the Senior on a 350 cc AJS. This was the first time a 350 had won the 500 cc Senior TT race.[3] In 1922 Manxman Tom Sheard won the Junior on an AJS, with G Grinton, also on an AJS, taking second.
In 1928, AJS introduced two new chain driven overhead camshaft racing models, the 349 cc K7 and the 498 cc K10. In 1929 there were again two machines with an overhead cam, this time the 349 cc M7 and the 498 cc M10. Wal L. Handley came second in the 1929 Junior TT for AJS. The following year Jimmie Guthrie won the 1930 Lightweight TT on a 250 cc AJS.[2]
In 1931, the AJS S3 V-twin was released, a 496 cc transverse V-twin tourer with shaft primary drive[4] and alloy cylinder heads.[5] It had been expensive to develop and was slow to sell. Even though they held 117 world records, the AJS company was now in financial trouble.
Automobiles, omnibuses, and coaches
Edit
Although best known for their motorcycles the company made a few experimental cars with Meadows engines in 1923 but decided not to go into full production.
AJS had manufactured car bodies for Clyno, but in 1929 Clyno went under.[2] AJS returned to car making in 1929 with the Nine powered by a 1018 cc side valve Coventry-Climax engine producing 24 bhp and driving through a three speed gearbox. The cars were quite expensive at £210 for the two seater and £320 for the fabric bodied saloon. About 3,300 were made.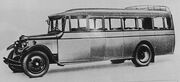 The company also started making buses and coaches. The first model was the Pilot with a Meadows engine. This was followed by the Commodore with a Coventry Climax L6 engine and finally by the Admiral. Just over 200 buses were built.[2]
In 1931, A. J. Stevens & Co went bankrupt. The motorcycle assets were bought by the Collier brothers London company Matchless and the car manufacturer Crossley Motors. Crossley incorporated some improvements such as a four speed gearbox and using parts acquired from AJS built about 300 cars between December 1931 and May 1932. Assembly took place in the Stockport factory used by Willys Overland Crossley. Motorcycle production moved to Plumstead.
A 1½-litre model was planned, but failed to materialize except to appear on the Willys-Overland-Crossley stand at the 1932 London Motor Show.
In 1938, AJS became part of a group called Associated Motorcycles, formed by the Colliers as a management company for its various interests. After this Matchless and AJS shared models using different badging.
Stevens Motorcycles
Edit
The Stevens brothers tried again and started a new company as Stevens Brothers (Wolverhampton) Ltd to make 3 wheel delivery vans. (They could not call them AJS, as that name belonged to the Colliers.) These used a 588 cc single cylinder engine driving the rear wheels through a 3 speed gearbox and chain drive. The van could carry 5 cwt. It was improved in 1935 with shaft drive and uprated to 8 cwt. The last ones were made in 1936. In 1934 they also produced a new range of motor cycles under the Stevens name. These were made until 1938 after which the company continued until 1956 as a general engineering business .
AJS Racing under AMC
Edit
Under AMC the AJS badge may have been put on the "bread and butter" Matchless motorcycles, but the Colliers were mindful of the AJS racing heritage, and used the name on some innovative racing machinery. These racing bikes kept the AJS name alive.
In 1935, at the Olympia Show, an air cooled SOHC AJS 50° V4 was shown, a fully equipped road going version, which did not make it into production. In 1936 Harold Daniell rode a supercharged race version in the Isle of Man Senior TT, but despite its high top speed, it lacked acceleration.[6]
In 1939, a water-cooled and supercharged version of the 495 cc AJS V4 was built to compete against the supercharged BMWs then dominating racing. In 1939 the dry sump V4 was the first bike to lap the Ulster Grand Prix course at over 100 mph (160 km/h). It weighed 405 lb (184 kg). and its top speed was 135 mph (217 km/h). Then World War II intervened.[7]
At the end of the 1940s and start of the 1950s, the AJS Porcupine, a 500 cc forward facing parallel twin, and the AJS 7R (32 bhp, 350 cc OHC single) were being raced alongside their AMC stablemates the Matchless G50 (effectively a 500 cc 7R) and by 1951, the Matchless G45 (a 500 cc vertical twin).[8] The AJS Porcupine had been designed for supercharging, before the rules changed banning supercharged racing motorcycles, but even so, Les Graham won the 1949 World Championship on an unsupercharged AJS E90 500 cc Porcupine.[9]
In 1951 AJS development engineer Ike Hatch developed a 75.5 mm bore x 78 mm stroke, three valve head version of the 7R making 36 bhp (27 kW). It was called the AJS 7R3, and was Ike's response to the Italian multi-cylinder racers. They did well enough in their first year, not as well the second. For 1954 Jack Williams, the works team manager, developed the bike further, lowering the engine in the frame, and making some tuning changes that gave 40 bhp (30 kW) @ 7800 rpm. It immediately won the first two rounds of the World Championship and took first at the Isle of Man TT. These were factory specials, but one has survived, and a second has been reconstructed from spares.[10]
AMC withdrew from the world of works and one-off road racing at the end of the 1954, with the death of Ike Hatch, and in the face of fierce competition from the other European bikes. After this AJS made a production version of the standard two valve AJS 7R, for privateers. In 1954 Norton was also moved to the Plumstead works.
With the G15 line, AMC had built on the merits of the G12 but there were numerous changes to frame, forks, swinging arm, primary chaincase, transmission, cycle parts and lubrication system. The P11 was the last line of bikes with bonds to AMC. It used a modified G85CS frame but there were stronger forks, completely new cycle parts (making some was rather costly), altered lubrication and modified primary chaincases, to mention a few.
The G15 series was offered as 3 brands: Matchless G15 comprising G15Mk2, G15CS and G15CSR; AJS Model 33 comprising M33Mk2, M33CS and M33CSR; and last not least Norton N15CS (no Norton-branded roadster made as it would compete against the Atlas). The G15 series was produced from 1963 to 1969. They were initially for export only, but by 1965 these models were available in UK and Europe too.
Associated Motorcycles and the AJS name eventually ended up with Norton-Villiers in 1966. In late 1968 the Plumstead works at Burrage Grove, where engines from the Wolverhampton plant and frames from the Manchester plant were assembled into complete machines, were presented with a Greater London Council compulsory purchase order. The Plumstead works closed in July 1969. It is believed that production of the G15 series was halted late in 1968 (model year 1969) with unsold samples on offer through 1969. The AJS Model 33 was the last AJS badged four-stroke produced.
AJS two-strokes and Norton Villiers
Edit
AJS was acquired by the Norton Villiers Group. In 1967 Villiers decided that instead of supplying other manufacturers with their competition engines, they would build and launch their own complete motorcycles using the 250 Starmaker engine as a base. AJS would be the applied name. Villiers had plans to build a range of scramblers and an over the counter 250 road racer. From 1962 Cotton motorcycles were the main customer for 250 Starmaker engines. The 250 Starmaker engines were used in the Cotton Cobra scrambler and the Telstar Racer. Cotton therefore was very involved in the development of the Starmaker engine. A strong link between the two factories existed, in part through Cotton engineer Fluff Brown.
Fluff Brown, being a keen and dedicated scrambler, worked mainly on the scrambles projects and supported the factory riders.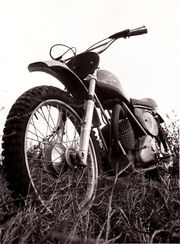 Peter Inchley, an acknowledged two stroke expert, formerly from Ariel and BSA was involved with the 250 Road Race project. Peter rode a Bultaco based 6 speed, 250 Villiers Starmaker powered special to 3rd place in the 1966 Lightweight TT. Several pre production AJS 250 Racers were built and raced but the project came to halt in 1967 after an unsuccessful second TT attempt. The scrambles project continued with considerable success.
From 1966 to 1968, Villiers developed the "Stormer" Motocross motorcycle, with assistance from Peter Inchley, Fluff Brown, (and others). Development and supported scrambles riders included: Andy Roberton, Malcolm Davis, Dick Clayton, Chris Horsefield and Jimmy Aird. In 1968 Malcolm Davis won the British 250 Championship on a pre Stormer, Y4 scrambler.
In late 1967, a special project was undertaken with the Stormer. Four bikes were built at Marston Road, all equipped with spark arrestors on the end of the tailpipe and with a rudimentary lighting system. Three of them had 250 cc engines and were badged as AJS machines. The fourth one had the "360" engine (actually only 334 cc) and was badged as a Matchless. This bike was probably the last one built with a Matchless badge and the only 2-stroke Matchless. The four bikes were taken on by members of the Royal Air Force motor Sports Association and entered in the 1968 International Six-Days Trial.
The two stroke AJSs had been built in Wolverhampton, at the Villiers factory but in 1970 the UK government provided a special subsidy that enabled AJS to open a new factory on Walworth Industrial Estate in Andover, where they assembled Stormer off-road motorcycles. The competition department was located next to the famous race track at Thruxton, Andover, Hampshire.
AJS scramblers were produced from 1968 until 1974 in 250, 370 and 410 guises. The early 250 was designated the Y4. In 1969 The 370 (Y5) was added and the name changed to Stormer. The 410 followed in 1972. Famous British riders included Malcolm Davis, Andy Roberton, Vic Eastwood and Roger Harvey. Fluff Brown (formerly of Cotton (motorcycle)s) was the competition manager.
A little known about motorcycle was the 37AT Trials bike which was partially built by Cotton Motorcycles using some AJS parts and Villiers's 37A engine. A bike, of which probably only 10 or so have survived.
By 1974, Norton Villiers were having financial trouble and Fluff Brown purchased the rights to manufacture the Stormer under the AJS banner and in September 1974 moved the business to Goodworth Clatford near Andover. Initially selling spare parts for existing motorcycles, the business expanded to produce complete motorcycles still using the Starmaker based engines under the FB-AJS name.
The Starmaker/Stormer 4 speed engine was becoming outdated and could not compete with the new arrivals from manufacturers such as Husqvarna, CZ and later, scrambles bikes from Maico, Suzuki, Honda, Kawasaki and Yamaha. However, with support, the AJS remained a good option for the clubman or competitors who wished to ride a British two stroke.
From 1974 Fluff Brown produced Stormer based scrambles and trail bikes from modified AJS stock. Keeping the model updated until 1980. During the early 1980s Fluff Brown produced off road and trail bike AJ's with Austrian Rotax engines of 250 cc, 410 cc and 495 cc.
AJS Motorcycles Ltd. (today)
Edit
AJS Motorcycles Ltd. is now headed by Nick Brown (eldest son of Fluff Brown) and is an enthusiastically run family business. Since 2002 AJS have distributed a range of 124cc to 300cc Chinese produced road bikes in trail, roadster and custom cruiser styles. Their main market is Learner Legal 125's. Bikes. AJS Motorcycles Ltd. also sell Stormer/Villiers Starmaker spares and Classic Competition Accessories.
Recent and current models
Edit
| Model | Year | Notes | Type | Photo |
| --- | --- | --- | --- | --- |
| AJS Stormer | 1968-1974 | Villiers Starmaker derived 2 stroke engine. (Y4)250, 370 & 410 | Moto-X | |
| FB-AJS | 1974-1982 | Villiers Starmaker derived 2 stroke engine. 250, 370 & 410 | Moto-X & Trail | |
| Cotton Cobra Replica | 1991-2000 | Villiers Starmaker derived 2 stroke engine. 250 | Pre-65 Moto-X | |
| Cotton Telstar Replica | 1992-1998 | Villiers Starmaker derived 2 stroke engine. 250 | Classic Racer | |
| Cotton Triumph Replica | 1992-2000 | Triumph 500 unit twin | Pre-65 Moto-X | |
| AJS YX-R 125 | 2006-2008 | 4 stroke, air & oil cooled single cylinder, 4 valves | Trail | |
| AJS CR3-125 | 2006-2008 | 4 stroke, air cooled single cylinder | Sports | |
| AJS Regal Raptor 50cc | 2002-current | 4 stroke, air cooled single cylinder | Custom | |
| AJS Regal Raptor 125cc | since 2005 | 4 stroke, air cooled twin cylinder | Custom | |
| AJS Regal Raptor DD125E-8 Silverhawk | since 2007 | 4 stroke, water cooled twin cylinder | Custom | |
| AJS Regal Raptor Eos 125 | since 2007 | 4 stroke, water cooled twin cylinder | Factory Custom | |
| AJS Regal Raptor Eos 250 | since 2008 | 4 stroke, water cooled twin cylinder | Custom | |
| AJS Regal Raptor DD250E-9B | since 2006 | 4 stroke, water cooled twin cylinder | Custom | |
| AJS Eco 125 (JS125-E) | since 2007 | 4 stroke, air cooled, single, OHC, with Balance Shaft | Roadster | |
References / sources
Edit
External links
Edit

</div>
Community content is available under
CC-BY-SA
unless otherwise noted.