Jurassic World: Dominion Dominates Fandom Wikis - The Loop
Play Sound

AGCO Corporation (NYSE: AGCO) is an agricultural equipment manufacturer based in Duluth, Georgia, USA. It was formed in 1990 when executives at Deutz-Allis bought out Deutz-Allis' North American operations from the parent corporation KHD, Klöckner-Humboldt-Deutz, a German company that owned the Deutz-Fahr brand of agriculture equipment.
Company history
The AGCO Corporation was first called Gleaner-Allis Corporation, then rearranged to be Allis-Gleaner Corporation, or AGCO. The design for these tractors and combines were originally designed by Allis-Chalmers Corp. prior to their sellout to Deutz-Allis. The Deutz-Allis line of tractors were renamed AGCO-Allis shortly after the management buyout that created AGCO, and Gleaner became a brand of its own for combines. The Deutz-Allis brand continued in South America until 2001, when they were renamed AGCO-Allis. The South American tractors continued in the lime-green Deutz livery. In 2001, AGCO-Allis was renamed AGCO in North America, while the AGCO-Allis brand still continues in South America.

In 1991, AGCO purchased the Hesston Corporation, gaining hay and forage equipment. AGCO & Hesston had entered a 50/50 joint venture with Case International, now a part of CNH Global, called Hay and Forage Industries. AGCO purchased the White Tractor line from the Allied Corporation's White-New Idea company. In 1993, AGCO purchased the remainder of White-New Idea, gaining New Idea hay equipment and manure spreaders, and White Planters.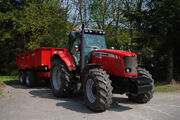 Also in 1993, AGCO purchased the North American distribution rights to Massey Ferguson, a world-wide agricultural equipment company owned by the Varity Corporation. In 1994, they purchased McConnell Tractors, manufacturer of the large articulated Massey Ferguson branded tractors. AGCO then developed the Agcostar line of articulated tractors. Later in 1994, the Black Machine line of planters was purchased, and the entire Massey-Ferguson company was purchased as well. Included with the purchase of MF was 24% of the Indian MF-licensee TAFE, and a percentage of Landini, with the remainder owned by ARGO and Iseki. AGCO began distributing the Landini tractors in North America.

1995 saw the purchase of the AgEquipment Group, which manufactured tillage equipment and loaders under the Glenco, Tye and Farmhand brands. In 1996, acquisitions went international with the purchase of Iochpe-Maxion in Brazil. This was the Brazilian company that had the license to the Massey Ferguson brand and manufacturing in the region, as well as the Maxion and IDEAL brands of equipment. This was also the year that AGCO purchased Deutz Argentina, the number one leader of tractors in Argentina. The tractors were marketed as Deutz-Allis, and later changed to AGCO-Allis.
Also in 1996, AGCO purchased the Western Combine Corporation and Portage Manufacturing in Canada. Western Combine had previously purchased the assets of the Massey Combine Corporation's combine operation, which had been spun-off by Massey-Ferguson. AGCO made a bid for Ursus, a former licensee of Massey Ferguson, in 1996, but was unsuccessful.
1997 was the year of the major purchase of Fendt in Germany, the leading German tractor company. Fendt is well known for its advanced technology. AGCO also acquired Dronningborg Industries in Denmark, the manufacturer of European Massey Ferguson combines, and former manufacturer of Dronningborg combines. AGCO (MF) had prevsiouly owned 32% of Dronningborg.

In 1998, AGCO purchased Massey Ferguson Argentina, the Argentine licensee of Massey Ferguson. AGCO took the engine manufacturing in Argentina they had purchased from Deutz-Fahr, and made a joint venture with Deutz AG, now called Deutz AGCO Motores. The Argentine Massey Ferguson plant was closed in 1999 with production moving to Brazil, and the IDEAL brand was discontinued. In the USA in 1998, AGCO purchased the Spra-Coupe and Willmar companies. Spra-Coupe and Willmar are leading sprayer companies in North America.
In 1999, the IDEAL brand in Brazil was discontinued. Also, in 1999 and 2000, AGCO announced the closures of the Coldwater, Ohio (White Farm Equipment), Lockney, Texas and Independence, Missouri (Gleaner) manufacturing facilities, and move the majority of production from these facilities to HFI (Hay and Forage Industries) in Hesston, Kansas.
For the year 2000, AGCO bought out its partner Case International in the Hay and Forage Industries joint venture in Hesston, Kansas, USA. Also in 2000, 50% of SAME Deutz-Fahr North America was purchased. This was the North American distributor of SAME, Lamborghini, Hurlimann and Deutz-Fahr tractors and equipment, and AGCO began distributing SAME and Deutz-Fahr tractors in North America. AGCO sold that interest back to SDF in 2003 . The remaining ownership of Landini was sold to ARGO in 2000, ending the MF-Landini tie that spanned back to 1959 when Massey-Ferguson had bought Landini.
In 2001, AGCO purchased Ag-Chem Equipment, expanding its spreader business. That year, the Agco-Allis and White tractor lines were merged in North America to become simply AGCO, continuing in the orange color scheme. Interestingly, while the Agco-Allis brand was discontinued in North America in 2001, that same year, in South America, the Deutz-Allis brand was renamed to AGCO-Allis.

2002 was the year that AGCO purchased rights to the Challenger name and the tracked tractors from the Caterpillar Corporation, giving AGCO a well-known brand name and high-power tracked tractors. AGCO further developed the Challenger line into: wheeled tractors, using tractors manufactured by Iseki, Agritalia, the Massey Ferguson factory and the Brazilian Valtra factory; combines, re-branding some Massey Ferguson/Gleaner - built combines; and hay equipment, using Hesston-built hay equipment. AGCO also purchased the Sunflower Manufacturing Company, which manufactures tillage, seeding and specialty harvesting equipment.
In 2003, AGCO sold its 50% interest in SAME Deutz-Fahr North America back to SAME Deutz-Fahr.

2004 brought about the purchase of the Valtra tractor company from the Kone Group, in Finland. Valtra had some licensing agreements with the Eicher company in India for tractor production (which was purchased by TAFE, of which AGCO owns 24%), and also with the HEMA Group in Turkey. The purchase of Valtra also includes the Sisu engines brand and the large Brazilian operations where Valtra was consistently #1 or #2.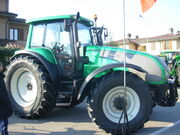 In 2005, AGCO announced talks were underway with China's First Tractor Company to set up a joint venture to manufacture 40-100 hp tractors. No joint venture was ever established, although First Tractor did manufacture some Valtra-look-alike tractors.[1][2]

2006 saw a re-focusing of the various brands, and the reduction of individual brands. AGCO announced plans to combine some, and make some only part of a larger brand, or co-branding. Examples include the Massey Ferguson 9635 Hesston self-propelled swather, and the AGCO 9365 Hesston self-propelled swather. Challenger has seen further expansion with the further consolidation of the AgChem brand into Challenger, and the introduction of Agritalia-built tractors and an articulated 4WD Challenger tractor.

In 2007, AGCO bought 50% of Laverda from ARGO, including 100% of FELLA-Werke GmbH which includes the Gallignani and Fella hay equipment brands.[3] In South America, AGCO purchased Sfil, a leading South American manufacturer of tillage and seeding implements.
In 2008, Sisu engines were renamed AGCO SISU Power. Late in 2009, AGCO announced that it would phase out the orange AGCO Tractors by 2011.[4] They also announced in 2009 a joint venture with Russian NefAZ, a subsidiary of Kamaz, to build Challenger combines under the AGCO-NefAZ brand.

In 2010, AGCO announced it would buy 50% interest and form a joint venture for selected air-seeding and tillage product lines of Amity Technology, LLC, makers of Amity, Wil-rich and Wishek branded equipment.[5] They also announced plans to open a tractor manufacturing facility in Daqing, Heilongjiang, China to manufacture Valtra tractors, other high-horsepower tractors, combines and balers.[6] Two factories were also announced for Changzhou, China to produce low- and mid-horsepower tractors, transmissions, AGCO Power engines.
Other announcements for 2010 include the acquisition of United Kingdom-based spare parts distributor Sparex Holdings,;[7] and to purchased the remaining 50% of Laverda from ARGO.[8]

2011 started off with the announcement to move assembly of high-horse-powered wheeled tractors for North America to the Jackson, Minnesota plant from Beauvais, France. It will expand the plant by 75,000 square feet[9] In April 2011, AGCO purchased 80% of Shandong Dafeng Machinery Corp in China, a produced of combine harvesters.[10][11] In October 2011, AGCO agreed to purchase GSI Holdings, a producer of grain storage (grain bins), handling and protein production systems. It is headquartered in Assumption, Illinois and produces products under the GSI, FFI, DMC, Zimmerman, Cumberland, Hired Hand and Automated Production Systems.[12] To further increase its holdings in combine harvesters, AGCO also purchased 10% of Sampo-Rosenlew of Finland in 2011.
Also in 2011, AGCO acquired 50% of newly formed AGCO-Amity JV, LLC, thereby creating a joint venture with Amity Technology, LLC. AGCO-Amity JV develope and distribute air seeding and tillage equipment. AGCO also acquired a 50% interest in selected air seeding and tillage product lines sold under the Amity, Wil-Rich and Wishek brand names. AGCO-Amity will build air drills and carts under Amity brand.
AGCO announced in early 2012 that they were purchasing 60% of Santal Equipamentos of Brazil, a manufacturer of Sugar cane harvesters, and they were later folded into the Valtra line in Brazil. 2013 saw AGCO's GSI division purchase Johnson System Inc., a leading manufacturer of catwalks, towers and support structures based in Marshall, Michigan, USA. Algerian Tractors Company was formed in 2012 as a joint venture with ETRAG, with AGCO holding 49%, to manufacture Massey Ferguson tractors.
A new joint venture was established in 2013 with Russian Machines, part of the Basic Element group, in Golitsyno, Russia to manufacture and distribute agricultural equipment and replacement parts. Also in 2013, the GSI division purchased Johnson System Inc., a leading manufacturer of catwalks, towers and support structures based in Marshall, Michigan.
A new factory was opened in Buenos Aires, Argentina in 2014 to manufacture tractors and combines, marking AGCO's return to manufacturing in that country. They had previously left and moved the operations to Brazil a decade or so earlier. AGCO also acquired the remaining 40% of Santal in Brazil that it didn't own. The GSI division acquired Intersystems Holdings Inc., a leading manufacturer of commercial material handling solutions sold to grain operations globally.
In 2014, AGCO announced they were in talks with Ganja Auto Plant in to assemble Challenger, Fendt, Massey Ferguson & Valtra tractors in Azerbaijan, but those talks seem to have fallen through. They also announced plans to build new factory in Queretaro, Mexico to assemble Challenger and Massey Ferguson tractors, with a 5,000/year capacity, which was completed in 2015.
In 2015, AGCO announced plans to manufacture combines in Argentina, in addition to tractors. AGCO opened plant in Changzhou, China to build 'Global Series' 70-130 hp tractors. AGCO-RM in Russia began manufacturing Challenger and Massey Fergson tractors and harvesters in 2015, and they be followed by Valtra and Fendt products.
In 2016, AGCO purchased Cimbria of Denmark, a manufacturer of grain handling and storage systems.
In 2017, AGCO purchased the forage division of Lely Group, including the rights, trademarks and factories. AGCO purchased Precision Planting from The Climate Corporation, a manufacturer of planters. AGCO then introduced the all-new IDEAL combine series under the Challenger, Fendt and Massey Ferguson brands; however they seem to have only been sold under the Fendt brand, so far. In 2017, a new joint venture with CP Group of Bangkok, Thailand was established as a 50/50 joint venture in CiXi City, ZheJiang, China to manufacture GSI feed/protein products. Finally, in 2017, AGCO acquired Kepler Weber S.A. of Brazil, a manufacturer of grain storage and handling equipment.
In 2018, AGCO Netherlands transferred TerraGator Europe production and support to Ploeger, including the countries of Belgium, Netherlands, Luxembourg and Germany. AGCO announced they were discontinuing production of Lely-branded forage equipment, and they introduced Fendt tracked tractors, continuing the withdrawal of Challenger brand from Europe.
In 2019-AGCO-Amity reintroduced the Concord brand to air seeders. The original Concord planters/seeders had been sold off to Case IH, with the remaining assets forming Amity.
AGCO brands
AGCO manufactures or distributes the following brands of equipment: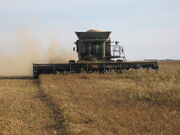 Ag-Chem Equipment (self-propelled spreaders and sprayers)(see RoGator & TerraGator)(discontinued)
AGCO Parts & Service (replacement parts)
AGCO Tractors (tractors, distributed throughout North America)(discontinued)
AGCO-Allis Tractors (distributed throughout South America)(discontinued)

AGCO-Amity

(joint venture)(air seeding and tillage equipment)(Amity, Wil-Rich and Wishek brands)
AGCO-NefAZ (joint venture)(combine harvesters in Russia)
Agcostar (4WD tractors)(discontinued)
Challenger (tractors, combine harvesters, hay equipment)

Dafeng

(China-combine harvesters)
Deutz AGCO Motores (engines in South America)

Dronningborg

(combine harvesters) (discontinued)

Farmhand

(tractor loaders)(discontinued)
Fella (Hay equipment in Europe)
Fendt (tractors, combine harvesters, forage harvesters, equipment in Europe)
Gallignani (Hay equipment in Europe)
Gleaner (since 2006, marketed as AGCO Gleaner) (combine harvesters)

Glencoe

(tillage equipment)(discontinued)

GSI

(grain handling equipment)
Hesston (since 2006, marketed as AGCO Hesston and

Massey Ferguson Hesston

) (hay and forage equipment)
IDEAL (combine harvesters in South America)(discontinued)
Laverda (combine harvesters in Europe)

LOR*AL

(fertilizer applicators)(discontinued)
Massey Ferguson (full-line of tractors, combine harvesters, equipment, ATVs in Europe)
Maxion (backhoes and fork trucks in Brazil
New Idea (since 2006, marketed as AGCO New Idea) (hay and forage equipment, manure spreaders)(discontinued)

Rogator

and Terragator (fertilizer applicators)

Santal

(sugar cane harvesters)

Sfil

(South American tillage and planters)
SisuDiesel Engines (high performance/low emission engines 50 - 400 HP)(renamed AGCO Power
Sparex Holdings (England-spare part distributor)

Spra-Coupe

(sprayers)(discontinued)

Sunflower

(since 2006, marketed as

AGCO Sunflower

) (tillage equipment)

Tye

(tillage equipment, seeders)(discontinued)
Valtra (tractors worldwide, and combine harvesters in South America)
White (since 2006, marketed as AGCO White) (planters) (tractors-discontinued)

Willmar

(sprayers, application equipment)(discontinued)
AGCO Brands distributed in the UK
Manufacturing locations
AGCO North America
Hesston, Kansas, USA

- North American combine and hay equipment

Beloit, Kansas, USA

Jackson, Minnesota, USA

- high-horsepower tractors, sprayers

Querétaro, Bajío, Mexico
AGCO South America
Buenos Aires, Argentina

Rosario, Argentina

 (discontinued)

General Rodríguez, Argentina

Canoas, Brazil

Ibiruba, Brazil

Mogi das Cruzes, Brazil

Santa Rosa, Brazil
AGCO Europe
Linnavuori

, Finland

Suolahti, Finland

Beauvais, France

- mid- to high-horsepower tractors

Marktoberdorf, Bavaria, Germany

- Fendt tractors

Breganze, Italy

- European combine operations
AGCO Asia
Changzhou

, China - low and mid horsepower tractors, transmissions, engines (AGO Power)

Daqing

, Heilongjiang, China - high horsepower tractors, combines and balers
AGCO-branded Models
AGCO tractors
AGCO Gleaner
AGCO Hesston
AGCO Hesston swather Models

| Model | Year(s) Produced | Horsepower | Engine Type | Misc Notes | Photo |
| --- | --- | --- | --- | --- | --- |
| AGCO Hesston 9330 | 2007 | 85 hp (63 kW) | Cummins | built in the USA | |
| AGCO Hesston 9340 | | 110 hp (82 kW) | Cummins | built in the USA | |
| AGCO Hesston 9345 | 2007 | 120 hp (89 kW) | Cummins | built in the USA | |
| AGCO Hesston 9365 | 2008 | 190 hp (140 kW) | AGCO/SisuDiesel | built in the USA | |
| AGCO Hesston 9635 | | 190 hp (140 kW) | SISU | built in the USA | |
See also
References / sources
Initial entry from wikipedia
External links
Early Makes - pre 1940s

1940s to 1980s

Modern post 1980s

AGCO

Independents
North America

Europe

India & Pakistan

Middle East
(Turkey, Iran,
Iraq, Syria etc...)

Far East
(Australasia, China,
Japan, Korea, Thailand,
Vietnam etc...)

South America
(Argentina, Brazil,
Uruguay etc)

Africa

Asia
(Russia, Tajikstan,
Uzbekistan, Ukraine)

Specialist types of tractor

Notable People - associated with the tractor industry

Inventors