The AEC Militant (Milly) was produced in several versions from 1952-67 (MkI).
Model History
The militant had initially been built by Maudslay.
Militant MkI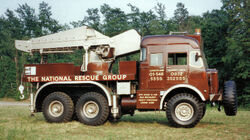 Over 3800 MkI Militants were produced between 1952 and 1967. The Militant was built as both 6x4 and 6x6 chassis, with long or short wheelbase and in Left hand drive (O859) or Right hand drive (O860) configurations. The one pictured here worked for London Transport before joining National Rescue and has a website at www.millytant.com
Militant MkII
Militant MkIII
Military designations
Main article: List of FV series military vehicles
The main version in British army use being the;
FV 11007 : Truck 10 ton General Service Cargo ( 14 ft ) 6x4
FV 11008 : Truck 10 ton General Service Cargo ( 18 ft ) 6x4
FV 11012 : Truck 10 ton General Service Cargo Dropside 6x4
Specification
details required
Preservation
A number example appear at Commercial vehicles events and Military vehicles shows, as well as several of the Steam fairs and rallies which feature a range of vintage vehicles as well as the steam exhibits.
Please list known examples in preservation or seen at shows here.
List of Preserved AEC Militant trucks
Registration No.
Make-Model or type no
Build-Year
Engine-Make/Type
Weight/class
Chassis/Body type
Owner
(if known)
Photo
Were seen/Featured
Other info
VSK 996
AEC Militant Mk ?
?
?
6x6
Timber tractor
S. Bolton of Essex
At Woolpit Steam 2009






Please add any truck with known reg or serial no. with Photo if possible.
Create a page (link) for an individual truck by linking the reg or serial number using [[Truck make-model-reg no.|reg number]] or [[Truck make-model-serial no.|serial number]] in the relevant column. Then once saved click the red link to start the new page and add info on that truck.
See also
List of Vehicles by F number

Museums List - some of the museums feature Military vehicle in their collections.
References / sources
External links