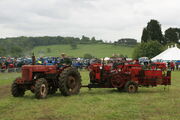 450 DJF is a unrestored (cosmetically) example of a IH B-450, the Serial no. is 18269. This tractor is kept in very original 'weathered' condition and is in full working order.
It has a Roadless 4-wheel drive axle conversion fitted (axle no unknown - no plate).
Events exhibited at
This tractor was at Belvoir Castle Steam Festival 2009, were it was pulling a very original MF 701 baler.
The tractor attended the Roadless 90 anniversary event in September 2009 in Lincolnshire. It was working with a classic Bamfords (Kervernaland) 3 furrow plough.
Owned by David Fenton from Leicestershire
See also
References / sources
Photos from the events listed.
External links
| | |
| --- | --- |
| | Add any external links that directly relate to this articles subject and have more info or have related images. Other general external links can be added to the web Site Links list. |

Template:International Farmall B450 list
International Harvester France range
International Harvester Cub Cadet range
International B-2275
·
International B-2276
·
International 2300
·
International 2350
·
International 2400
·
International 2500
·
International 3400 Loader-Backhoe
·
International 3500 Loader-Backhoe
·
International 3414 Loader-Backhoe
·
International 3434 Loader-Backhoe
International Harvester Cub Cadet range
Note this box is under development and contains Null entries as place holders
Please add any models with new articles to this list